USC Trojans are a Top Five Team in the AP Poll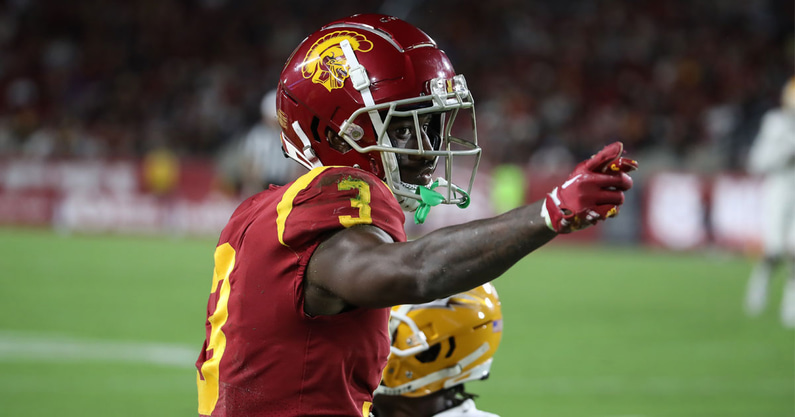 The USC Trojans are a top-five team in the AP Poll for the first time since Week 5 of the 2017 season. The Trojans moved up two spots this week and now sit at No. 5 nationally following a thrilling 48-45 win against UCLA at the Rose Bowl.
USC jumped ahead of Tennessee, which got blown out at South Carolina, and LSU, which beat UAB.
The leap over LSU is a very interesting one. The AP Poll has no direct correlation with the College Football Playoff rankings that will come out on Tuesday evening. But this past week, the top 14 teams were a mirror image in both of those rankings. With the move to No. 5, a win against a Notre Dame team that is suddenly all the way up at No. 13 would all but guarantee the Trojans a spot in the AP Poll top four next week. Ohio State and Michigan, the poll's Nos. 2 and 3 teams, meet this Saturday in Columbus and one will emerge with a loss. There's a chance a close game could keep both teams ahead of USC, but losses at this point in the season typically carry more weight than that.
Once the CFP rankings come out, the AP and Coaches Polls lose pretty much all of what meaning they had in the first place. With the Trojans having locked a spot up in the Pac-12 Championship Game, the path to the Playoff now runs through Notre Dame and potentially No. 10 Oregon in Las Vegas.
USC's previous top-5 stay ended with a 30-27 road loss at Washington State in 2017. The Trojans eventually climbed back to No. 8, but finished the year No. 12 in the AP Poll. USC hadn't even been back into the top ten until Week 3 of this 2022 season.
Complete Week 13 AP Poll
Georgia (11-0) (62 first-place votes)
Ohio State (11-0) (1)
Michigan (11-0)
TCU (11-0)
USC (10-1)
LSU (9-2)
Clemson (10-1)
Alabama (9-2)
Tennessee (9-2)
Oregon (9-2)
Penn State (9-2)
Washington (9-2)
Notre Dame (8-3)
Utah (8-3)
Kansas State (8-3)
Florida State (8-3)
UCLA (8-3)
North Carolina (9-2)
Tulane (9-2)
Ole Miss (8-3)
Cincinnati (9-2)
Oregon State (8-3)
Coastal Carolina (9-1)
Texas (7-4)
UCF (8-3)