USC Trojans Dominate First Team Offense on Phil Steele's All-Pac-12 Teams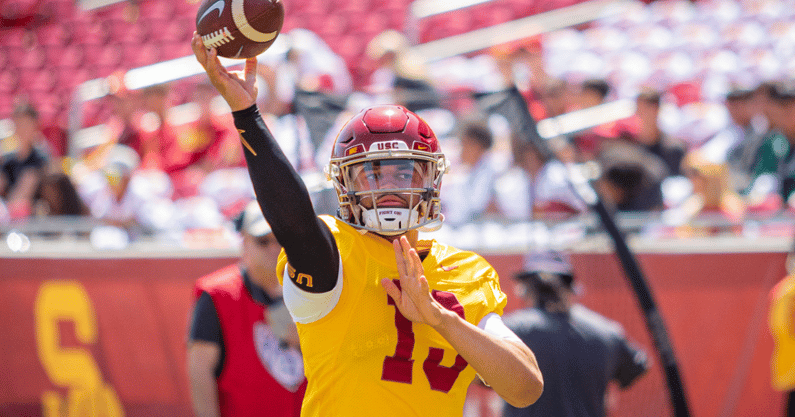 Phil Steele's All-Pac-12 Preseason Teams are out and the USC Trojans are well represented when it comes to the first-team offense.
Four Trojans are listed there. It's a group that includes quarterback Caleb Williams, wide receiver Jordan Addison, center Brett Neilon and guard Andrew Vorhees. No other Pac-12 program has more than two players selected to the first-team offense.
Those four Trojans are supported by two second-team selections in running back Travis Dye and wide receiver Mario Williams.
It's been a theme all offseason, but here's another reminder of how much offensive talent arrived via the transfer portal.
But of the 48 offensive players selected across four All-Pac-12 teams, those are the only six Trojans. The high-end talent is obvious on the USC roster. But Steele clearly needs to see more from the rest of the roster in order to give other players the benefit of the doubt when it comes to all-conference teams.
The offensive players listed feel like sure things in terms of providing production this season. It's those third and fourth teams where Trojans need to dot the post-season lists if USC is going to attain its season goals. Dye might carry the load among the running backs, but Austin Jones and/or Darwin Barlow will need very productive years in support of him. And a third wide receiver or tight end will need to make a sizeable impact outside of Addison and Williams.
But it's the offensive line where things probably matter the most. The Trojans need an offense tackle to step up and become a force in the conference this season. Whether it's Courtland Ford, Jonah Monheim or Bobby Haskins, on either the left or right side of the line doesn't much matter. But USC has to get back to being a program where its offensive linemen dot this list. Neilon and Vorhees are the only Trojans listed while four Oregon linemen made teams. Oregon State has three players listed and four programs in addition to USC had two players among the four teams.
Trojans on the Defensive Teams
Defensive lineman Tuli Tuipulotu is a no-brainer inclusion on any First Team All-Pac-12 list this offseason. And he did indeed make this one.
Once again, the other Trojans listed are both transfer additions. Linebacker Shane Lee and cornerback Mekhi Blackmon were both named to the third team. These lists are just one person's opinion, but it's again striking to see how the returning USC defense was considered. Of the 48 defensive players listed across four teams, Tuipulotu might have been the only Trojans listed if not for the transfer additions.
This is also indicative of the expectations for the USC defense this season. It's a group that was beat up on the ground and through the air last season. Defensive coordinator Alex Grinch needs to create a quick turnaround and he'll rely heavily on Tuipulotu and transfers.
While USC has an offense capable of overcoming something of a leaky defense, the Trojans need more names on the defensive postseason lists than this. And it starts in the front seven. Defensive lineman Nick Figueroa, rush end Romello Height and inside linebacker Eric Gentry are all capable of outstanding seasons. If they deliver for the Trojans, USC could have a fairly formidable group up front.
In the secondary, Blackmon continues to draw offseason praise. It was a bit surprising to not see safety Calen Bullock listed anywhere among the four teams. He and nickel Max Williams could be in for big seasons.
USC on Special Teams
Wide receiver Brenden Rice is the only USC player in the special teams groups. He is the third-team punt returner. There's no real sense yet if he'll even man that position for the Trojans. Addison was a phenomenal punt returner over the second half of the 2021 season at Pitt. Williams and returning receiver Gary Bryant Jr. could get shots there as well.
It wouldn't be surprising to see kicker Alex Stadthaus receive postseason recognition. He has the job to himself now and this offense should allow him to score plenty of points, either after touchdowns or via field goals.
USC on Steele's All-America Team
Steele also announced his 2022 preseason All-America Teams. Four Trojans made it to the four teams.
Addison is a first-team wide receiver. That's not surprising at all considering he's the reigning Biletnikoff Award winner.
Williams is the third-team quarterback. That's been consistent this offseason as he slots behind Alabama's Bryce Young and Ohio State's C.J. Stroud.
Vorhees is a fourth-team offense guard. And Tuipulotu is a third-team defensive lineman.
Alabama led the way with four players named to the First Team.