USC Trojans Hit the Field for Summer Workouts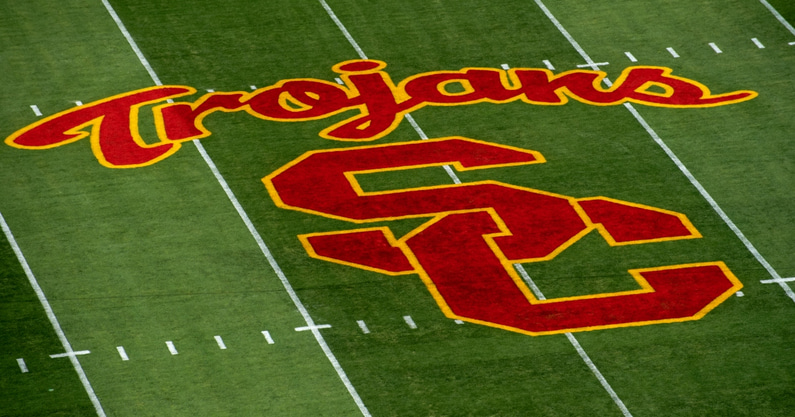 The USC Trojans are back on the field as the team begins the summer conditioning portion of this crucial offseason. USC is looking to bounce back from a 4-8 season in 2021 and the Trojans have their sights set on a conference championship in the first year under new head coach Lincoln Riley.
Before they break fall camp, the Trojans will go through the summer conditioning session under Director of Football Sports Performance Bennie Wylie and his strength and conditioning staff. The USC Football Twitter account gave fans a taste of what that looks like on Wednesday.
There is a serious need for the Trojans to get bigger, faster and stronger than they have been the past few years. USC has not fielded a team that has been able to consistently run over or around opponents. That has limited their big-play potential and especially made it difficult to get consistent stops on defense. It's difficult to significantly change that in just one offseason, but Wylie and crew have been at work on it since they arrived at USC. This roster will also get a boost in the form of 20 new players out of the transfer portal, as well as the incoming 2022 recruiting class.
The talk from December to now from the Trojans has been that the 2022 season is not a rebuilding year. In fact, thanks in large part to the transfer portal, the rebuilding process took a matter of weeks.
The Trojans landed a starting quarterback, running back and middle linebacker before the start of spring ball. And Caleb Williams, Travis Dye and Shane Lee have all quickly become program and team leaders. Since the end of spring ball, the Trojans have added more transfers who will help immediately.
Former Arizona State linebacker Eric Gentry will have a chance to grab a starting spot. He will, at worst, be a vital part of the rotation at linebacker.
USC's 2022 Season
USC kicks off its 2022 football season on September 3 with a home game against Rice. That game will kick off at 3 pm PT. That is one of four USC games that have received start times and broadcast channels.
USC's first road trip of the season is in Week 2 when the Trojans travel north to take on the Stanford Cardinal. That game will kick at 4:30 pm PT.
The Trojans then return home to the Coliseum to host Fresno State and head coach Jeff Tedford in a 7:30 pm PT kickoff.
USC's other home games this season include Arizona State, Washington State, Cal, Colorado and the regular season finale against Notre Dame.