USC wide receiver Bru McCoy enters the transfer portal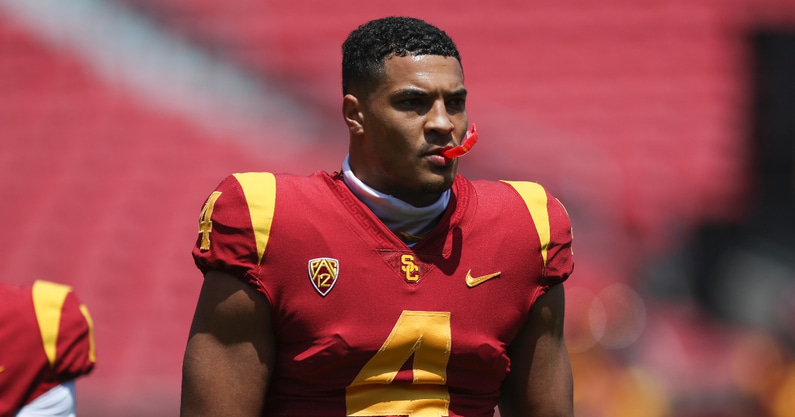 Former five-star prospect and USC wide receiver Bru McCoy entered his name into the transfer portal on Thursday.
It's another noteworthy development in a career full of them for McCoy. Though surprisingly most have been related to events off the field.
McCoy initially signed with USC in the 2019 class and was a major recruiting win for the Trojans. The No. 21 overall prospect was seen as an instant-impact superstar out of Santa Ana (Calif.) Mater Dei and an integral piece of the USC offense. But McCoy transferred to Texas a short time after enrolling early at USC. After spending spring ball with the Longhorns, McCoy made the decision to transfer back to USC that summer. But a mysterious illness kept McCoy sidelined and away from the team all fall.
He showed flashes of his immense potential during the Covid-shortened 2020 season. McCoy had 21 receptions for 236 yards and two touchdowns while settling in as the fourth receiver behind Amon-Ra St. Brown, Tyler Vaughns and Drake London. His touchdown reception and onside kick recovery set the stage for USC's dramatic comeback victory over Arizona State in the season opener.
McCoy's Lost 2021 Season
McCoy was limited this past spring due to a hamstring issue, but the expectation was for him to develop into a dynamic No. 2 receiver opposite London. Instead, McCoy's 2021 season was derailed over the summer when he was arrested in late July on suspicion of felony intimate partner violence with injury. McCoy was temporarily removed from team activities but that suspension remains ongoing.
That despite in late August, the Los Angeles District Attorney's office declining to file charges against McCoy.
If allowed to return to the team, there's a chance McCoy could remain at USC despite his entrance into the portal. But this development allows him to speak with and be recruited by other programs. He has spent a lot of time away from the football field during his three years at USC. But the potential to excel either at wide receiver or even on the defensive side of the ball remains.
USC's Transfer Portal Entrants
McCoy becomes the latest USC player to enter the transfer portal this offseason.
Starting quarterback Jaxson Dart and promising tight end Michael Trigg went into the portal earlier this week.
Former starting quarterback Kedon Slovis is moving on to Pitt. Wide receiver Joseph Manjack IV announced his commitment to Houston earlier today. Defensive lineman Jacob Lichtenstein is headed back home to Miami and outside linebacker Hunter Echols committed to Arizona.
Running back Kenan Christon, who, like McCoy was removed from team activities last year, is in the portal. Other portal entries include outside linebacker Juliano Falaniko, safety Chase Williams, linebacker Raymond Scott, offensive lineman Liam Douglass and kicker Parker Lewis.