USC Wide Receiver Gary Bryant Jr. Plans to Redshirt This Season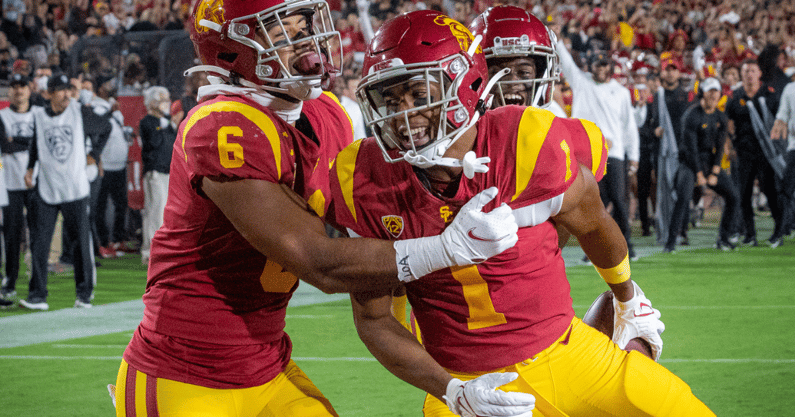 When USC landed four standout wide receivers out of the transfer portal this offseason, questions immediately arose as to how that added talent would affect the receivers already on the roster. One of the first consequences was felt Tuesday as the Trojans will likely be without the on-field services of junior Gary Bryant Jr. for the full 2022 season.
"Right now the plan is he will redshirt," USC head coach Lincoln Riley said of Bryant following Tuesday's practice.
Bryant was a major contributor for the Trojans as a sophomore in 2021. He finished third on the team with 44 receptions and 579 receiving yards. His seven touchdown receptions tied Drake London for the team high. He added a three-yard touchdown run as well.
Bryant was also a factor on special teams. His 11 punt returns and 16 kickoff returns both led the team by a wide margin.
But the offseason additions of Jordan Addison, Mario Williams, Brenden Rice and Terrell Bynum completely changed the dynamic of the wide receiver room heading into the 2022 season.
Addison, Williams and Rice have started all three games for USC. And Bryant's time on the field has greatly been affected. He saw just 11 offensive snaps against Rice, seven against Stanford and 16 against Fresno State. Bryant has just two receptions for 15 yards this season. Williams has barely come off the field for the Trojans, registering 168 offensive snaps in the three games.
Addison leads the team with 18 receptions for 295 yards and five touchdowns. Williams has 12 receptions for 194 yards and a score.
Bryant has played in three games this season, so he could play in a fourth and still maintain his redshirt year. The expectation at this point is that this is a way for Bryant to maintain a year of eligibility and look to transfer after the season. Transfer portal windows now in affect determining when players can enter the portal. For football, the first window opens the day after championship teams are selected.