USC's personnel, playmakers should provide a challenge for Stanford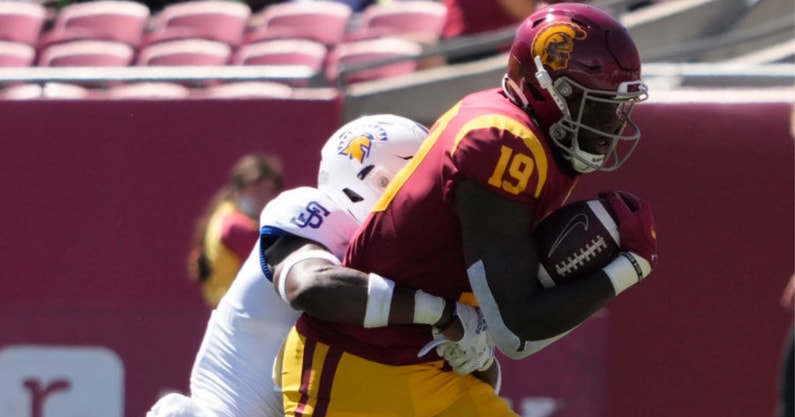 USC tight ends were on the field a lot against San Jose State. A lot. Erik Krommenhoek, Jude Wolfe and Malcolm Epps all caught passes for the Trojans and the USC offense had two tight ends on the field for seemingly the entire game.
It was a different look than what USC has offered the past two years, when standout receivers Michael Pittman, Tyler Vaughns and Amon-Ra St. Brown helped form the best receiving corps in the conference. But it's a look USC coaches found successful. The Trojans didn't pile up points against the Spartans, but the use of two tight ends provided USC what it wanted to see from the San Jose State defense.
"It really kept them in a four-down, four-rush mode," head coach Clay Helton said. "I thought Graham [Harrell] did a wonderful job last week of doing something that we felt really vanilla'd their defense out, kept them pretty much status quo and we felt really helped us in the run game, be efficient."
Helton pointed out that while the Trojans went with 12 personnel (one running back, two tight ends) often, the formations weren't always a typical look with that personnel group.
"We had the availability to use EK (Krommenhoek) attached while another tight end was flexed," Helton said. "We had both guys flexed. Sometimes we had both guys attached. So it makes it hard on defenses when you look up and you have guys that can be either big targets at wide receiver positions, or being attached. Do you look at it as, is this a passing personnel group, or is this a running personnel group?"
USC won't head into Saturday night against Stanford with the exact same gameplan it used against San Jose State. But Helton said they'll continue to carry that 12 personnel group into every game.
If the Trojans do go with heavy tight end usage on Saturday night, it's fitting that it'll be against Stanford. The Cardinal ushered in this somewhat recent trend of utilizing multiple tight ends over the past decade. Stanford is in the conversation for Tight End U with its recent production at the position, and the Cardinal weren't shy about splitting those big bodies out and using them as receivers.
"They were kind of the first within our league to say, you know what, a tight end's just not a tight end," Helton said. "He can go spread out."
Helton said he likes the look of the team right now with the mix of big targets–Drake London at 6-foot-4 and Epps, Trigg, Krommenhoek and Wolfe all that size or bigger–and a couple of electric receivers in Tahj Washington and Gary Bryant Jr.
"That mixture creates some effective packages," Helton said.
Gary Bryant's impact
Maybe the most intriguing thing about the USC offense on Saturday night is what kind of impact wide receiver Gary Bryant Jr. can make. The sophomore missed last week's game and while there should be praise for the tight ends, there were questions raised about the receivers. Only London and Washington caught passes and very few others even saw snaps.
"I think with Gary, it opens up more personnel groupings, definitely," Helton said. "Gary has had an unbelievable week of work, so I think you'll not only see him offensively, but you'll see him in some special teams situations. We love him with the ball in his hands and we have some specific packages for him to be able to get on the field, as well as be able to contribute in a major way."
Helton said USC will bring more personnel groupings into this game. Getting Bryant back is huge for the receiving corps. USC also has John Jackson III, Kyle Ford, Joseph Manjack IV, Michael Jackson III and K.D. Nixon ready to make an impact.
"I look forward to watching this week as we kind of increase the personnel packages and be able to hopefully throw off Stanford a little bit by being able to dive in and out of things that we think are effective."
One-two punch in the run game again
USC might get running back Darwin Barlow back healthy and available for Stanford, but the duo of Keaontay Ingram and Vavae Malepeai is likely to shoulder all or virtually all of the load.
"We'll come into each and every game really leaning on two guys for the bulk of the game plan," Helton said. "We want to be able to get those guy in flow and I thought we did a really good job last week of being able to get those guys six, seven, eight reps at a time…We're really focusing on having two guys."