WATCH: USC Official Visitors Enjoy Luau at Lincoln Riley's House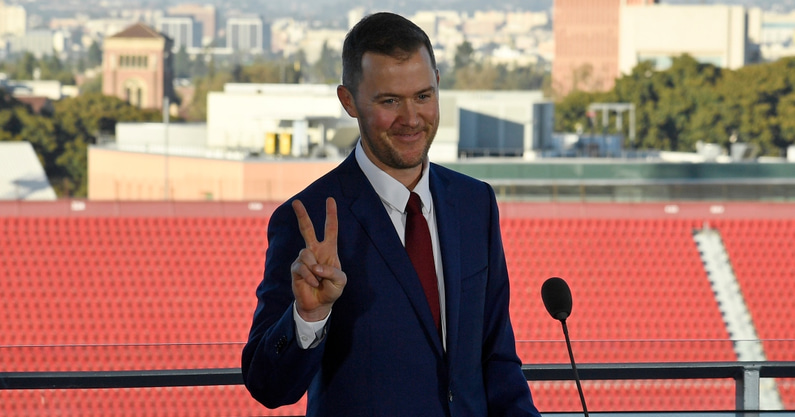 USC is in the middle of its biggest official visit weekend of the last decade and probably stretching back even farther than that. Around two dozen visitors are on campus. It's a group that could include a significant chunk of USC's eventual 2023 recruiting class.
Seven of USC's nine commitments are in attendance, including its top six. That's a group that includes Five-Star Plus+ quarterback Malachi Nelson, five-star wide receiver Zachariah Branch and four-star receiver Makai Lemon.
WeAreSC is keeping you up to speed with all the happenings and updates throughout the weekend. And WeAreSC is currently running a subscription special of $1 for a four-month membership.
Luau at Lincoln's
The weekend got off to a bang on Friday night as the visitors were treated to a gathering at head coach Lincoln Riley's home.
Four-star wide receiver Jalen Hale posted some video clips to his Instagram. Hale is the nation's No. 76 overall prospect and recently included USC among his top six programs.
The video includes Nelson and Branch as fellow official visitors. It also shows USC quarterback Caleb Williams and wide receiver Mario Williams in attendance.
Hale would be a major addition to this USC recruiting class.
Friday also served as a special day to a couple of others visitors. It was the 22nd anniversary for Zachariah and Zion Branch's parents.
Branch is the No. 9 overall prospect and No. 1 wide receiver in the 2023 class and a strong commitment to the Trojans. Zion Branch was the No. 60 overall prospect in the 2022 recruiting class and now on campus at USC beginning his true freshman season. The older Branch was able to host the younger on his visit, adding to how memorable the trip was for the entire Branch family.
Back on Campus
Another visitor this weekend is five-star defensive lineman Matayo Uiagalelei. Football will play a big role in his eventual decision, but it won't be the only thing. Music plays a significant role in the life of the 6-foot-5, 270-pounder and USC always makes a point to emphasize that.
During this trip, Uiagalelei was afforded a chance to tour Iovine and Young Hall, home to the USC Jimmy Iovine and Andre Young Academy for Arts, Technology and the Business of Innovation. Few, if any, music programs in the nation can rival what USC can offer in this area. Affording Uiagalelei an up-close look at this every time he steps on campus is a must for the Trojans.