WeAreSC On3 5/25/22: ESPN updates SP+ rankings, another honor for Bohn, and USC offer-palooza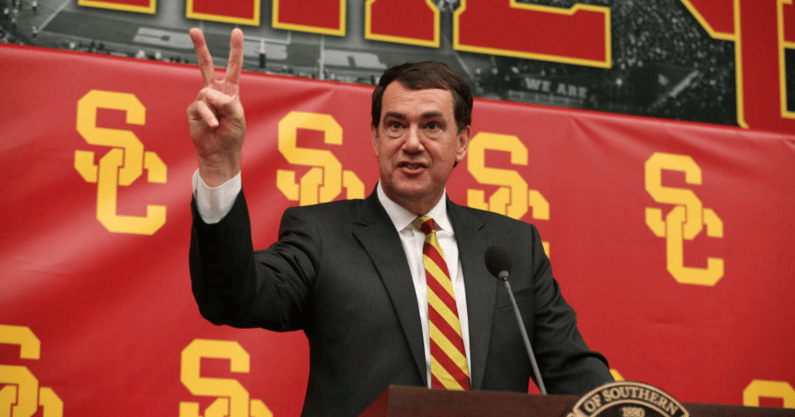 WeAreSC On3 is a daily three-point briefing recapping news and notes surrounding USC Athletics. Today, we take a look at ESPN updating their 2022 college football SP+ rankings, USC athletic director Mike Bohn receiving another honor, and USC's recent plethora of scholarship offers.
ESPN updates SP+ rankings
ESPN recently updated their SP+ rankings for the 2022 college football season, and USC came in at . . . 51st? That's right, the Trojans were ranked behind notable powerhouse programs South Carolina, Maryland, and Texas Tech. In addition, they were just two spots ahead of Conference USA program UAB.
It is important to note that two of the key metrics that ESPN uses for these rankings are a program's recent track record and its returning production—two areas that USC significantly lacks in. In addition, it is not really possible for these metrics to quantify the jolt of energy that the Lincoln Riley hire sent into the program. So while these SP+ rankings do not look at USC particularly favorably, Trojan fans should not be panicking over them.
Another honor for Bohn
USC athletic director Mike Bohn received another honor on Tuesday, when he was named one of two inaugural recipients of the Black Student-Athlete Summit Athletic Director of the Year Award.
Back in March, Bohn was also named FBS Athletic Director of the Year by the National Association of Collegiate Directors of Athletics (NACDA). This came after he took the world of collegiate athletics by storm last November with his hire of Lincoln Riley.
Bohn took over as USC's athletic director in November of 2019. Previously he was the AD at Cincinnati.
USC offer-palooza
Over the past week, USC has offered more than a dozen recruits across the 2023, 2024, and 2025 classes. For the full list of players, be sure to check out our WeAreSC USC offer tracker.