WeAreSC On3: Donte Williams on the Trail, a Major Visitor and a USC Institution Set to Retire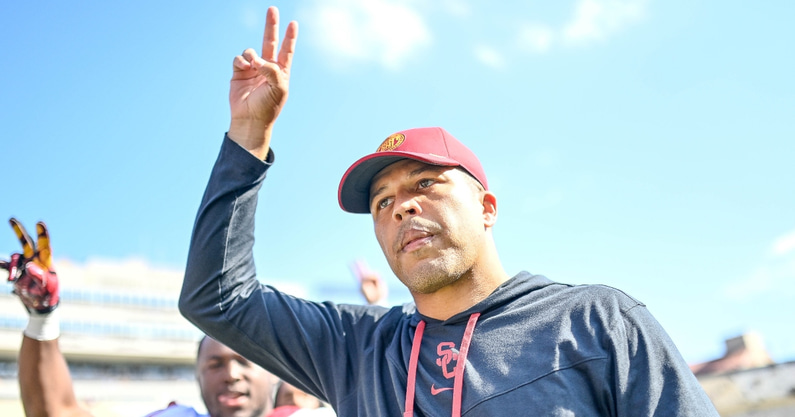 A daily three-point briefing, recapping the news and notes of USC athletics. Today it's USC head coach Donte Williams out recruiting, the Trojans will get a visit from a big-time Florida prospect, and a USC institution is set to retire.
Donte Williams hits the trail
With the Trojans on a bye this week, interim head coach Donte Williams is diving deep into recruiting. Williams took linebackers coach Michael Hutchings out to Utah on Wednesday to check in on several games, including 2022 quarterback commit Devin Brown (Draper, Utah/Corner Canyon), 2022 linebacker target Lander Barton (Salt Lake City/Brighton) and 2023 standouts Hunter Clegg (American Fork, Utah/American Fork) and Tausili Akana (Lehi, Utah/Syridge).
Williams and several USC coaches will spend the rest of the week hitting a few more high school football games and seeing top targets in action (On3+).
USC to get a big-time visitor
Five-star safety Kamari Wilson (Bradenton, Fla./IMG Academy) announced Wednesday that he will take an official visit to USC. The 6-foot, 200-pound prospect is On3's No. 142 overall prospect, but a five-star composite recruit. Wilson announced intentions of the trip but did not say what date he plans to visit.
USC SID Tim Tessalone set to retire
USC athletic director Mike Bohn announced Wednesday that sports information director Tim Tessalone will retire at the end of the calendar year. Tessalone began as an assistant SID in 1979 and stepped into his current role in 1984. He's worked more than 500 USC football games and according to Bohn, under Tessalone, the USC sports information office has won eight Football Writers Association of America (FWAA) "Super 11" awards, tied for most of any school. Tessalone is already a member of the USC Athletics, College Sports Information Directors of America, and FWAA Halls of Fame.
Congratulations go out to Tim Tessalone on a successful and impactful career at USC.