WeAreSC On3: Injuries, Courtland Ford and SJSU recap video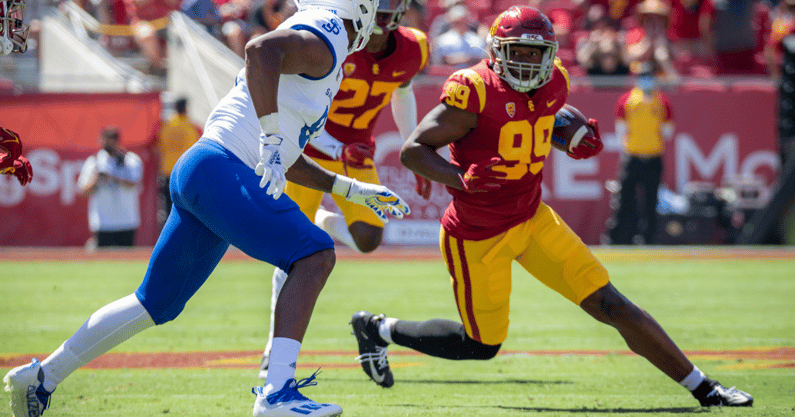 A daily three-point briefing recapping the news and notes of the past 24 hours. Today it's injury news, praise for Courtland Ford and reliving the win against SJSU.
Good injury news
Injuries hit a few teams hard and some key players will miss the remainder of the season. USC came into the game with some injury concerns and had a few players leave the game for brief or extended periods. But the news for USC appears to be good on the injury front. Defensive end Nick Figueroa suffered an AC sprain but said he'd be available for the Stanford game. Outside linebacker Drake Jackson suffered a thigh contusion. Cornerback Chris Steele had a shin laceration. Head coach Clay Helton said Jackson and Steele looked comfortable running around on Monday.
Safety Isaiah Pola-Mao missed the game due to health and safety protocols. Helton said they hope to get him back "later in the week if everything continues to trend in the right direction." The Trojans should also get wide receiver Gary Bryant Jr. back this week. He's been out due to health and safety protocols and a hamstring issue. He'll get back onto the practice field this week and is aiming to play against Stanford.
Praise for Courtland Ford
Redshirt freshman Courtland Ford continued to draw praise from Helton for his play in the opener. Appearing on the Trojans Live radio show Monday evening, Helton said of Ford, "He played really well. Dislocated his finger in the second quarter. Popped it right back in there and kept on going."
Ford's performance at left tackle will likely be discussed after every game this season. If that was his baseline performance and he improves each time out, the Trojans should be okay with him out there.
Relive the win
USC's video production team put together a recap of USC's first win of the season and it's worth a look.