WeAreSC On3: More Drake London praise, Michael Pittman's grab and Hoops schedule for the Women of Troy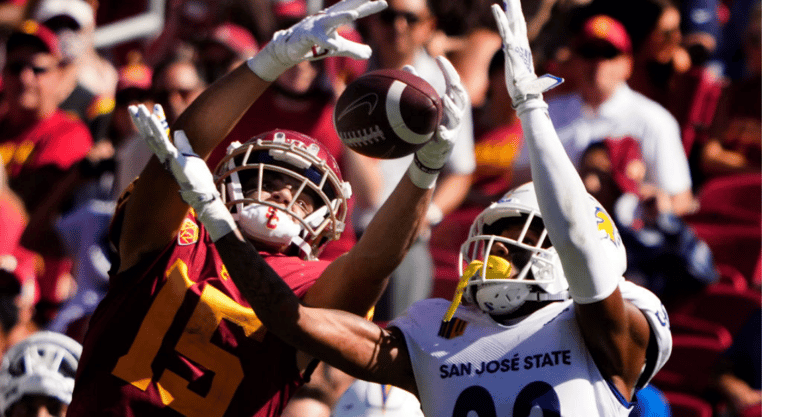 A daily three-point briefing, recapping the news and notes of USC athletics. Today it's another look at just how good Drake London has been, a big-time grab from Michael Pittman Jr. and the 2021-22 hoops schedule for the Women of Troy.
London Binge
Drake London has been feasting on opposing defenses this season. Six games into the season, he has 64 receptions for 832 yards. The No. 2 player in the conference in receptions has 40. The No. 2 player in the conference in receiving yards has 404. That gap will close this week with the Trojans on a bye, but it's easy to see London finishing the season easily on top of both those lists.
The Draft Network has London going No. 8 overall in the next NFL Draft. PFF College has London as the highest-graded receiver in the country.
Pittman's big grab
The Colts lost to the Ravens on Monday Night Football, but former USC wide receiver Michael Pittman Jr. provided one of the highlights plays of the night with this catch.
Hoope schedule for the Women of Troy
The USC Women's Basketball schedule was released on Monday. The season tips off with a home game on Nov. 11 against Hawaii.
New USC head coach Lindsay Gottlieb has a challenge in front of her. The Pac-12 supplied both national championship finalists last season in Stanford and Arizona and the Cardinal were picked once again to win the conference this season.
USC came in at No. 9 in the pre-season poll released on Tuesday.