WeAreSC On3: Offensive line targets, injury updates and Joint Forces Day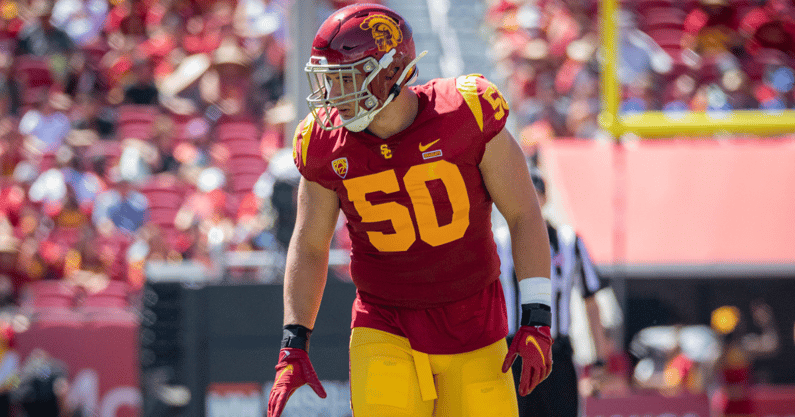 A daily three-point briefing recapping the news and notes of the past 24 hours. Today, we're looking at offensive line targets, recapping injury updates and previewing Joint Forces Day at USC.
USC's 2021 offensive line targets
WeAreSC's Scott Schrader spent Wednesday in Seattle, checking in with big-time offensive line prospect Josh Conerly Jr.
Conerly is one of USC's top offensive line targets in this 2021 class. He's joined by six other main targets for the Trojans in this cycle. Schrader took a look at the group in an On3+ story yesterday.
Injury updates
Head coach Clay Helton provided some injury updates on Thursday morning as the Trojans look ahead to hosting the Stanford Cardinal on Saturday night.
Defensive end Jake Lichtenstein is expected to be available for the game. He suffered what Helton called an AC sprain earlier in the week. Fellow defensive end Nick Figueroa will be a game-time decision for the Trojans. Helton said Figueroa did conditioning on Wednesday and will go through some individual drills on Thursday.
Wide receiver Gary Bryant Jr. is expected back. Helton said they expect to have running back Darwin Barlow available as well.
Isaiah Pola-Mao remains something of a game-time decision depending on his release from health and safety protocols as well as where his conditioning is following extended time away from the team. And running back Kenan Christon remains "unable to be with team activities," according to Helton.
Joint Forces Day
Saturday will be Joint Forces Day for USC Athletics. The Trojans will have 5,000+ current and former military personnel and first responders in attendance. There will be an extensive pre-game ceremony, honoring the 20th anniversary of 9/11.