WeAreSC On3: Remembering Sam "Bam," Stanford's QB1 and USC's poll rankings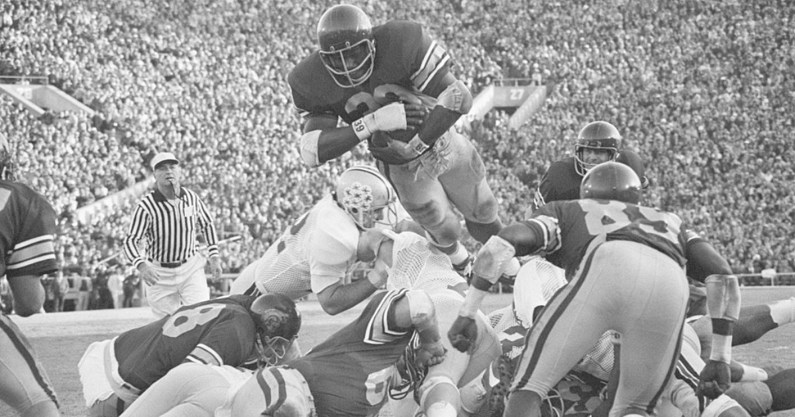 A daily three-point briefing recapping the news and notes of the past 24 hours. Today it's remembering Sam "Bam" Cunningham, Stanford's QB1 decision and USC's spot in the updated polls.
Cunningham's USC legacy
USC announced the passing of legendary fullback Sam "Bam" Cunningham yesterday. He was 71.
At a school like USC, there aren't many positions with a clear-cut, No. 1 player in the history of the program. But fullback is one of those spots and Sam Cunningham is that player. His passing was felt by the Trojan family and the college and pro football communities at large.
Cunningham is partly credited with helping to integrate the Alabama roster and SEC football with his performance in the 1970 game against the Crimson Tide.
And his four-touchdown performance against Ohio State in the 1973 Rose Bowl helped cap a magical 1972 season for the national champion Trojans.
Stanford selects its QB1
Stanford, USC's Saturday opponent, played two quarterbacks in its season-opening loss to Kansas State, but the Cardinal plan to go with just one against USC. Tanner McKee was a top-100 prospect in the 2018 class who played a majority of last week's game after stepping in for an ineffective Jack West. McKee was 15-of-18 for 118 yards and a score.
It'll be a homecoming game for McKee, who prepped at Corona (Calif.) Centennial. His senior year, 2017, that Huskies team also featured sophomore receiver Gary Bryant Jr., junior defensive end Drake Jackson, junior linebacker Tuasivi Nomura and freshman defensive end Korey Foreman, all current Trojans. Bryant was the team's leading receiver that season.
USC's poll rankings
The Trojans jumped one spot in the AP poll after a win in Week 1. USC is now the No. 14 team in both the AP and Coaches Poll.
Five Pac-12 teams are ranked in both polls, with four of them from the Pac-12 South. UCLA and Utah made the two biggest jumps in the Coaches Poll. The Bruins moved to No. 16 and the Utes are in at No. 18. Neither was ranked in the previous poll.
USC's 2021 schedule continues to look backloaded. The Trojans' first ranked opponent could be Utah in Week 6, with four potentially ranked opponents in six games from that point.