WeAreSC On3: Taylor-Stuart and Steele Run the 40, Trojan Baseball Sweeps, Kipp Resigns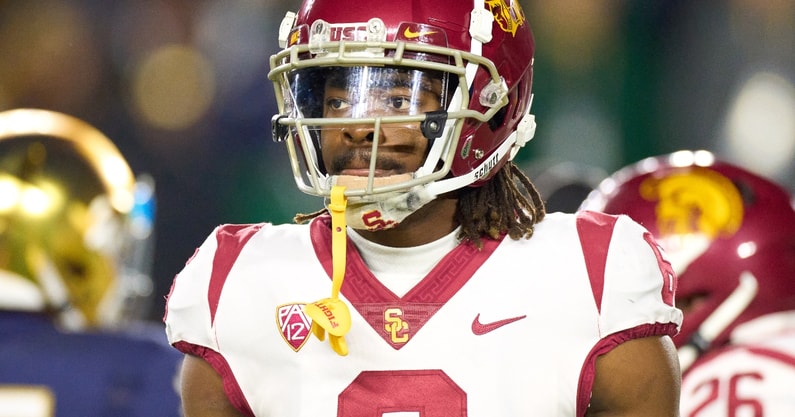 WeAreSC On3 is a daily three-point briefing recapping the news and notes of USC athletics. Today, it's Chris Steele and Isaac Taylor-Stuart running the 40-yard dash and USC Baseball sweeping Wagner. Also, USC's Swimming coach resigns from his position.
Isaac Taylor-Stuart and Chris Steele Workout at Combine
After speaking to the media yesterday, Chris Steele and Isaac Taylor-Stuart participated in different drills during the combine today. In the 40-yard dash, Taylor-Stuart ran 4.42, which was the fastest among Pac-12 DBs. On the other hand, Steele ran 4.48. Both defensive backs will look to make additional impressions on NFL scouts at USC's Pro Day.
Trojan Baseball Wins 7th Consecutive Game
USC Baseball continues its strong start to the season with a 6-2 victory over Wagner today. The win completed the sweep over the Seahawks and was USC's 7th straight win. Up next, they will take on UCLA for a three-game series in Westwood.
Jeremy Kipp Resigns
Jeremy Kipp, head coach of USC's Swimming teams, announced he was resigning from his position today. In a statement, Kipp said: "Due to the difficulty of these last few months, I have informed athletic director Mike Bohn that I believe it is best for me to separate from the program at this time."
Kipp was the head coach at USC for the past two seasons and associate head coach Lea Maurer will serve as the head coach until a replacement for Kipp is found.
The full statement from USC Athletics can be found here.