Which USC Offensive Players Have the Highest NIL Valuation?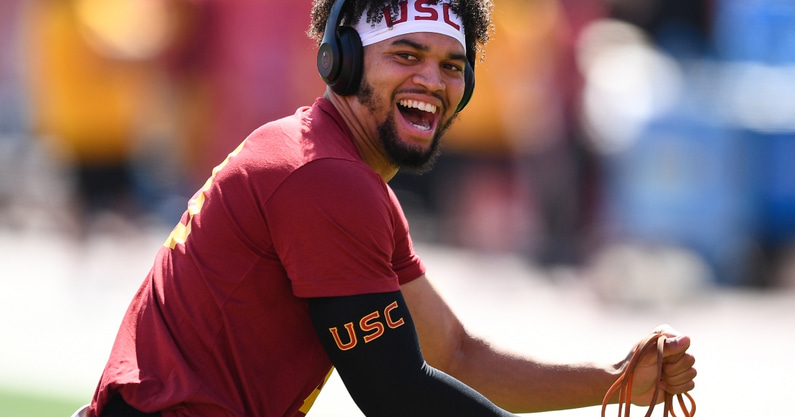 The USC Trojans made a massive NIL announcement this week, creating an agreement with media company Stay Doubted that will provide USC student-athletes with everything they need to take full advantage of NCAA rules regarding compensation for their name, image and likeness.
The announcement was universally praised by those who report on and participate in the business of NIL. Mit Winter, a former Division 1 basketball player and now an NIL attorney tweeted that he believes "this is the future of NIL."
With this arrangement, USC student-athletes will have access to content as well as assistance from successful content creators. They can opt into non-exclusive agreements with NIL representation. And they'll have help with understanding how to navigate investing, paying taxes, legal issues and the other pitfalls that have hurt student-athletes dealing with NIL for the first time.
"I have been an advocate of an arrangement like this for a while, especially with the legal services component," Winter tweeted. "It's great to see a university do this for its athletes."
With all that settled now, and a full launch date expected later this summer and in time for the Fall sports calendar, it felt like a good time to take a look at which USC football players are best positioned to take advantage of USC's now-cohesive push into NIL.
Here are the five USC offensive players with the highest NIL valuation according to On3. The On3 NIL Valuation signifies an athlete's value at a specific moment in time and does not track money earned or current deals. Social media presence, athletic achievements and endorsements all factor into the NIL Valuation, which looks to help set the market for student-athletes, giving them a better idea of their NIL value. The NIL Valuation attempts to show what a student-athlete is worth to a company or brand as a partner or spokesperson over the course of a year.
Not surprisingly, a couple of new Trojans lead the way for USC.
USC quarterback Caleb Williams is No. 2 among college football players and No. 5 in the NIL 100, which includes high school and college basketball and football. Williams would have done just fine for himself. with NIL had he stayed at Oklahoma. But he's blown up since making the move to USC. It took him all of four days after announcing his commitment to USC to launch a partnership with Beats by Dre. His most recent public deal is with Topps, the trading card company.
Williams' NIL Valuation skyrocketed since the end of April. He's consistently mentioned as one of a small handful of Heisman Trophy frontrunners and a key piece to a potential turnaround of a major national program. The $2.4 million valuation now is a jump from $383,000 toward the end of April.
Wide receiver Jordan Addison is another USC Trojan who has seen his valuation skyrocket in recent months. After entering the transfer portal and generating nationwide discussion, his NIL valuation rose from $139k to $548k. After committing to USC, it now sits at $887,000.
Addison ranks No. 16 in the NIL 100 and No. 10 among college football players. Addison isn't very publicly flashy or boisterous off the field. He's posted a few tweets about his partnership with a car dealership back in Pittsburgh but doesn't seem to be pushing hard for other public deals. But he'll be ready when the right opportunities come along and he's now positioned to cash in significantly.
USC's top offensive lineman makes an impressive showing here. Andrew Vorhees checks in at No. 56 in the NIL 100 and at No. 44 among college football players. He doesn't have a massive social media following, but his on-field accolades account for a big recent rise in his NIL Valuation.
Vorhees is going to be a consistent preseason first-team Pac-12 selection. And he is On3's top interior offensive lineman in the country heading into the 2022 season.
Dye was a great player at Oregon. But he has an opportunity to be a household name at USC, playing in Lincoln Riley's offense. His NIL Valuation reflects that, with a 580% increase in late May.
Dye sits at No. 122 among college football players in NIL Rank. Last fall, he sold personalized merchandise while at Oregon. He's been quiet on that front since coming to USC, but he's a Trojan to play football and be closer to his family. The NIL Valuation bump is a byproduct of the move to Los Angeles as well as preseason expectations for a potential all-conference player.
Wide receiver Mario Williams is the fifth USC offensive player whose NIL Valuation surpasses $200,000. Williams signed with Roc Nation Sports this spring for NIL representation. He was a big-time recruit who had a strong freshman season at Oklahoma.
Williams caught two touchdowns in the USC spring game. And he looked like he'll be an integral part of the. offense this season. Williams also owns a big personality, which should help him in NIL pursuits.