With Travis Dye Out, Austin Jones Steps Up and Has a Career Day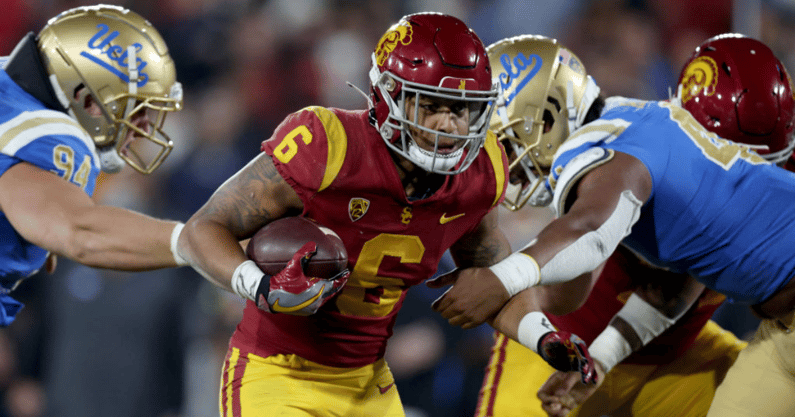 Prior to Saturday's showdown at the Rose Bowl with crosstown rival UCLA, USC running back Austin Jones wrote the number 26 on his wrist tape.
The gesture was an ode to Travis Dye, Jones's teammate in the Trojan running back room. After spending the majority of the season backing up Dye as USC's lead running back, Jones was thrust into the spotlight on Saturday due to Dye's injury.
With the country's eyes on him, Jones more than delivered. The Stanford transfer had by far his best game as a Trojan, carrying the ball 21 times for 120 yards and two touchdowns. In addition, Jones caught four passes for another 57 yards on the evening.
Travis Dye's Injury
USC's victory over Colorado last week came at a heavy cost. Despite the resounding win, the Trojans lost star running back Travis Dye for the season with a leg injury.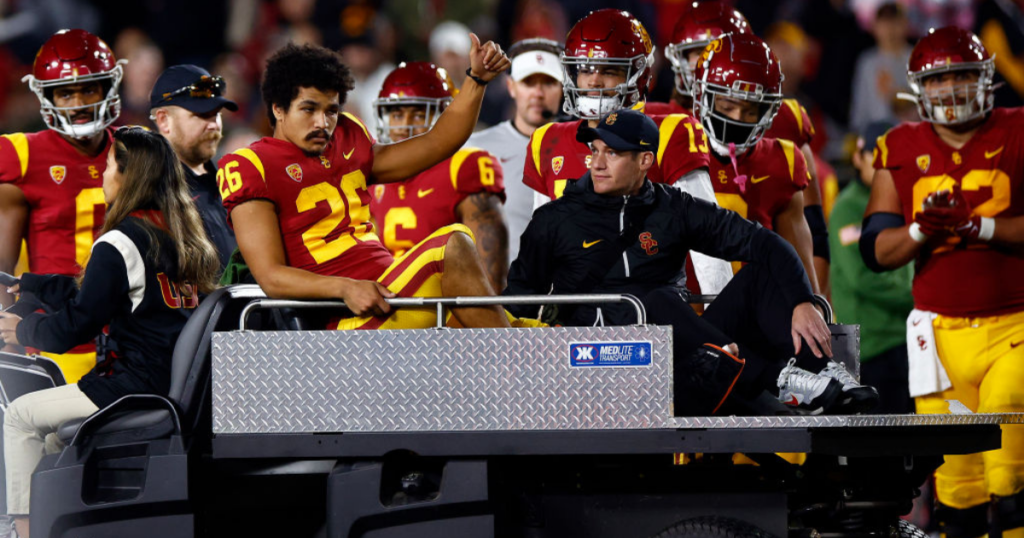 To say that Dye was invaluable for the Trojans during his brief time in the Cardinal and Gold would be an understatement. In just ten games, the Oregon transfer rushed for 884 yards and nine touchdowns. Beyond that, however, he established himself as a leader and a huge presence in USC's locker room. There was no better example of this than the fact that after Dye suffered his injury, the entire USC team came onto the field to support the running back as he was carted off.
Austin Jones Steps Into Lead Running Back Role
At the start of the season, Dye and Jones, USC's two intra-conference transfers, mostly split the role of the Trojans' top running back. By the middle of the year, however, Dye essentially claimed sole possession of the job, with Jones limited primarily to backup duties. This was evidenced by the fact that, in the five games leading up to Colorado, Jones never received more than five carries in a single contest.
Sometimes, however, live gives you a second chance. As tough as it must have been for Jones to watch his teammate go down with a grueling injury last week, that injury gave him the chance to play a featured role in USC's offense once again.
Before the UCLA game, the injured Dye spoke with Jones, telling his teammate to "remind them who you are."
Well, after Saturday's performance, we need not be reminded any longer.
He is Austin Jones. And he's a pretty darn good running back.