Transfer portal breakdown: The 10 best commitments from the open window period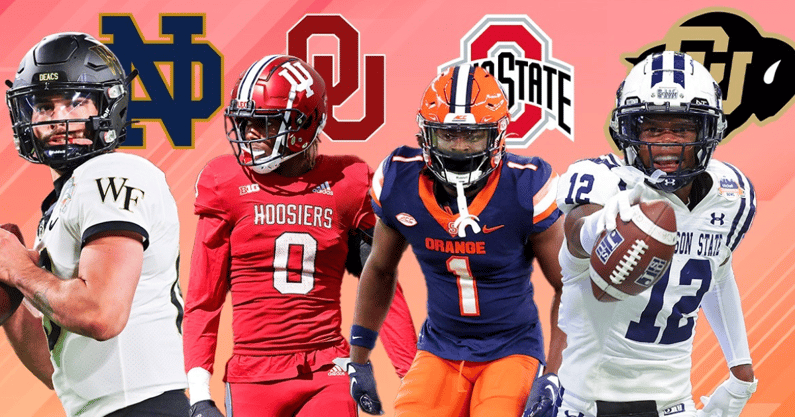 The first-ever transfer portal open window period is over, and here's a look at the 10 best commitments during that stretch.
Yes, "best" is a somewhat nebulous term. It doesn't mean the most talented players to come out of the portal. Instead, in this instance, it's a mix of talent, fit and projected impact.
The portal window closing means only that players cannot enter unless they are a grad student. There is no time element as to when a player already in the portal can decide on a new school. (For a look at all the players in the portal, go to On3's transfer portal wire, which is updated as players go into – and leave – the portal. In addition, there are extensive position rankings of those already in the portal.)
Another portal window opens May 1 and ends May 15.
10. Wisconsin QB Tanner Mordecai
Transfer from: SMU
The buzz: The relevant numbers here are "71" and "72." The first is the number of TD passes thrown by Badgers quarterbacks in the past five seasons. The second is the number of TD passes thrown by Tanner Mordecai (6-3, 214) in the past two seasons at SMU. The Badgers' offense famously has been stuck in the 1980s for the past decade (productive, yes – to an extent – but still stuck in the 1980s). New coordinator Phil Longo was hired away from North Carolina to modernize that offense, and in Mordecai, he has a pass-first quarterback who will rev up the passing attack. Mordecai trusted his arm a bit too much with the Mustangs (witness the 22 picks in the past two seasons), but he will make sure the pass is something Badgers fans actually look forward to seeing this fall.
9. UCLA WR J.Michael Sturdivant
Transfer from: California
The buzz: UCLA is losing its top two receivers, and the Bruins picked up an established Pac-12 receiver to become their No. 1 guy. J.Michael Sturdivant (6 feet 3, 205 pounds) earned numerous freshman All-America honors after leading all freshmen nationally in receptions (65). He was second among freshmen with 755 receiving yards and with seven TD receptions. Sturdivant was an honorable mention All-Big 12 selection. He had at least six receptions in five games against Pac-12 opponents, including an eight-catch, 104-yard, two-TD outing against Washington. He is a rising star and already has produced in the Pac-12. Plus, he has three seasons of eligibility left. In short, grabbing him was a coup for coach Chip Kelly.
8. Penn State WR Dante Cephas
Transfer from: Kent State
The buzz: Dante Cephas (6-1, 180) was one of the most productive receivers in the MAC in each of the past two seasons for Kent State. He was a first-team all-conference pick both seasons. Cephas figures to be Penn State's No. 1 receiver this fall after the Nittany Lions lost their top two receivers. He had 130 receptions for 1,984 yards and 12 TDs the past two seasons in Kent State's prolific version of the spread. Cephas had 10 100-yard games in the past two seasons. In addition, he had 30 receptions of at least 20 yards, 13 of at least 30 and 10 of at least 40 in that span.
7. Texas WR AD Mitchell
Transfer from: Georgia
The buzz: AD Mitchell (6-4, 190) didn't exactly tear it up in his two seasons at Georgia, with just 38 catches. But he had seven TD catches (that's a TD every five receptions, which is … well, that's good) and most of his 2022 season was spent sidelined by an ankle injury. In 2022, he basically played in three games – the opener against Oregon, the CFP semifinal and the national title game; he caught a TD pass in each of those outings. He played more than expected as a true freshman in 2021, with 29 receptions for 426 yards and four TDs despite being a bit on the raw side. (Mitchell had TD catches in both CFP games that season, too.) A healthy Mitchell gives Texas another big-time weapon on the outside. If Isaiah Neyor – who missed 2022 with a knee injury – returns at close to what he was in 2021 at Wyoming, Texas' receiving trio of Mitchell, Neyor and Xavier Worthy has the potential to be the best in the nation.
6. Florida State CB Fentrell Cypress
Transfer from: Virginia
The buzz: Fentrell Cypress (6-0, 184) was perhaps the best corner available in the portal. Florida State's secondary was shaky in 2022, and improvement is needed if FSU is to win the ACC this fall. But, hey, the Seminoles have added a guy who already might've been the best corner in the conference. Cypress had 39 tackles and a league-high 13 pass breakups in 2022. He was a part-time starter in 2021, then emerged in 2022 for new coordinator John Rudzinski. Plus, he has two years of eligibility left. Then again, if his 2023 is as good as his 2022, Cypress will be in the NFL in 2024.
5. NC State QB Brennan Armstrong
Transfer from: Virginia
The buzz: Don't look at Brennan Armstrong's 2022 stats. He was a victim of the "square peg in a round hole" syndrome. UVa's new coaching staff didn't do a good job adapting to Armstrong's skill set. That shouldn't be an issue in 2023. Armstrong (6-2, 210) again will work with coordinator Robert Anae, who was Virginia's OC in 2021, when Armstrong threw for 4,449 yards and 31 TDs and also rushed for nine scores. Anae was at Syracuse in 2022 and Armstrong's stats fell off the table (2,210 passing yards, seven TDs). If Armstrong regains his 2021 form, NCSU can contend for the ACC title.
4. Ohio State S Ja'Had Carter
Transfer from: Syracuse
The buzz: The Buckeyes needed a safety with the departures of Ronnie Hickman and Tanner McCalister, and the coaching staff responded by getting Ja'Had Carter, one of the best safeties in the portal. Syracuse played some of the stingiest pass defense in the nation in the past two seasons despite going against a bunch of productive quarterbacks in ACC play. Carter (6-2, 198) played a big role in those stingy secondaries. He was a three-season starter, and had 138 tackles, five interceptions and seven pass breakups in that span. Carter played a lot as a slot defender in 2022, and thus adds versatility as well as experience.
3. Oklahoma EDGE Dasan McCullough
Transfer from: Indiana
The buzz: Dasan McCullough (6-5, 230) was an On3 Consensus national top-100 player in the 2022 recruiting class, and should prove to be an excellent fit for an OU defense that needs pass rushers – and, quite simply, more talent. While the Sooners had 99 tackles for loss in 2022, they had just 26 sacks, fourth in the Big 12. McCullough had a good true freshman season with IU, with 49 tackles, 6.5 tackles for loss and a team-leading four sacks. He should blossom as he gets older and stronger. Brent Venables wants an attacking defense, and McCullough gives him a high-ceiling weapon off the edge.
2. Colorado's Travis Hunter
Transfer from: Jackson State
The buzz: You'll notice there is no position listed with Travis Hunter (6-1, 170). His official Colorado bio lists him as "cornerback/wide receiver," and he played both positions at Jackson State. Given the Buffs' atrocious pass defense in 2022 – 264.7 yards per game, 67.1 completion percentage, 31 TDs and just six picks – corner would seem to be the smart play. No matter where he ends up, Hunter will be the most talented player on that side of the ball for the Buffs (and probably for the opponent, too). The problem is that the rest of Colorado's roster – even with 24 portal newcomers – still lacks talent; despite all the new guys, it's hard to see the Buffs as a bowl team in 2023.
1. Notre Dame QB Sam Hartman
Transfer from: Wake Forest
The buzz: Notre Dame wanted a new quarterback and it found an ultra-productive one. Sam Hartman (6-1, 210) was a four-year starter at Wake Forest and owns the ACC career record for TD passes with 110, three more than former Clemson star Tahj Boyd. Hartman also is second in ACC history with 12,967 passing yards, behind only former NC State standout Philip Rivers (13,484). He was a great fit for Wake's mesh-point offense; he also rushed for 855 yards and 17 TDs in a career. Hartman is a gunslinger and fun to watch. He'll have to adapt to a more conventional offense and to coordinator Tommy Rees. But he certainly has the skills and talent to continue to put up big numbers.