Transfer portal breakdown: 10 more-important-than-you-think Big Ten transfers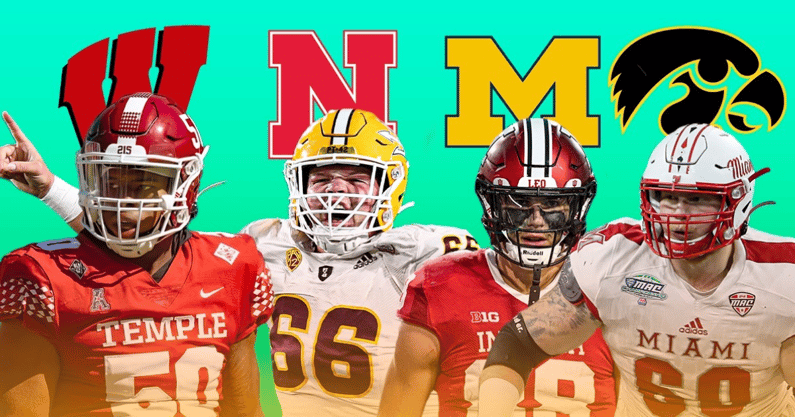 We're going to continue our dive into the transfer portal with a look at some underrated Big Ten transfers.
Everyone knows the big-name transfers in the Big Ten; just take a look at the specific position rankings of those who entered in the portal. Today, though, we're looking at some lower-ranked players who still will play important (and maybe even vital) roles for their new teams this fall.
The players are listed alphabetically.
Michigan TE AJ Barner
Transfer from: Indiana
The buzz: TE Luke Schoonmaker was the Wolverines' second-leading receiver this past season (35 receptions), but he is turning pro. Enter AJ Barner (6-6, 252), who was Indiana's third-leading receiver (28 catches) as well as a team captain. Michigan uses a lot of two-tight end sets, and Barner and holdover Colston Loveland – a rising star who had a solid true freshman season in 2022 – will be an effective duo. Barner was a two-way player in high school, and was recruited by a lot of schools to play defense. While he played strictly tight end at IU, he still is developing at the position and has an intriguing upside.
Rutgers WR Naseimm Brantley
Transfer from: Western Illinois
The buzz: Naseim Brantley (6-4, 200) will be playing for his third school in as many seasons this fall. Brantley was the Missouri Valley Football Conference – the best FCS league of them all – newcomer of the year and a first-team all-conference performer in 2022 after transferring from fellow FCS program Sacred Heart. He won the newcomer award despite playing for a 0-11 team. Brantley had 53 receptions for 893 yards (16.6 yards per catch) and nine TDs. He could be Rutgers' No. 1 receiver this fall, as the Scarlet Knights lost their top three wide receivers. No returning Rutgers wide receiver caught more than 15 passes in 2022.
Maryland G Corey Bullock
Transfer from: North Carolina Central
The buzz: Maryland needs to replace Spencer Anderson at one guard spot, and Corey Bullock (6-4, 315) figures to have first dibs. He was a two-year starter for the Eagles. Bullock was a first-team All-MEAC pick in 2022 after being a second-team selection in 2021. Bullock, a Baltimore-area native, originally committed to Cincinnati out of the portal. While Bullock also saw time at center and tackle at run-oriented NC Central, he will be a guard for the Terps.
Iowa C Rusty Feth
Transfer from: Miami (Ohio)
The buzz: Rusty Feth (6-5, 304) gives Iowa an experienced player for an offensive line that was pushed around far too often last season. Center was a particular trouble spot for the Hawkeyes. Feth became a starting guard halfway through his true freshman season in 2019, then kept that spot in the truncated 2020 season. He moved to center in 2021 and was a two-year starter there. Feth earned second-team All-MAC honors in 2022. The transfer reunites him with George Barnett; Barnett is Iowa's line coach and held the same position at Miami in Feth's first two seasons.
Purdue G Jalen Grant
Transfer from: Bowling Green
The buzz: Jalen Grant (6-3, 285) was a three-year starter for Bowling Green, at both center and guard. He started at guard in 2020, at center in 2021, then was back at guard in 2022. Purdue has an opening at guard after Spencer Holstege transferred to UCLA. Grant figures to battle holdover Sione Finau for the starting job; Finau transferred from FIU after the 2021 season. Purdue's other four line starters return.
Minnesota S Jack Henderson
Transfer from: Southeastern Louisiana
The buzz: Jack Henderson (6-3, 205) was a two-season starter at the FCS leve for Southeastern Louisiana. He was a first-team All-Southland Conference pick in 2022, when he had 90 tackles, seven tackles for loss, two interceptions, four pass breakups and two forced fumbles. He was an honorable mention All-SLC pick in the 2021 fall season and a second-team pick in the 2021 spring season. Henderson is a physical presence in the back end. The Golden Gophers are looking for a new starter at strong safety with the graduation of Jordan Howden. In addition, the Gophers' version of a nickel is more of a safety than a corner, so Henderson could end up there.
Indiana OL Max Longman
Transfer from: UMass
The buzz: After redshirting as a true freshman in 2019, Max Longman (6-4, 302) was a three-year starter for UMass at guard and left tackle. He moved to tackle midway through the 2021 season and stayed there in 2022. Longman signed at UMass when Walt Bell was coach; Bell now is Indiana's offensive coordinator. His experience, versatility and familiarity with Bell's offense should help him carve out a role with IU, either as a starter or a key rotation piece.
Nebraska OL Ben Scott
Transfer from: Arizona State
The buzz: New Huskers coach Matt Rhule needed to add talent all over the roster, and Ben Scott will help up front. Scott (6-5, 305) started at right tackle for the Sun Devils in 2020 and '21 before moving to center this past season. He started in all 28 games he played for the Sun Devils after redshirting in 2019. His proven versatility gives Nebraska coaches some options as to where he lines up. Still, expect him to see him begin his Huskers career at center.
Penn State P Riley Thompson
Transfer from: FAU
The buzz: Adding a punter likely doesn't excite fans. But, hey, adding a punter who was a freshman All-America in 2022 is a big deal. That's Riley Thompson (6-1, 215), an Aussie who averaged 45.4 yards per punt for the Owls. That was good for second in Conference USA and 12th nationally. Thompson should vie for All-Big Ten honors this fall.
Wisconsin EDGE Darian Varner
Transfer from: Temple
The buzz: Darian Varner (6-2, 260) initially committed to Virginia Tech out of the portal. But because transfers don't sign letters of intent – until they actually enroll, they are, well, free agents – he was able to change his mind. Varner was fifth in the AAC this season with 12.5 tackles for loss. He was a key part of an aggressive and physical Temple front seven that helped the Owls rack up 38 sacks (tied for eighth nationally) and 88 TFL (11th). As a true freshman last season, when he played at 285 pounds, Varner was a part-time starter and had seven tackles for loss. His disruptive nature needs to come to the fore on a revamped Badgers defense that has lost star EDGE Nick Herbig to the NFL.