Transfer portal breakdown: The 6 biggest winners from the open window period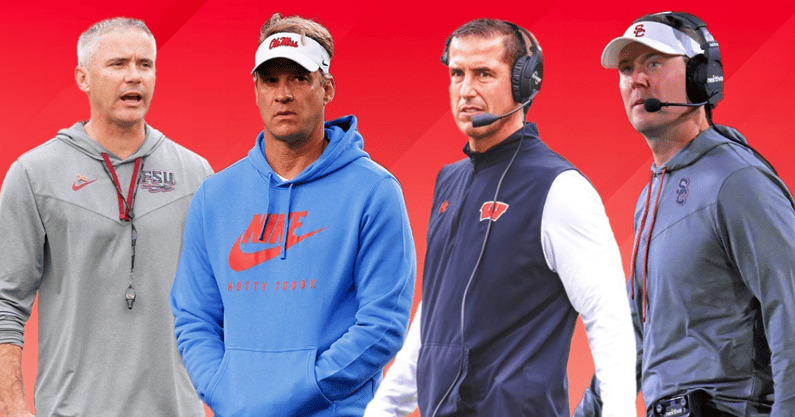 The first-ever transfer portal open window period started December 5 and ended last Wednesday. Because a school has up to 48 hours to enter a player once it is informed a transfer is planned, the final name was put on the list Friday.
The portal window closing means only that players cannot enter unless they are a grad student; there is no time element as to when a player already in the portal can decide on a new school. (For a look at all the players in the portal, go to On3's transfer portal wire, which is updated as players go into – and leave – the portal. In addition, there are position rankings of those already in the portal.)
Another portal window opens May 1 and ends May 15.
Here are the six teams that did the best during the first open window period.
Worth noting is that three of the coaches on this list – UCLA's Chip Kelly, Ole Miss' Lane Kiffin and Florida State's Mike Norvell – aren't known for tearing it up on the recruiting trail. In other words, they need to hit it big in the transfer portal to make up for roster shortcomings partially of their own doing.
The other three coaches? USC's Lincoln Riley is heading into his second season; he recruited well at Oklahoma, but USC's roster needed an overhaul. Still, if he continues to invest this heavily in the portal in years to come, that's a danger sign. Oregon's Dan Lanning is headed into his second season as well. Unlike Riley, he had no track record as a head coach. Given his background under Kirby Smart – who does not use the portal much – you figure he'd rather build with high school recruits. Wisconsin's Luke Fickell is going into his first season. He was known for his development skills at Cincinnati, and he figures to follow that same pattern with the Badgers. Wisconsin's Big Ten status should allow Fickell a wider net than he was able to cast at Cincinnati. Just the same, the Wisconsin roster he inherited had a lot of holes, especially on offense.
6. Ole Miss
Total transfers: 14 (the class is here)
The headliners: WR Chris Marshall (Texas A&M), TE Caden Prieskorn (Memphis), QB Spencer Sanders (Oklahoma State)
More important than you'd think: CB DeShawn Gaddie (North Texas)
The buzz: Ole Miss isn't going to win the SEC West in 2023, but the portal newcomers should help the Rebels contend for a top-three division finish. With six commitments, Kiffin and his staff were especially busy in the final week of the open window period. The biggest was Sanders, a four-year starter at Oklahoma State. He will vie with holdover starter Jaxson Dart during the spring. There's also LSU transfer QB Walker Howard, but that looks to be more of a long-term play. It's hard not to see one of the three hitting the portal after the spring. It seems likely to be Dart. Marshall is talented but had off-field issues at A&M; he has a high ceiling. It may take him a while to truly make his mark, but Prieskorn and Louisiana Tech transfer WR Tre Harris should help right away. Gaddie was a three-year starter at North Texas, at both corner and safety. He had 13 pass breakups (tied for 13th nationally) in 2022 at corner.
5. Oregon
Total transfers: 9 (the class is here)
The headliners: DE Jordan Burch (South Carolina) OT Ajani Cornelius (Rhode Island), S Evan Williams (Fresno State)
More important than you'd think: LB Jestin Jacobs (Iowa)
The buzz: Oregon, USC, Utah and Washington, in some order, figure to be the top four teams in the Pac-12. Lanning's work in the portal has helped Oregon's chances of being one of the top two. Burch was an On3 Consensus five-star recruit and a national top-15 prospect in the 2020 signing class. He never lived up to that hype, but he still was a solid lineman in the SEC. He does a nice job against the run and should be a good fit in Oregon's 3-4 scheme. Despite his FCS background, Cornelius was a coveted transfer. He should move right into the starting lineup for a Ducks offense that returns QB Bo Nix. Williams' brother, Bennett, was a starter for the Ducks in 2022 but has graduated. Evan has a higher ceiling. He was a three-year starter (and a two-year captain) at Fresno State who should slide right in at safety. He had three interceptions and 10 pass breakups in the past two seasons with the Bulldogs. Jacobs started eight games in 2021 for a stingy defense, finishing with 53 tackles, and big things were expected in 2022 because of his mix of size (6-4, 238) and athleticism. But he was injured and played in just two games. Oregon must get more physical, and Jacobs should help in that regard. Also worth noting: WR Tez Johnson (Troy) came aboard and gives Nix a dangerous slot target. An added bonus is that Johnson is Nix's adopted brother.
4. Wisconsin
Total transfers: 13 (the class is here)
The headliners: WR Bryson Green (Oklahoma State), QB Tanner Mordecai (SMU), C Jake Renfro (Cincinnati)
More important than you'd think: DB Jason Maitre (Boston College)
The buzz: Wisconsin has fallen a bit in the Big Ten hierarchy and Fickell's first job is to stop the sliding. His work in the portal should do just that. He brought in a solid group. Mordecai – who began his career at Oklahoma – gives new coordinator Phil Longo an experienced passing quarterback as Wisconsin retools its offense. Mordecai threw for 7,152 yards and 72 TDs in his two seasons as SMU's starter; Wisconsin QBs combined to throw 71 TD passes in the past five seasons. Green should be one of the beneficiaries. He flashed legit big-play potential at Oklahoma State and has the talent and upside to be the Badgers' No. 1 receiver. Renfro was a two-year starter for Fickell at Cincinnati, earning All-AAC honors in 2021. He missed the 2022 season with a knee injury but will give Fickell a solid foundation in the middle of the line. Maitre started 30 games in four seasons at BC – 12 at corner and 18 at safety. Over the past four seasons, Maitre had 131 tackles, three interceptions and 18 pass breakups. He originally was headed to Liberty out of the portal but reversed field and picked the Badgers. That was fortuitous for Fickell. EDGE Darian Varner (Temple) should be a solid rotation player, and K Nathanial Vakos (Ohio) was a second-team All-MAC selection who nailed a 55-yard field goal in 2022.
3. USC
Total transfers: 12 (the class is here)
The headliners: LB Mason Cobb (Oklahoma State), WR Dorian Singer (Arizona), DE Jack Sullivan (Purdue)
More important than you'd think: K Eddie Czaplicki (Arizona State)
The buzz: Let's get this out of the way: Barring the importation of, say, half the Georgia defensive front seven, the Trojans' defense is going to be a big issue in 2023. But Riley made some incremental progress in the portal on that side of the ball and also made sure the offense will keep humming. Cobb was a second-team All-Big 12 guy and will be a key component on defense. Singer, meanwhile, will vie for the No. 1 receiver job left open when Jordan Addison turned pro. He was part of a dynamic trio at Arizona and will be part of a dynamic trio with the Trojans, as well. Sullivan was an underrated pickup. He's a physical guy who showed some pass-rush skills in 2022 with Purdue (a team-leading 5.5 sacks). Czaplicki (Arizona State) was a big pickup, too: He was the first-team All-Pac-12 kicker in 2023. USC needs three new starters up front and – what do you know? – Riley brought in three linemen from the portal. Jarrett Kingston started at guard and tackle at Washington State, and that versatility is important. Ethan White and Michael Tarquin transferred from Florida. White was a second-team All-SEC guard in 2022. Tarquin seems best-suited to be a backup tackle, but he did start a few games with the Gators.
2. UCLA
Total transfers: 12 (the class is here)
The headliners: G Spencer Holstege (Purdue), RB Carson Steele (Ball State), WR J. Michael Sturdivant (California)
More important than you'd think: QB Collin Schlee (Kent State)
The buzz: UCLA figures to take a half-step back in the Pac-12 race, but if the portal newcomers come through, the Bruins could be a surprise contender. There still are a lot of issues defensively, but, hey, Kelly should be used to that by now. One of UCLA's best linemen in 2022 was Rutgers transfer OT Raiqwon O'Neal. Holstege, a three-year starter at Purdue, should be the same in 2023. Steele certainly looks the part of a SoCal surfer (check out the flowing hair) and is coming off a 1,556-yard season at Ball State. His rushing total was eighth nationally and he had nine 100-yard outings, including four with at least 179. The Bruins are losing 1,300-yard rusher Zach Charbonnet to the NFL, and while they return RBs Keegan Jones and T.J. Harden, Steele figures to get every opportunity to show he can be the lead back. Sturdivant was a freshman All-America and had a big season for Cal: 65 receptions for 755 yards and seven TDs. He is a rising star and already has produced in the Pac-12. Plus, he has three seasons of eligibility left. In short, grabbing him was a coup for Kelly. The Bruins signed five-star QB Dante Moore, but Schlee is more than capable of holding down the fort until Moore is ready. Schlee is a dual threat who starred in a prolific Kent State offense in 2022. LBs Jake Heimlicher (Penn) and Femi Oladejo (Cal) and S Jordan Anderson (Bowling Green) also figure to play big roles in 2023.
1. Florida State
Total transfers: 10 (the class is here)
The headliners: OT Jeremiah Byers (UTEP), CB Fentrell Cypress (Virginia), DT Braden Fiske (Western Michigan)
More important than you'd think: DT Darrell Jackson (Miami)
The buzz: FSU figures to open the 2023 season as the ACC favorite, and Norvell's work in the portal (last year and this year) is a big reason. He and his staff brought in as many as six starters this year, with Byers perhaps the crown jewel. He figures as an immediate starter. Fiske and Jackson (assuming he gets a waiver from the NCAA, which seems a mere formality) will be part of an experienced and talented quartet at defensive tackle. Plus, Jackson was a starter for Miami, and taking a starter from a big rival is a huge positive. Cypress is a legit cover corner who had a ton of success in 2022 in the ACC. FSU's secondary was shaky this season and his addition should help. FSU also brought in two of the best tight ends in the portal in Jaheim Bell (South Carolina) and Kyle Morlock (Shorter). Morlock (6-7, 245) will be moving up from Division II, but has a mighty intriguing upside. And think about how FSU can employ Morlock and 6-7 WR Johnny Wilson in the red zone.