Transfer portal breakdown: The key departure for each ACC Atlantic Division team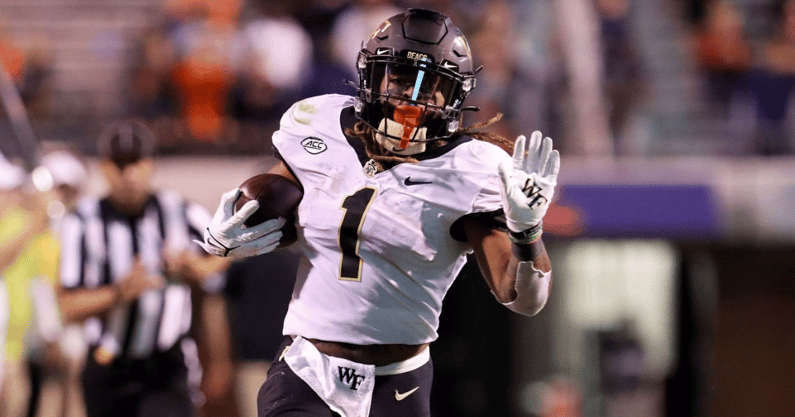 This is a slow period in the transfer portal, and the current portal lull is a good time to do a league-by-league re-examination of the transfer portal comings and goings. Today, we'll examine the key departure for each ACC Atlantic Division team and how the team will compensate.
We already have looked at the key incoming transfer for each ACC Atlantic program. And over the next two weeks, we'll continue the series with a look at the comings and goings in the ACC Coastal Division, division-by-division looks for the Big Ten and overall league looks at the Big 12 and Pac-12 (since it did away with divisions), as well as an overview of the Group of 5 leagues and independents.
We also already have looked at the key incoming and outgoing transfers for SEC East teams, as well as the key incoming and outgoing transfers for each SEC West team.
Boston College
Player: S Deon Jones, to James Madison
The skinny: There were no major transfer portal losses for the Eagles. Jones' departure was the most prominent; he started in 2020 after transferring from Maryland, but a lingering knee suffered late that season kept him on the sideline last season. S Jahmin Muse, another 2020 starter, lost his job last season and also has transferred, to Buffalo. BC is fine at safety with returning starters Jaiden Woodbey and Jason Maitre, though the transfers of Jones and Muse mean there is a lack of experience among the backups.
Clemson
Player: S Joseph Charleston, to Missouri
The skinny: Charleston entered the transfer portal in mid-October after making six tackles in the first four games. He started six games in 2020 and was third on the team with 55 tackles. But he slid down the depth chart last season and wouldn't have seen that much action this season at a position of strength for the Tigers. Sophomore Andrew Mukuba already is one of the best safeties in the ACC and is a rising star nationally. Senior Jalyn Phillips, a part-time starter last season, should pair nicely with Mukuba on the back end. R.J. Mickens and Lannden Zanders are experienced backups, and true freshman Sherrod Covil looked good in the spring
Florida State
Player: CB Jarvis Brownlee, to Louisville
The skinny: FSU's secondary had issues at times last season and losing Brownlee, a starting corner, doesn't help. Brownlee certainly wasn't a star, but he was an experienced player who had two picks, three pass breakups and 51 tackles in 2021. That he left for a team in the same division makes it sting a bit more. Coincidentally, DB Greedy Vance transferred to FSU from Louisville and is in the mix at nickelback; he also can play corner. CB Kevin Knowles may be a better fit at nickelback, and other corners vying for time include sophomore Omarion Cooper, juniors Renardo Green and Jarrion Jones and true freshmen Sam McCall and Azareye'h Thomas. If Cooper and one of the freshmen emerge, the impact of Brownlee's loss will be minimal.
Louisville
Players: WRs Tyler Harrell (to Alabama) and Jordan Watkins (to Ole Miss)
The skinny: Watkins led Louisville wide receivers with 35 receptions last season, while Harrell's departure hurts not necessarily for what he had done (just 20 receptions in four seasons) but what he can become (i.e., a high-end deep threat – he has legit track speed [10.37 in the 100 meters] and is a still-developing receiver). The Cardinals' passing attack lacked a true No. 1 receiver last season, when TE Marshon Ford was the leading receiver, with 49 receptions. There's only one returning wide receiver (Ahmari Huggins-Bruce) who had more than 16 receptions in 2021. Incoming transfer Tyler Hudson, who was an FCS All-American at Central Arkansas, has to show he can be a go-to guy at the FBS level. Louisville also needs guys like Josh Johnson and Braden Smith to produce.
NC State
Player: DE Terrell Dawkins, to South Carolina
The skinny: Dawkins looked as if he would become a solid contributor with his 2020 performance, when he made six starts and had nine tackles for loss. But Dawkins was hurt during summer camp last year and finished the season with just six total tackles. He would've been a rotation piece this fall in the Wolfpack's 3-3-5 scheme, which doesn't necessarily fit Dawkins' skill set (he was recruited as a 4-3 end). Savion Jackson remains the starter, and redshirt freshmen Travali Price and Claude Larkins are behind him. There are high hopes for Price.
Syracuse
Player: WR Taj Harris, to Rutgers
The skinny: Harris left Syracuse four games into the 2021 season, then announced in November he was headed to Kentucky. Harris, a New Jersey native, changed his mind and ultimately chose Rutgers. Harris would've been Syracuse's go-to receiver this season. He is fourth in school history with 151 receptions and ninth with 2,028 receiving yards. His absence last season means Syracuse is used to playing without him. But no one really stepped up as the No. 1 receiver in his absence. The question is whether that was a function of the quarterbacks being bad passers. (And if that is the case, well, maybe new OC Robert Anae and new quarterback coach Jason Beck, who were at Virginia, can help returning starter Garrett Shrader become a competent passer.) Courtney Jackson is the leading returning receiver. Anthony Queeley, who had good numbers in 2020 but struggled some last season, figures to be the other candidate to be the go-to guy. The offensive tweaks should help Queeley; he was extremely productive in a pass-first, -second and -third offense in high school at Orlando Lake Nona.
Wake Forest
Player: RB Christian Beal-Smith, to South Carolina
The skinny: Beal-Smith led the Demon Deacons in rushing in 2020 and '21, and rushed for 1,871 yards and 14 TDs in his Wake career. He left a team certain to be ranked in the preseason top-25 for a team that seems likely to be picked fifth in the SEC East. While his loss stings a bit, Wake still returns established veterans Justice Ellison and Christian Turner; those two combined for 1,047 yards and 12 TDs last season. Ellison, especially, figures to take on a much bigger role this season. Four-star true freshman Demond Claiborne – the No. 4 running back nationally in On3's rankings in the 2022 class – has a ton of potential and should get every opportunity to share carries this season.