Transfer portal breakdown: The key departure for each Big 12 team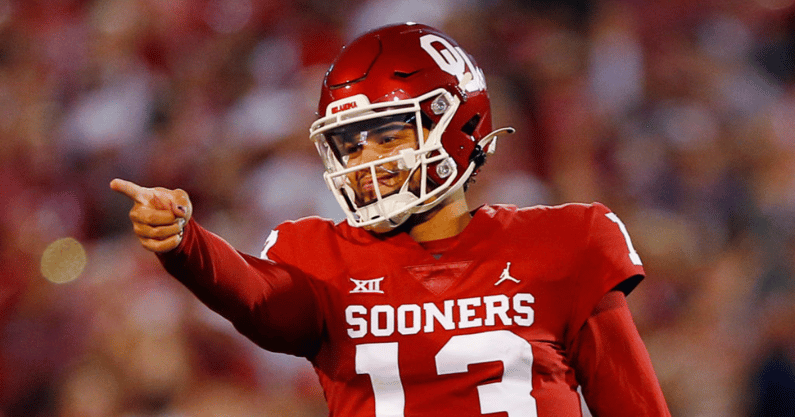 This is a slow period in the transfer portal, and the current portal lull is a good time to do a league-by-league re-examination of the transfer portal comings and goings. Today, we'll examine the key departure for each Big 12 team and how the team will compensate. We already looked at the key incoming transfer for each Big 12 program.
And over the next two weeks, we'll continue the transfer portal series with a look at the Pac-12, as well overviews of the Group of 5 leagues and independents.
We've already looked at the key incoming and outgoing transfers in the ACC Atlantic, the important incoming and outgoing transfers in the ACC Coastal, the key incoming and outgoing transfers for SEC East teams, the key incoming and outgoing transfers in the SEC West, the key incoming and outgoing transfers in the Big Ten East and the key comings and goings in the Big Ten West.
Baylor
Player: QB Gerry Bohanon, to USF
The skinny: Bohanon helped Baylor win the Big 12 last season, providing a running threat and throwing it well enough. He also was a solid decision-maker. Still, he lost his starting job to Blake Shapen during spring practice and hit the transfer portal in late April. Shapen is a better passer than Bohanon but has made just two career starts. And if Shapen struggles or is hurt, the backup situation isn't the best: No other quarterback on the roster has taken a college snap. Redshirt freshman Kyron Drones is the No. 2 guy. Worth noting: WR R.J. Sneed would've been the leading returning receiver, but he transferred to Colorado, so the receiving corps is a question.
Iowa State
Player: S Isheem Young, to Ole Miss
The skinny: Young was a two-year starter. He was a second-team All-Big 12 selection in 2021 and the Big 12 co-defensive freshman of the year in 2020. Young had 106 tackles in his two seasons with the Cyclones, with three interceptions and five forced fumbles. His departure meant Iowa State needed three new starters at safety in its 3-3-5 set. Up-and-coming S Craig McDonald also entered the transfer portal and now is at Auburn. Iowa State is in good shape at corner, and Anthony Johnson Jr. was moved from that position during spring ball and will hold down one of the safety spots. The two other starters should emerge from among this quartet: Beau Freyler, Malik Verdon, Mason Chambers and JC transfer Blake Thompson.
Kansas
Player: CB Duece Mayberry, to TBA
The skinny: Mayberry started four games for KU last season, finishing with 11 tackles. He had an interception and two pass breakups in the spring game, then entered the transfer portal. Mayberry also was a key reserve as a true freshman in 2020 and would've been an important rotation piece this season. Returning starter Ra'Mello Dotson will be joined in the starting lineup by Michigan State transfer Kalon Gervin, and Jacobee Bryant figures to be the No. 3 corner. But depth is lacking.
Kansas State
Player: RB Joe Ervin, to Middle Tennessee State
The skinny: The Wildcats did not lose any vital player to the portal. LB Wayne Jones, who started 18 games (at safety, nickelback and linebacker) in four seasons, left for Charlotte, but we're going with Ervin as the key loss. Ervin did solid work as Deuce Vaughn's backup last season, rushing for 322 yards, and would've been Vaughn's backup again. Ervin was one of three backup running backs to hit the transfer portal, meaning that a lot of untested backs are behind Vaughn. Summer camp will be important to establish a pecking order behind Vaughn. Vaughn is one of the nation's best players and a workhorse; he had 235 carries last season, and all the other backs on the roster combined for just 90.
Oklahoma
Player: QB Caleb Williams, to USC
The skinny: His departure was one of the biggest of the offseason. He earned OU's starting job midway through the season, and though he struggled against "better" defenses, he also showed off special playmaking ability and tons of sheer athletic talent. Williams threw for 1,912 yards and 21 TDs and also rushed for 435 yards and six scores in helping the Sooners go 5-2 in games he started. The guy he beat out, Spencer Rattler, also entered the transfer portal and ended up at South Carolina. The Sooners then brought in UCF transfer Dillon Gabriel as the starting quarterback. Gabriel should thrive in new coordinator Jeff Lebby's offense. But as effective as Gabriel should be (will be?), he's not Williams, who has as high a ceiling as any college quarterback. OU better hope Gabriel stays healthy: Depth is, to be kind, iffy. There's true freshman Nick Evers, redshirt sophomore Micah Bowens, Pitt transfer Davis Beville and sublimely named JC transfer General Booty (the nephew of former highly touted QB Josh Booty).
Oklahoma State
Player: CB Jarrick Bernard-Converse, to LSU
The skinny: Bernard-Converse's departure is a huge hit. He started 47 games in his Oklahoma State career and was a first-team All-Big 12 selection in 2021, when he led the Big 12 with 11 pass breakups and also had 51 tackles. In his four seasons with the Cowboys, Bernard-Converse had two interceptions and 24 breakups. Oklahoma State has a nickel base, and there will be four new starters – including both corner spots – in the secondary for new DC Derek Mason. The new starting corners figure to be Korie Black and Jabbar Muhammad; both played extensively last season and should be a solid starting duo. But depth is a question, as no other corner on the roster has seen appreciable time.
Texas
Player: QB Casey Thompson, to Nebraska
The skinny: No, Thompson is not as good as Quinn Ewers, the Ohio State transfer who will be the Longhorns' starting quarterback. Still, Thompson started the last 10 games of the 2021 season and led the Big 12 in passing touchdowns with 24. (And Texas really didn't lose any other important players to the portal.) Ewers will be backed up by Hudson Card, the guy Thompson beat out last season.
TCU
Player: RB Zach Evans, to Ole Miss
The skinny: You can make a case that edge rusher Ochaun Mathis, who transferred to Nebraska, is the key loss. But as good as Mathis is – he had 15.5 sacks in his three seasons with the Horned Frogs – Evans is an elite talent. Well, he's an elite talent when he wants to be (he had just 146 carries in his two seasons in Fort Worth). Evans also would've been an intriguing fit in new coach Sonny Dykes' offense. Instead, the starting job likely will go to Kendre Miller, who has shown big-time flashes in rushing for 1,011 yards the past two seasons. Holdover Emari Demercado and Louisiana transfer Emani Bailey, who rushed for 642 yards in a reserve role last season, should be able complements.
Texas Tech
Player: DT Devin Drew, to Nebraska
The skinny: Drew, who played two years at Tech after transferring in from a junior college, started 11 games last season and made 34 tackles. As a key rotation piece in 2020, Drew had 21 tackles. The Red Raiders return their other two d-line starters in rising-star E Tyree Wilson and NT Jaylon Hutchings. Drew's spot figures to go to Philip Blidi, who played well in a reserve role last season. Tony Bradford was productive as a backup last season, but there are questions about other backups. Some young guys, like third-year sophomore Larry Moore, a converted offensive lineman, need to step up.
West Virginia
Player: DT Akheem Mesidor, to Miami
The skinny: WVU uses a 3-3-5 set and still should be solid up front. But there's no question Mesidor's departure hurts. He was a still-developing lineman who made 11 starts and had 38 tackles and eight tackles for loss last season. Holdover starters Dante Stills, who will be one of the best linemen in the Big 12, and Taijh Alston will be joined by 300-pounder Jordan Jefferson in the starting lineup. Sean Martin, Jalen Thornton and Georgia Tech transfer Michael Lockhart need to provide snaps behind Stills and Jefferson.