Transfer portal breakdown: The key departure for each Big Ten East team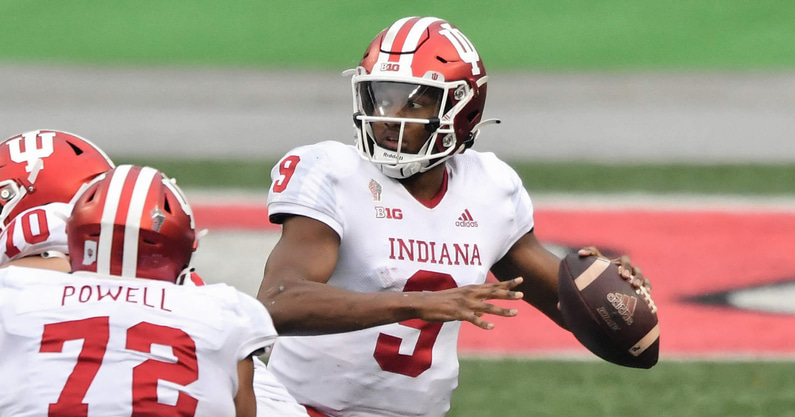 This is a slow period in the transfer portal, and the current portal lull is a good time to do a league-by-league re-examination of the transfer portal comings and goings. Today, we'll examine the key departure for each Big Ten East team – and how the team will compensate. Tuesday, we examined the key incoming transfer for each Big Ten East team, and Thursday we'll look at the key transfer portal arrival for each Big Ten West program.
And over the next two weeks, we'll continue the series with overall league looks at the Big 12 and Pac-12, as well as an overview of the Group of 5 leagues and independents.
We've already looked at the key incoming and outgoing transfers in the ACC Atlantic, the important incoming and outgoing transfers in the ACC Coastal, the key incoming and outgoing transfers for SEC East teams and the key incoming and outgoing transfers in the SEC West.
Indiana
Player: QB Michael Penix Jr., to Washington
The skinny: Penix decided in early December to move on, and his departure hurts – to an extent. Penix was IU's starter in each of the past three seasons. But injuries limited him to just 17 starts, so the Hoosiers are used to playing without Penix. Missouri transfer Connor Bazelak and holdovers Jack Tuttle (a former national top-150 recruit who began his career at Utah) and Donaven McCulley will continue to compete for the job in summer camp. Bazelak, who was inconsistent at Mizzou, seems likely to win the job. While Penix often was injured, he also was 12-5 as IU's starter.
Maryland
Player: EDGE Demeioun Robinson, to Penn State
The skinny: Robinson was an On3 Consensus national top-65 prospect and a recruiting coup for Maryland in the 2021 class. At the least, he would've been a rotation piece this season for the Terps; he also could've emerged as a star, so his departure hurts. Maryland needs Durell Nchami to stay healthy and provide a consistent pass rush; he has the ability to be dangerous off the edge. Tyler Baylor also figures to be in the mix.
Michigan
Player: G Chuck Filiaga, to Minnesota
The skinny: While Filiaga started 10 games the past two seasons for the Wolverines, he would've been a backup this season and Michigan still looks to have the needed depth up front despite his departure. Filiaga, who was an On3 Consensus national top-150 recruit in the 2017 class, started all six games in 2020, then started four games for the Wolverines in 2021. Michigan is set at guard with starters Trevor Keegan and Zak Zinter. Line coach Sherrone Moore has a number of versatile players, and Greg Crippen, Gio El-Hadi, Raheem Anderson and Reece Atteberry likely will vie for backup snaps at guard.
Michigan State
Player: LB Quavaris Crouch, to TBA
The skinny: Crouch began his career at Tennessee, arrived at Michigan State last season and now has moved on again. He was a starter in his one season with the Spartans, finishing with 75 tackles. But he's unlikely to be missed all that much. The Spartans use a 4-2-5 set and look to have a solid rotation of four guys for the two linebacker spots. Cal Haladay was one of the better freshman linebackers nationally last season, and he figures to be joined in the starting lineup by Mississippi State transfer Aaron Brule. Then again, UNLV transfer Jacoby Windmon – a second-team All-Mountain West selection who had 118 tackles last season – could earn a starting spot. (Brule and Windmon are New Orleans-area natives.) There's also converted safety Darius Snow, who looked good in the spring.
Ohio State
Player: S Bryson Shaw, to USC
The skinny: Shaw was third on the Buckeyes in tackles last season with 59; because of a broken leg sustained by Josh Proctor that limited him to two games, Shaw played much more than expected. Still, the Buckeyes look to be more than fine at safety as new coordinator Jim Knowles installs his scheme. First, Tanner McCalister transferred from Oklahoma State and obviously knows what Knowles wants. Proctor is back. Ronnie Hickman was a second-team All-Big Ten pick by league coaches and is a rising star. And Kourt Williams, Lathan Ransom and Cameron Martinez, along with the expected emergence of a freshman or two, give the Buckeyes ample depth at the position.
Penn State
Player: RB Noah Cain, to LSU
The skinny: Cain's departure is a mixed bag. He started six games for Penn State last season but had just 350 rushing yards; he sustained an ankle injury and played in just one game in 2020, and seemed hampered at times last season. Cain did have a solid freshman campaign in 2019, with 443 yards and eight TDs as the top backup to Journey Brown. Holdover Keyvone Lee and five-star true freshman Nick Singleton – the On3 Consensus top running back in the 2022 signing class – likely will be the top two backs. Another true freshman, Kaytron Allen, also could work his way into the mix. Like Cain, Allen attended IMG Academy in Bradenton, Fla.
Rutgers
Player: OT Raiqwon O'Neal, to UCLA
The skinny: O'Neal would've been a third-year starter at left tackle for the Scarlet Knights this season; instead, he'll be starting for the Bruins. His spot seems likely to be taken by the well-traveled Willie Tyler III. Tyler started nine games at ULM last season, then entered the transfer portal. Tyler, a Wisconsin native, began his college career at Iowa Western CC, then spent two years at Texas before moving on to ULM last season. True freshman OT Jacob Allen was a four-star recruit and could end up being the backup.