Transfer portal breakdown: The key departure for each Big Ten West team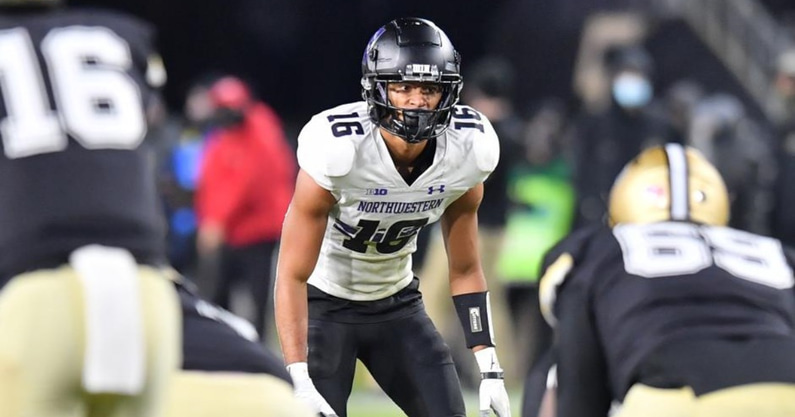 This is a slow period in the transfer portal, and the current portal lull is a good time to do a league-by-league re-examination of the transfer portal comings and goings. Today, we'll examine the key departure for each Big Ten West team, with some a lot more important than others. We already have covered the key incoming and outgoing transfers in the Big Ten East, as well as the key incoming transfer in the Big Ten West.
And over the next two weeks, we'll continue the transfer portal series with overall league looks at the Big 12 and Pac-12, as well as an overview of the Group of 5 leagues and independents.
We've also already looked at the key incoming and outgoing transfers in the ACC Atlantic, the important incoming and outgoing transfers in the ACC Coastal, the key incoming and outgoing transfers for SEC East teams and the key incoming and outgoing transfers in the SEC West.
Illinois
Player: TE Daniel Barker, to Michigan State
The skinny: Barker was a fulltime starter for two seasons (2019-20) with the Illini and a part-time starter last season; he tied for the team lead with five touchdowns (four receiving, one rushing) in 2021. Barker had 64 receptions in his Illinois career, with 11 going for touchdowns; that's a school record for tight ends. You can make a case that Barker was underutilized as a receiver during his Illini career. Holdover Luke Ford, who began his career at Georgia, again will be the starter. Tip Reiman, a former walk-on known for his blocking, and sixth-year senior Michael Marchese, who also has played safety, linebacker and fullback in his time at Illinois, will be the backups. Illinois' new OC is Barry Lunney Jr., who comes from UTSA. Lunney also is a former tight ends coach at Arkansas, where he oversaw a productive position group. It would've been interesting to see how Lunney could've used Barker and Ford in two-tight end sets.
Iowa
Player: WR Charlie Jones, to Purdue
The skinny: Jones was underutilized as a receiver at Iowa, with just 21 catches in two seasons (all 21 came last season) after transferring from Buffalo. But the Hawkeyes certainly are going to miss his return ability. He was a first-team All-Big Ten selection as a return man last season, when he averaged 25.4 yards on 25 kickoff returns and 7.7 on 37 punt returns. He led the Big Ten in punt returns in 2020, averaging 10.5 yards on 21 returns. Jones is one of only three players in Hawkeyes history with both a punt and kick return for a touchdown. Sophomore Arland Bruce IV figures to take Jones' spot as the third receiving option (he has the potential to be a go-to guy). Bruce also would seem to be a natural replacement for Jones as a return guy, too. Backup CB Cooper DeJean also could be a return-man option.
Minnesota
Player: RBs Mar'Keise Irving (to Oregon) and Ky Thomas (to Kansas)
The skinny: Minnesota had five different running backs with 100-yard outings last season. That's because the top three running backs on the depth chart suffered season-ending injuries before the end of October. Irving and Thomas were the other two backs with 100-yard games, and both have moved on. But Minnesota still looks to be fine at running back. Still, the losses of Irving and Thomas hurt because they were freshmen last season and had proved their worth. Mohamed Ibrahim, Trey Potts and Bryce Williams are back from injuries, giving Minnesota what should be a more-than-steady trio this fall.
Nebraska
Player: QB Adrian Martinez, to Kansas State
The skinny: Martinez was a four-year starter for the Huskers, but he never truly played like a veteran quarterback even though he set the school career record for total offense. He was mistake-prone as a freshman in 2018 and he was mistake-prone as a fourth-year starter in 2021, finishing his Huskers career with 30 interceptions and 18 lost fumbles. Martinez was benched at varying points, but always got his starting job back. The new guy arrives from the transfer portal: former Texas starter Casey Thompson (who, by the way, threw nine picks last season for the Longhorns). Thompson gets to work with new OC Mark Whipple, and it would've been interesting to see what Whipple and Martinez would've accomplished working together.
Northwestern
Player: S Brandon Joseph, to Notre Dame
The skinny: Losing an All-American hurts every team. Losing an All-American at Northwestern is especially tough. Joseph was a first-team All-American in 2020 and a second-team All-Big Ten selection in 2021. He had six interceptions in earning All-America honors as a redshirt freshman in 2020. In 2021, he had 80 tackles, three picks and four pass breakups. Returning starter Coco Azema, who began his career at corner but adjusted quite nicely to safety last season, has one safety spot locked up; the other seems almost certain to go to junior Jaheem Joseph, who also has moved from corner. The backup safeties? Good question. Trent Carrington and Tyler Haskins played last season, but combined for just four tackles. Perhaps coaches move another corner to safety or rely on a freshman to provide some backup snaps.
Purdue
Player: S Marvin Grant, to Kansas
The skinny: Grant's decision to enter the transfer portal was surprising for two reasons. One is that he started all 13 games for the Boilermakers last season, when he was second on the team with 75 tackles and added three pass breakups. Another is that he transferred to Kansas. KU has won nine games in the past five seasons; Purdue won nine last season alone. Still, Purdue looks OK at the starting safety spots. The Boilermakers use a 4-2-5 set, with one of the DBs a safety/linebacker hybrid. That spot belongs to Jalen Graham, and the "regular" safety spots should go to Cam Allen and Chris Jefferson (who began his career at Division II Findlay, in Ohio). There is unproven depth, though. Ryan Brandt, Jah'von Grigsby, Sanoussi Kane and Antonio Stevens will be in the spotlight in summer camp.
Wisconsin
Player: OL Kayden Lyles, to Florida State
The skinny: This one is a mixed bag. Lyles would not have been a starter this season, but he would've provided experienced depth at guard and center. Lyles was a backup in 2021 (aside from a fill-in start against Michigan), but was the starter at center in 2020 and a part-time starter at guard in 2019. Recruited as an offensive lineman in the 2017 class, he redshirted as a true freshman, then started at defensive end in 2018 before moving back to the offensive line. He has had health issues: In the past two years, Lyles has had two surgeries on his hips and one on his right knee, and suffered a fracture in his right leg. Wisconsin has Joe Tippmann at center and Tyler Beach (who has moved from tackle) at one guard spot. Tanor Bartolini and Michael Furtney will vie for the other guard spot, with Bartolini – who also can play center and right tackle – the likely winner. While depth appears to be fine, Lyles' experience will be missed.