Transfer portal breakdown: The key departure for each Pac-12 team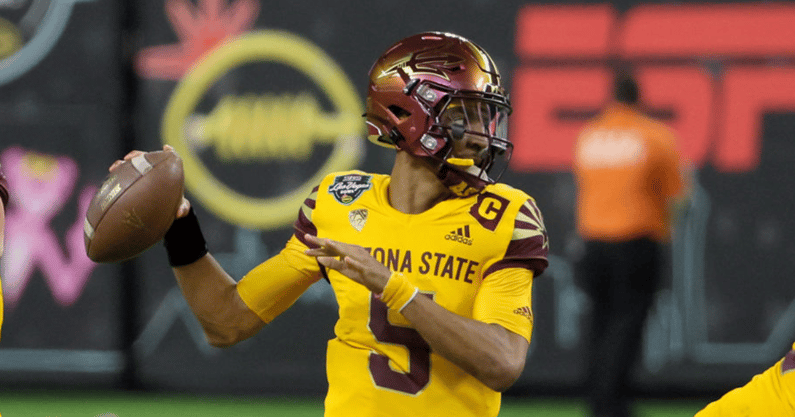 This is a slow period in the transfer portal, and the current portal lull is a good time to do a league-by-league re-examination of the transfer portal comings and goings. Today, we examine the key departure for each Pac-12 team and how the team will compensate. We already looked at the key incoming transfer for each Pac-12 program.
Next week, we'll finish our transfer portal series with overviews of the Group of 5 leagues and independents.
We've already looked at the key incoming and outgoing transfers in the ACC Atlantic, the important incoming and outgoing transfers in the ACC Coastal, the key incoming and outgoing transfers for SEC East teams, the key incoming and outgoing transfers in the SEC West, the key incoming and outgoing transfers in the Big Ten East, the key comings and goings in the Big Ten West and the most important incoming and outgoing transfers in the Big 12.
Arizona
Player: WR B.J. Casteel, to Nevada
The skinny: Arizona used four different starting quarterbacks last season and all four struggled mightily, which led to an inconsistent passing attack. Casteel was second on the team with 33 receptions but for just 326 yards and one TD. He was a part-time starter in his time with the Wildcats, making five starts last season. The irony: He's leaving just as the passing attack should get a massive upgrade because of the arrival of transfers Jayden de Laura (quarterback from Washington State) and Jacob Cowing (wide receiver from UTEP). Highly touted true freshman Tetairoa McMillan has the talent to eventually be a go-to guy, but he should be a nice complement to Cowing this season. Dorian Singer showed the ability to be a deep threat last season, and should be the third starter. Behind those three is a lot of unproven talent. Keep an eye on true freshman TE Keyan Burnett as a receiving threat; he was a high school teammate of McMillan's at Anaheim (Calif.) Servite.
Arizona State
Player: QB Jayden Daniels, to LSU
The skinny: Anytime you lose a guy who would've been a four-year starter, it hurts. Even though he was mediocre last season, Daniels was an experienced quarterback. His departure meant Arizona State had to dive into the portal, and coaches landed Florida transfer Emory Jones. Like Daniels, Jones is a true dual-threat guy. He's a better runner than Daniels but not as good a passer. Jones led the Gators in rushing last season and threw 19 touchdown passes, but also tossed 13 picks. The potential is there for Jones, but there is work to do – by Jones and by the coaches – to make sure he is more consistent this season.
California
Player: G McKade Mettauer, to Oklahoma
The skinny: Mettauer was a three-year starter for the Bears and was an honorable mention All-Pac-12 selection last season. For an offense that prefers to run the ball and control the clock, losing an experienced and talented offensive lineman hurts. Cal has just two returning starters up front, and both guard spots are open. Cal brought in two transfers after the spring game in T T.J. Session (Montana State) and G Spencer Lovell (Arizona State). Session might fit better at guard, and if so, those two should vie with holdovers Bastian Swinney and Brian Driscoll for the starting spots. If Session does play tackle, it's likely he and holdover Brayden Rohme compete for the job on the right side.
Colorado
Player: RB Jarek Broussard, to Michigan State
The skinny: Broussard led the Buffs in rushing each of the past two seasons and was the Pac-12 offensive player of the year in 2020. He rushed for 895 yards in six games in 2020 (149.2 yards per game, third nationally), then for 661 last season. His departure leaves a big void at running back for the Buffs. FCS All-America RB Ramon Jefferson, from Sam Houston State, committed to Colorado out of the transfer portal but later changed his mind. Holdover Alex Fontenot seems likely to start. He ran for 874 yards in 2019, but missed 2020 with a hip injury and backed up Broussard last season. Holdovers Deion Smith and Jayle Stacks will vie for carries, too. Colorado signed two running backs and both come from powerhouse prep programs: Anthony Hankerson from Fort Lauderdale (Fla.) St. Thomas Aquinas and Victor Venn from Buford (Ga.) High, in the Atlanta suburbs.
Oregon
Player: RB Travis Dye, to USC
The skinny: Dye was the No. 5 rusher in school history (3,111 yards) despite always sharing time. Dye rushed for 1,271 yards and 16 TDs last season; he also led the Ducks with 46 receptions and had 83 catches in his career. Still, even without Dye and all his production, the Ducks look fine at running back. There are high hopes for sophomore Byron Cardwell, who came on down the stretch last season, and Sean Dollars is back from a knee injury and looked good in the spring. The Ducks also picked up Mar'Keise Irving (Minnesota) and Noah Whittington (Western Kentucky) from the transfer portal, and the running backs will run behind a line that returns all five starters. In short, the Ducks' running game will be productive.
Oregon State
Player: WR Zeriah Beason, to Washington State
The skinny: Beason was a starter last season but had just 20 receptions. Still, that was third-most by a wide receiver and that is an iffy position for the Beavers this season. The leading returning receiver is Tre'Shaun Harrison, who had 29 receptions in 2021. Harrison, who began his career at Florida State, might be the de facto go-to guy on the outside this fall. Tyjon Lindsey and Anthony Gould combined for 29 catches last season and should fill the other two starting spots. There are a lot of untested receivers behind that trio. Good news for the passing game is that TE Luke Musgrave will be one of the best at his position on the West Coast.
Stanford
Player: RB Austin Jones, to USC
The skinny: Jones was a steady producer for three seasons and led Stanford in rushing in 2020. Both he and Nathaniel Peat, last season's leading rusher, left via the transfer portal (Peat went to Missouri), meaning Stanford – a team that loves to run the ball – will turn to unproven backs this season. The top candidate for the starting job is E.J. Smith, who is better known for having a famous dad (Emmitt) than for anything he has done at Stanford. Smith has rushed for 133 yards in two seasons. Casey Filkins is in line to be the No. 2 back. Four-star true freshman Arlen Harris Jr. could get some action, too. The biggest issue with the running game is a line that has gotten zero push the past four seasons. All five starters return, so maybe that changes this fall.
UCLA
Player: CB Jay Shaw, to Wisconsin
The skinny: OK, so UCLA's pass defense last season was shaky. But losing an experienced corner still hurts. Shaw started 16 games in his five-year Bruins career (he redshirted as a true freshman in 2017); he was a full-time starter in 2020 and a part-time starter in 2019 and last season. He earned some second-team All-Pac-12 acclaim last season, when he tied for the team lead with three interceptions and added four pass breakups. The Bruins lost two fulltime starters on defense to the transfer portal in EDGE Mitchell Agude and LB Caleb Johnson, but UCLA looks stronger at those two positions than it does at corner. There are high hopes for redshirt freshman CB Devin Kirkwood, and Wyoming transfer Azizi Hearn likely will nail down one starting spot. Hearn, from the San Diego area, is a one-time walk-on at Arizona who transferred after the 2018 season and became a three-year starter for Wyoming. He had 30 tackles and five pass breakups last season. John Humphrey should be the third corner, but after that, it's murky.
USC
Player: TE Michael Trigg, to Ole Miss
The skinny: This isn't because of anything Trigg did last season as a true freshman. Instead, it's because of what he could've done in a Lincoln Riley offense. Trigg played in six games and had seven receptions in 2021 after arriving as a four-star recruit and national top-160 prospect in the On3 Consensus. But his athleticism and receiving skills would've made him a viable receiving threat in Riley's offense. Without him, Malcolm Epps, Lake McRee and Jude Wolfe are the guys in the mix at tight end; they caught a combined 25 passes last season in reserve roles.
Utah
Player: S Kamo'i Latu, to Wisconsin
The skinny: Latu became a key backup in his second season last fall and even made one start. He would've been an important part of the safety rotation this season. Cole Bishop started the final six games of last season as a true freshman and should contend for All-Pac-12 honors this season. His running mate could be Illinois State transfer Clayton Isbell, who earned some FCS All-American acclaim while playing for the Redbirds. R.J. Hubert has been bothered by injuries the past two seasons and will vie with Isbell for the other starting spot. After that, there is unproven depth.
Washington
Player: CB Jacobe Covington, to USC
The skinny: This is another one that could hurt more down the road than this season. Still, Covington was in line for a lot of playing time this fall because the Huskies lost both starting corners to the NFL draft. As it stands now, former walk-on Mishael Powell and UC Davis transfer Jordan Perryman look like the starters, with three unproven players (Davon Banks, Dyson McCutcheon and Zakhari Spears) next in line. Recruiting background notwithstanding, Powell has the look of a future star.
Washington State
Player: G Cade Beresford, to Boise State
The skinny: Normally when a starting quarterback leaves, that's the automatic pick as the key departure. But not in this instance. As well as Jayden de Laura played last season, it became obvious he would leave when Eric Morris was hired as coordinator. Morris left his job as Incarnate Word coach to go to Pullman, and Incarnate Word QB Cameron Ward entered the portal when Morris left. Ward obviously is a great fit for Morris' offense because Ward already has produced big numbers for Morris in that offense. Thus, de Laura was smart to leave. We're going with Beresford as the key departure; he started nine games last season. Also leaving: C Brian Greene, who started five games in 2021 after being a fulltime starter in 2020, when he was an honorable mention All-Pac-12 selection. Washington State will have three new starters up front, but one of the returning starters, Jarrett Kingston, is moving from guard to left tackle. A key is Northern Colorado transfer T Grant Stephens; if he can handle right tackle, Ma'ake Fifita likely starts at guard. But if Fifita has to play tackle, the guard spots become an even bigger concern. Rodrick Tialavea and Christian Hilborn also will be in the mix at guard.