Transfer portal breakdown: The key newcomer for each ACC Coastal Division team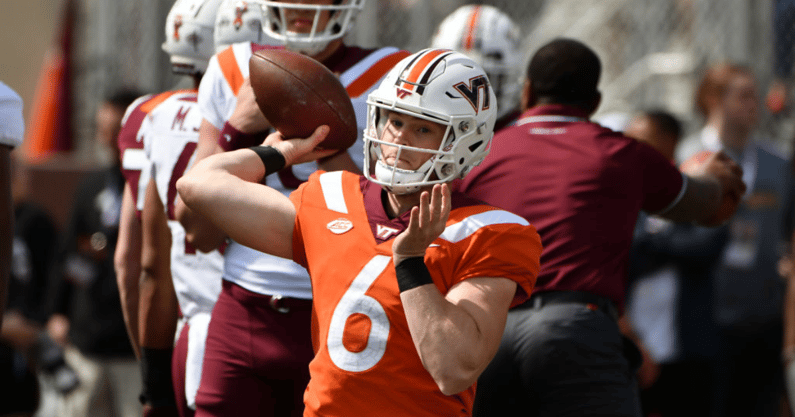 This is a slow period in the transfer portal, and the current portal lull is a good time to do a league-by-league re-examination of the transfer portal comings and goings. Today, we'll examine the key newcomer for each ACC Coastal Division team. Saturday, we'll look at how each ACC Coastal team will replace its key departure.
And over the next two weeks, we'll continue the series with division-by-division looks for the Big Ten and overall league looks at the Big 12 and Pac-12 (since it did away with divisions), as well as an overview of the Group of 5 leagues and independents.
We've already looked at the key incoming and outgoing transfers in the ACC Atlantic, as well as the key key incoming and outgoing transfers for SEC East teams and the key incoming and outgoing transfers in the SEC West.
Duke
Player: S Darius Joiner, from Western Illinois
The skinny: New coach Mike Elko has a massive rebuild on defense, and adding Joiner (6 feet 2, 200 pounds) as a transfer is a positive step. Joiner, who played his first two seasons Jacksonville State before moving to WIU last season, led the FCS ranks with 142 tackles in 2021 season and was a first-team All-America selection. He finished sixth in the voting for the Buck Buchanan Award, which goes to the top defensive player in the FCS. He should slide right into the starting lineup in a secondary that lost all five starters, including a few to the transfer portal. So, how big is the defensive rebuild? The Blue Devils lost eight in a row to close out 2021, and surrendered at least 45 points in each of the final six contests. They were last nationally in total defense (517.9 yards per game) and 123rd in yards-per-play defense (7.11).
Georgia Tech
Player: RB Dylan McDuffie, from Buffalo
The skinny: Tech was relatively busy in the transfer portal, but to be frank, there is no "this guy will produce" player among the newcomers. McDuffie (6-0, 210), though, should get ample opportunity. The Yellow Jackets lost their top two rushers; Jahmyr Gibbs left for Alabama and Jordan Mason turned pro (and went undrafted). In addition, potential starter Jamious Griffin transferred to Oregon State. Holdover Dontae Smith (378 yards, four TDs last season) and McDuffie figure to be the top two backs. McDuffie rushed for 1,049 yards and 11 TDs in a run-heavy offense at Buffalo and was a third-team All-MAC selection last season. While he lacks top-end speed, he does have a nice burst and can run between the tackles.
Miami
Player: LB Caleb Johnson, from UCLA
The skinny: Miami's linebackers underwhelmed last season, so Johnson (6-1, 230) – one of six transfer defenders who figures to see appreciable time this fall – is an important portal pickup. UM was inconsistent against the run last season. In its seven wins in 2021, Miami allowed 108.4 rushing yards per game and 3.5 yards per carry; in its five losses, it was 181.8 and 4.3. The linebackers also didn't make many big plays. The hope is Johnson can help change that. Miami is his fourth school; he signed with Fullerton (Calif.) College out of high school, then spent a season at Texas before transferring to UCLA in 2020. He was a two-year starter with the Bruins who had 89 tackles and eight tackles for loss in his two seasons. Fellow UCLA transfer Mitchell Agude, an edge rusher who should help spruce up UM's pass rush, also should be an important player this season.
North Carolina
Player: LB Noah Taylor, from Virginia
The skinny: Taylor (6-5, 235) is a two-fer for the Tar Heels: He is a talented player and he is a transfer from a division rival. Taylor was a three-year starter for the Cavaliers with legit big-play ability; he had 13 sacks, 30 tackles for loss, 16 quarterback hurries, three interceptions and 10 pass breakups in his time at UVa. (Taylor had a career-high 12 tackles in a loss to the Tar Heels last season.) UNC was ninth in the ACC in sacks and tackles for loss in 2021, so Taylor's addition is big. New defensive coordinator Gene Chizik should be able to put Taylor's big-play ability to good use.
Pitt
Player: QB Kedon Slovis, from USC
The skinny: This is a tough one: Is it Slovis or WR Konata Mumpfield from Akron? Can Slovis (6-3, 205) avoid mistakes? If not, Nick Patti will be the starting quarterback. Neither is going to be as efficient or productive as departed starter Kenny Pickett. Pitt won games (and the ACC title) because of Pickett last season; it won't be that way this season. But the Panthers don't want Slovis (or Patti) to be the reason they lose games. Slovis had an eye-opening true freshman season in 2019, an adequate 2020 and a mediocre 2021. If Slovis can regain his 2019 form, he will be the unquestioned starter. If not? Well, things will get interesting. Pitt has an offensive line that returns all five starters and a deep group of running backs. But star WR Jordan Addison now is at USC, and the Panthers need holdover WR Jared Wayne (who benefited greatly from all the attention paid to Addison by opposing defenses) and Mumpfield to be effective on the outside. Mumpfield was one of the most productive freshman receivers in the nation last season with 63 catches for 751 yards and eight TDs.
Virginia
Player: DE Kameron Butler, from Miami (Ohio)
The skinny: Butler was a three-year starter at Miami who was a first-team All-MAC selection last season, when he had 53 tackles, eight sacks, 13 tackles for loss, three forced fumbles and an interception. He also was a two-time second-team All-MAC pick who had 31.5 tackles for loss in his RedHawks career. His big-play ability should help make up for the loss of the aforementioned Taylor. Virginia was rancid on defense last season, allowing 466.0 yards per game (121st nationally) and 6.6 yards per play (117th); the Cavs also had a league-low 18 sacks, the seventh-fewest for a Power 5 team. Yes, new DC John Rudzinski (who had been at Air Force) has some work to do. Butler is one of a handful of defensive transfers for the Cavs who needs to make an immediate impact.
Virginia Tech
Player: QB Grant Wells, from Marshall
The skinny: The Hokies' passing attack has been spotty the past three seasons. It bottomed out last season, with Tech not even throwing for 200 yards in nine of its 13 games. Wells has the potential to change that. He started in both of his seasons with the Thundering Herd, throwing for 300 yards eight times (the Hokies have had a combined eight 300-yard outings in the past four seasons). Wells has a strong arm but takes unnecessary risks and threw 22 picks in his two seasons at Marshall. Still, if those gunslinger tendencies can be curbed a bit, there's no question he can rev up the passing attack for new OC Tyler Bowen. One potential issue: Tech's receivers are a huge concern. Can Wells make them better?