Transfer portal breakdown: The key transfer for each Big Ten East team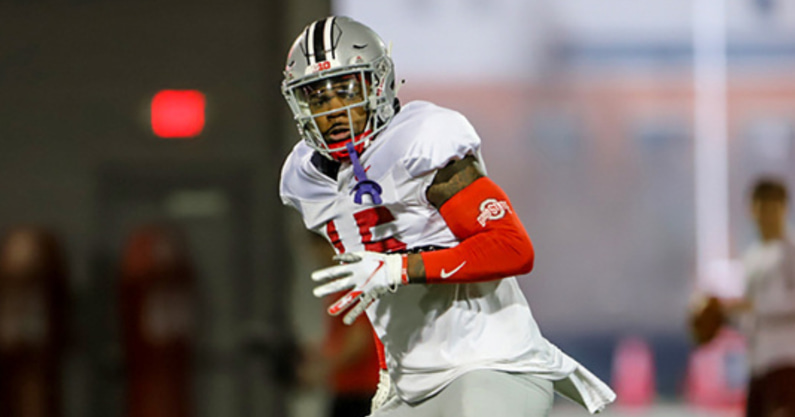 This is a slow period in the transfer portal, and the current portal lull is a good time to do a league-by-league re-examination of the transfer portal comings and goings. Today, we'll examine the key newcomer for each Big Ten East team. Wednesday, we'll look at how each division team will replace its key departure, and we'll dive into the Big Ten West later this week.
And over the next two weeks, we'll continue the series with overall league looks at the Big 12 and Pac-12, as well as an overview of the Group of 5 leagues and independents.
We've already looked at the key incoming and outgoing transfers in the ACC Atlantic, the important incoming and outgoing transfers in the ACC Coastal, the key incoming and outgoing transfers for SEC East teams and the key incoming and outgoing transfers in the SEC West.
Indiana
Player: DE JH Tevis, from California
The skinny: IU brought in a bunch of players from the transfer portal, including a potential starting quarterback in Connor Bazelak from Missouri. But the pick here is Tevis. Given the ineptitude of IU's offense last season, the Hoosiers' defense (which always seemed to be on the field) actually was relatively solid. Still, adding an experienced player like Tevis is a positive. He was a two-year starter at end for the Golden Bears. He had 37 tackles and 5.5 tackles for loss last season, and should fit nicely in IU's 4-2-5 set.
Maryland
Player: WR Jacob Copeland, from Florida
The skinny: His arrival gives the Terps an intriguing trio at wide receiver, as he joins Rakim Jarrett and Dontay Demus Jr. But Demus is coming back from a torn ACL and may not be 100 percent when the season begins. Copeland was a two-year starter at Florida and always served as a complementary piece. Can he be more if needed? Inconsistency has been an issue – forget drive-to-drive consistency; he had issues play-to-play. But he can make the contested catch and has good speed.
Michigan
Player: C Olusegun Oluwatimi, from Virginia
The skinny: The Wolverines lost starting C Andrew Vastardis, and Oluwatimi should slide in nicely as a sort of one-season rental. He began his career at Air Force and became a three-year starter for the Cavaliers. Oluwatimi was a second-team All-ACC selection in 2021, when he was one of three finalists for the Rimington Trophy, which goes to the nation's best center. He, G Zak Zinter and T Ryan Hayes will vie for All-Big Ten and even All-America honors, giving the Wolverines one of the best lines in the nation.
Michigan State
Player: RB Jarek Broussard, from Colorado
The skinny: Michigan State struck transfer portal gold last season with RB Kenneth Walker III moving in from Wake Forest. Broussard isn't going to be that prolific (Walker rushed for 1,636 yards and won the Doak Walker Award as the nation's best back), but he's still an important pickup. He led Colorado in rushing in each of the past two seasons and was the Pac-12 offensive player of the year in 2020, when he rushed for 895 yards in six games in 2020 (149.2 yards per game, third nationally). Broussard isn't as good between the tackles and won't be a 22-carry-a-game guy like Walker. But he has good quickness and big-play ability.
Ohio State
Player: S Tanner McCalister, from Oklahoma State
The skinny: His is an important acquisition on two levels. One is that McCalister is a talented player. He was a two-year starter at Oklahoma State. McCalister signed as a cornerback and played extensively as a reserve corner in 2018 and '19. He moved to safety in 2020 and became a starter, and kept his starting spot in 2021. McCalister had 34 tackles, an interception and five pass breakups last season for one of the nation's best defenses. Second is that he will re-join defensive coordinator Jim Knowles in Columbus, as Knowles left Oklahoma State for Ohio State. McCalister's versatility, experience and knowledge of Knowles' scheme will make him an important part of a Buckeyes secondary that struggled at times in 2021.
Penn State
Player: WR Mitchell Tinsley, from Western Kentucky
The skinny: Tinsley was one of the most productive receivers in the transfer portal; he had 87 receptions for 1,402 yards and 14 TDs in the Hilltoppers' pass-happy attack last season. The receptions total was 16th nationally, while he was eighth in receiving yards and fifth in TD receptions. Penn State lost star WR Jahan Dotson to the NFL; while Tinsley is not Dotson, his addition gives the Nittany Lions a top-level trio along with holdovers Parker Washington and KeAndre Lambert-Smith.
Rutgers
Player: WR Taj Harris, from Syracuse
The skinny: Harris is a proven commodity who should provide a boost to the Scarlet Knights' receiving corps. He is fourth in Syracuse history with 151 receptions and ninth with 2,028 receiving yards, and can provide a legit deep threat. Harris left Syracuse four games into the 2021 season, then announced in November he was headed to Kentucky. Harris, a New Jersey native, changed his mind and ultimately chose Rutgers. One potential issue: He played with so-so quarterbacks at Syracuse, and Rutgers doesn't exactly have elite talent at the position, either.