Transfer portal breakdown: The On3 transfers of the week from Week 13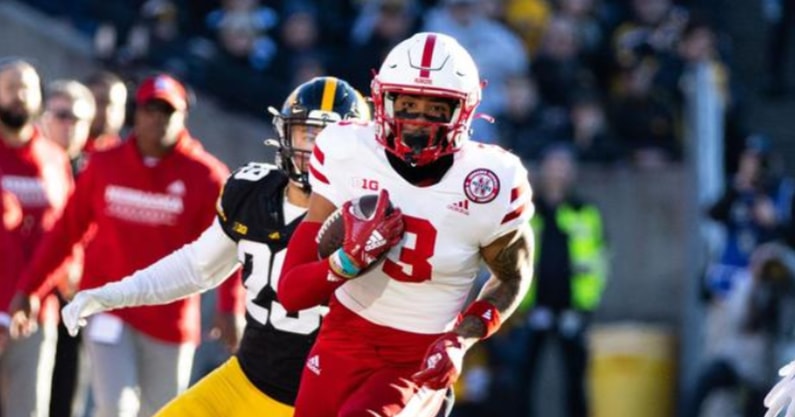 Here are the On3 transfer players of the week for Week 13.
We pick a transfer of the week in each Power 5 conference as well as an overall Group of 5 transfer of the week. It's not just transfers from this past offseason; all players who have transferred from other four-year schools are eligible to be selected
Everything being equal, more weight is given to big performances against "good" opponents.
ACC
QB Jordan Travis, Florida State
The buzz: Travis was not accurate, going just 13-of-30, but he hit on a ton of big plays in the Seminoles 45-38 victory over Florida. His 13 completions covered 270 yards, including five of at least 25 yards. He also threw one TD pass. Travis rushed for 83 yards and two scores, including a 29-yarder in the first quarter. It was the seventh game this season in which Travis accounted for at least three TDs, including the sixth in a row.
Big Ten
WR Trey Palmer, Nebraska
The buzz: Palmer finished off a record-setting season in fine fashion, with nine receptions for 165 yards and two TDs in a 24-17 upset of Iowa that knocked the Hawkeyes out of the Big Ten Championship Game. The yardage total gave Palmer 1,043 for the season, which is a single-season school record; it also is just the second 1,000-yard season by a Huskers receiver in school history (Stanley Morgan Jr. had 1,004 yards in 2018). Palmer, who transferred from LSU in the offseason, finished the season with 71 receptions, second-most in a season in school history; RB Marlon Lucky had 75 in 2007.
Big 12
QB Tyler Shough, Texas Tech
The buzz: In a game that featured 1,271 total yards, Shough helped the Red Raiders edge Oklahoma 51-48 in overtime. Shough, who transferred from Oregon after the 2020 season, accounted for 480 yards and two TDs. He threw for a career-high 436 yards and two TDs and rushed for another 44. Both TD passes came in the second half. He also guided Tech on the game-tying drive in the final seconds, helping Tech go 50 yards in 13 plays in 4:01 before a 43-yard field goal with three seconds left.
Pac-12
QB Michael Penix Jr., Washington
The buzz: Penix, who transferred from Indiana in the offseason, put an exclamation point on a magnificent regular season with a huge performance in the Apple Cup. Penix accounted for 518 yards of total offense and five touchdowns in the Huskies' 51-33 victory over Washington State. Penix, who leads the nation in passing, threw for 484 yards and three touchdowns, and also rushed for 34 yards and two more scores. Washington finished with 704 yards of offense. Penix had 10 completions of at least 20 yards and four of at least 40. Penix threw two TD passes and rushed for both scores in the first half, which ended with Washington leading 28-27. He hit a 75-yard TD pass on the first play of the second half.
SEC
WR Antwane Wells Jr., South Carolina
The buzz: Back-to-back top-10 opponents and back-to-back huge games for Wells, who transferred from James Madison in the offseason. Wells had nine receptions for 132 yards and two touchdowns Saturday as the Gamecocks upset Clemson 31-30. Last week, in a stunner over Tennessee, Wells had 11 receptions for 177 yards. Wells had a 4-yard TD catch for South Carolina's first score in the second period, then caught a 72-yarder late in the third period to cut the Tigers' lead to 30-28.
Group of 5
QB Todd Centeio, James Madison
The buzz: While James Madison is ineligible for the Sun Belt title game because it is in its first season as a FBS member, the Dukes still won the Sun Belt East title thanks to a big game from Centeio. He accounted for five TD as JMU hammered Coastal Carolina 47-7 to win the division. Coastal was without star QB Grayson McCall, who missed the game with an injury. Centeio, who transferred from Colorado State in the offseason, threw for 287 yards and four TDs, and also rushed for 25 yards and a score. He had six completions of at least 20 yards. James Madison finished with 502 yards of offense against Coastal (10-2).