Transfer portal breakdown: Important FCS-to-FBS transfers you need to know in 2023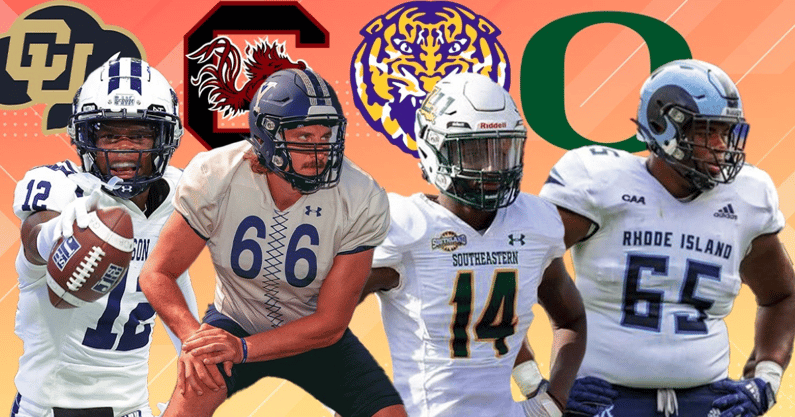 There will be another flood of transfers in early May, when the second portal open window period begins, but for now the transfer portal is relatively quiet. That gives us an opportunity to look at 12 key transfers making the jump from the FCS ranks to FBS this season.
"Key" is a relative term. Still, you can expect each of these players to make an appreciable impact this fall for their new teams. And 11 of the 12 are moving to Power 5 programs.
Numerous former FCS players made big Power 5 impacts in 2022, including Louisville wide receiver Tyler Hudson (Central Arkansas), Utah tight end Dalton Kincaid (San Diego), Wake Forest defensive tackle Kobie Turner (Richmond), Florida State EDGE Jared Verse (Albany) and South Carolina wide receiver Antwane Wells Jr. (James Madison, which was a FCS program when Wells was there).
The players are listed alphabetically.
LSU CB Zy Alexander
Transfer from: Southeastern Louisiana
The buzz: LSU got a bigger-than-expected contribution from a FCS transfer (Colby Richardson, from McNeese State) at cornerback in 2022, and has returned to the same well. Zy Alexander (6-3, 185) has impressive size and proven ball skills (nine picks, 20 pass breakups in the past two seasons). Alexander was a two-time All-Southland Conference pick for Southeastern Louisiana and also earned some All-America plaudits in 2021. LSU lost its top three corners, and brought in Alexander and Denver Harris (Texas A&M) from the portal.
Arkansas WR Andrew Armstrong
Transfer from: Texas A&M-Commerce
The buzz: Andrew Armstrong (6-6, 190) was a hot portal commodity. He has excellent size (6-6, 190), and had 62 receptions for 1,020 yards and 13 touchdowns this past season. Armstrong was a first-team All-Southland performer after leading the league in receiving yards and tying for the lead in TD catches. He also earned some All-America mention. Arkansas' leading returning wide receiver had 16 catches this past season. That means the Hogs need Armstrong and fellow transfers Isaac TeSlaa (6-4, 210), from Division II Hillsdale (Mich.), and Tyrone Broden (6-7, 210), from Bowling Green, to produce. If nothing else, Arkansas figures to have the tallest receiving trio in football this fall.
Oregon OT Ajani Cornelius
Transfer from: Rhode Island
The buzz: Ajani Cornelius (6-5, 310) started each of the past two seasons at right tackle for Rhode Island and was one of the hottest transfer commodities on the market. He was a first-team All-Colonial pick this season. The Ducks have a vacancy at right tackle and Cornelius should fill it. Cornelius is one of two key o-line transfers for the Ducks, who also reeled in G Junior Angilau (a three-year starter at Texas who missed 2022 with an injury).
East Carolina LB B.J. Davis
Transfer from: South Carolina State
The buzz: B.J. Davis (6-2, 190) was the Mid-Eastern Athletic Conference Defensive Player of the Year in 2022, when he had 85 tackles, eight tackles for loss, five interceptions and seven pass breakups. Davis also earned some All-America acclaim and was a finalist for the Buck Buchanan Award, given to the top defensive player in the FCS ranks. He was a first-team All-MEAC pick in 2021, too, when he helped the Bulldogs win the league title. His coverage skills (he doubled as a wide receiver in high school) mean ECU could use him in a few different roles. Davis is one of two HBCU linebackers to transfer to ECU; Tyquan King (6-3, 215) was a first-team All-Big South pick for North Carolina A&T after finishing with 94 tackles and 5.5 TFL.
South Carolina OL Nick Gargiulo
Transfer from: Yale
The buzz: Nick Gargiulo (6-5, 290) started at left tackle for Yale for two-and-a-half seasons before moving to center midway through the 2022 season. He played well enough at both spots to earn first-team All-Ivy League honors. South Carolina needs a new center and Gargiulo figures to get first crack at the job. Gargiulo was voted by his teammates as Yale's captain in 2022. He played for Tony Reno at Yale; Reno is the father of South Carolina quarterback commitment Dante Reno, a 2024 prospect.
UCLA EDGE Jake Heimlicher
Transfer from: Penn
The buzz: Jake Heimlicher (6-4, 245) had 47 tackles, nine sacks and 13 tackles for loss to earn first-team All-Ivy League recognition in 2022. He was the best player on a defense that finished second nationally against the run. Heimlicher had 7.5 sacks and 12.5 tackles for loss in 2021. UCLA will have an interesting group of pass rushers in 2023 with Heimlicher, Laiatu Latu (10.5 sacks in '22) and the Murphy twins, Gabriel and Grayson (a combined 6.5 sacks this past season). Heimlicher is the second Ivy League defensive lineman in as many years to transfer to UCLA; DT Jacob Sykes (Harvard) was a steady presence up front for the Bruins in 2022.
Colorado CB/WR Travis Hunter
Transfer from: Jackson State
The buzz: Travis Hunter (6-1, 170) was the top-rated transfer available after leaving Jackson State, and he's going to a Colorado team that is bereft of talent. New coach Deion Sanders is trying to change that, but it's fair to wonder how big a splash Hunter truly can make for a team needing a complete rebuild. He played corner (two picks, 10 pass breakups) and receiver (18 receptions, 188 yards, four TDs) for Jackson State. But the Buffs really need a lot of help in the secondary. They allowed 31 TD passes this season, second-most nationally.
North Carolina CB Alijah Huzzie
Transfer from: East Tennessee State
The buzz: UNC lost two corners to the transfer portal (Storm Duck to Penn State, Tony Grimes to Texas A&M). But it found a good one in Alijah Huzzie (5-11, 190), who should move directly into the starting lineup. Huzzie earned a bunch of All-America honors in 2022, when he had 59 tackles, six interceptions and 16 pass breakups. He was a three-year starter for the Bucs, and had 12 interceptions and 30 pass breakups. Huzzie earned some freshman All-America honors for the 2021 spring season. He was a second-team All-Southern pick in both the spring and fall seasons in 2021 and was a first-team all-league pick this past season.
Texas Tech WR Drae McCray
Transfer from: Austin Peay
The buzz: Drae McCray (5-9, 177) adds another weapon to what should be a high-level receiving corps for Texas Tech. The Red Raiders return five wide receivers who had at least 30 receptions in 2022. Now they add McCray, who led Austin Peay in receptions, receiving yards, all-purpose yards and receiving touchdowns in each of his two seasons with the Governors. He had 129 receptions for 1,888 yards and 17 touchdowns in those two seasons, including 76 catches for 1,021 yards and nine TDs to earn first-team All-Atlantic Sun honors in 2022. He also was a first-team all-league pick in 2021, when Austin Peay was in the Ohio Valley Conference. "We are fortunate to be signing easily one of the fastest players in college football," Red Raiders coach Joey McGuire said of McCray. McCray was a state-ranked 110-meters hurdler in high school in Florida.
Duke C Mike Purcell
Transfer from: Elon
The buzz: Duke started an FCS transfer at center for most of the 2022 season (Jack Burns, from Cornell), and it could be more of the same this fall with Burns' graduation. Mike Purcell (6-4, 315) was a three-year starter at center for Elon, though his 2021 season was cut short by injury. Elon was a playoff team this season, losing in the first round to Furman. Purcell, who was a second-team All-Colonial selection this season, will be a seventh-year senior in 2023.
Arizona State RB Cameron Skattebo
Transfer from: Sacramento State
The buzz: Arizona State is in rebuilding mode under new coach Kenny Dillingham, and Cameron Skattebo (5-10, 212) gives the Sun Devils a productive running back. ASU doesn't have anyone returning who rushed for more than 67 yards in 2022. Skattebo rushed for 1,373 yards and seven TDs for the Hornets, who were the No. 1 seed in the FCS playoffs. Skattebo had eight 100-yard games. He was named the Big Sky Conference Offensive Player of the Year and made some All-America teams.
Virginia Tech RB Bhayshul Tuten
Transfer from: North Carolina A&T
The buzz: Virginia Tech desperately needed a running back and picked one up from the portal in Bhayshul Tuten, who rushed for 1,363 yards and 13 TDs this past season. He was a first-team All-Big South selection and earned some All-America mention for NCA&T. Tuten also is an accomplished receiver, finishing with 31 receptions and four TDs for the Bulldogs. He was a finalist for the Walter Payton Award, given to the best player in the FCS ranks. Virginia Tech's leading returning rusher had 146 yards in 2022. Thus, Tuten figures to get every opportunity to show he can be the lead back. Tuten originally committed to Boston College out of the portal before switching to Virginia Tech. Tuten was a state-ranked 60-meters runner in New Jersey in high school.