Transfer portal notebook: On available quarterbacks, a run on tight ends, Michigan's offensive line and more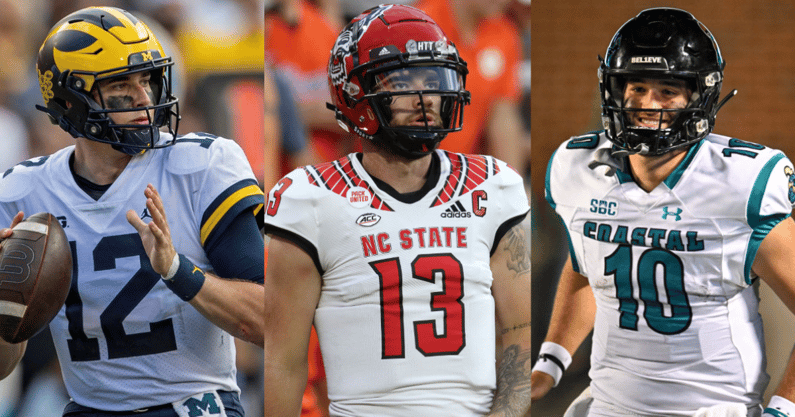 A majority of Power 5 teams are shopping for a quarterback in the transfer portal. But to bring the real world into college football, the supply chain is backlogged. In short, there aren't enough portal quarterbacks to go around.
Now, there's no question more quarterbacks will enter the transfer portal as bowl games are played, especially with the involvement of NIL. But will there be enough to satisfy the demand? There also figure to be more quarterbacks who transfer in the second portal window, after spring practices end. But adding a quarterback then is far from ideal because the first time they practice with their new team is a month before the first game.
Almost 47 percent of FBS teams started a transfer quarterback in their opening game this season. There's no reason to think that number will drop noticeably next season.
The best quarterbacks to make a commitment thus far are probably Phil Jurkovec (to Pitt) or Cade McNamara (to Iowa). Nothing against those guys, but they aren't keeping opposing defensive coordinators up nights.
Brennan Armstrong (transferring from Virginia), Devin Leary (NC State), Grayson McCall (Coastal Carolina) and D.J. Uiagalelei (Clemson) are the top four quarterbacks currently available. Armstrong and Leary put up huge numbers in 2021, but for numerous reasons, both saw their numbers drop in 2022. Uiagalelei has the tools but not the production. McCall is a three-time first-team All-Sun Belt pick and has put up big numbers. But while his skill set was a great fit for Coastal's offense, it doesn't necessarily translate to more "conventional" offenses. In short, none of the four is a definite "this quarterback will help us" fix.
A handful of teams are looking for immediate help plus a developmental prospect. Pitt, for instance, has the commitment from Jurkovec and also one from Christian Veilleux (a Penn State transfer). Jurkovec almost certainly will start, and Pitt's staff can figure out if Veilleux can be the quarterback of the future.
Wisconsin is another. The Badgers have a commitment from Nick Evers (Oklahoma transfer), who played in one game this season as a true freshman. But as On3's Pete Nakos reported, the Badgers also are looking for an experienced quarterback who can start in 2023 for new coordinator Phil Longo.
In a perfect world, numerous teams would be looking to add two quarterbacks out of the portal. But right now, the demand far outstrips the supply.
Tight ends a hot commodity out of portal
Teams looking for a tight end certainly are hoping for an influx of transfers at that position, too. A number of top tight ends already have committed out of the portal.
Jaheim Bell (a South Carolina transfer) and Kyle Morlock (Division II Shorter) both chose Florida State, a coup for coach Mike Norvell. Rivaldo Fairweather (FIU) committed to Huge Freeze and Auburn. Erick All (Michigan) picked Iowa, where he again will work with quarterback Cade McNamara, who also chose the Hawkeyes after leaving Michigan. McCallan Castles (FCS member UC Davis) committed to Tennessee.
That means five of the top eight tight ends currently in the portal already have chosen their next school. There are some intriguing prospects remaining. Still, needy teams wouldn't mind 10 or so more tight ends deciding to enter the portal.
Michigan gets o-line help
Michigan's offensive line was named the winner of the Joe Moore Award on Saturday. The award goes to the nation's top line, and it's the second season in a row the Wolverines have won.
We bring this up because the starting center this season was Olusegun Oluwatimi, a Virginia transfer. He won the Rimington Award as the nation's best center; he also became Michigan's first Outland Trophy winner, which is presented to the nation's top interior lineman.
Oluwatimi, who will be playing in the Senior Bowl, is out of eligibility. Michigan may have found his replacement in the portal. Drake Nugent (6-1, 300), a two-year starter at Stanford who earned honorable mention All-Pac-12 acclaim this season, committed Sunday.
Nugent is the second Pac-12 offensive lineman to choose the Wolverines out of the portal. LaDarius Henderson (6-5, 310) was a three-year starter for Arizona State and a team captain this season. He started at left tackle as a true freshman in 2019, was a reserve in 2020, then started at guard in each of the past two seasons. It wouldn't be surprising to see him at tackle next season for the Wolverines.
Extra stuff
+ South Carolina has received a commitment from Division II All-American RB Mario Anderson, who starred at Newberry (S.C.) College. Anderson (5-9, 210) rushed for 1,560 yards and 19 TDs this season for the Wolves. Anderson rushed for 1,237 yards and 12 TDs in 2021 and had 16 100-yard outings in 30 career games at Newberry. He is the second high-profile D2 transfer to commit to a Power 5 school, along with the aforementioned Morlock. Among the D2 transfers who made a big FBS impact this season were Western Kentucky QB Austin Reed, who transferred from West Florida; Central Michigan EDGE Thomas Incoom, from Valdosta (Ga.) State; and NC State G Chandler Zavala, from Fairmont (W.Va.) State.
+ Two of the nation's top 10 punters from this season have changed teams via the transfer portal. Eddie Czaplicki, who led the Pac-12 and was eighth nationally with an average of 45.98 yards per attempt for Arizona State, has made the intraconference move to USC. And Riley Thompson, who was second in Conference USA and 10th nationally (45.75) for FAU, is moving on to Penn State.
+ EDGE rusher Lloyd Summerall and CB Kendall Dennis were both four-star recruits and national top-300 prospects from powerhouse Lakeland (Fla.) High – Summerall in the 2019 class, Dennis in 2020. Summerall signed with Florida and Dennis with Oklahoma, but neither did much. Both entered the transfer portal and both chose USF on Sunday (the USF campus in Tampa is about 40 miles west of Lakeland). New coach Alex Golesh needs to replenish the Bulls' roster, and it would help the cause if Dennis and Summerall can make instant impacts during spring practice.