Transfer portal notebook: Florida State got a gem in WR Johnny Wilson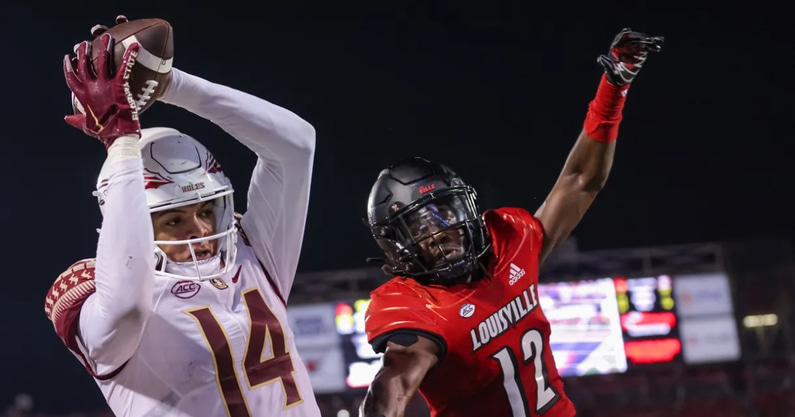 Florida State dipped heavily into the transfer portal in the offseason, bringing in 12 players. The headliners were thought to be edge rusher Jared Verse from Albany, wide receiver Mycah Pittman from Oregon and center/guard Kayden Lyles from Wisconsin.
Wide receiver Johnny Wilson, a transfer from Arizona State, was a bit further down the pecking order. Heck, West Virginia transfer Winston Wright – who twice led the Mountaineers in receiving and thus was a proven commodity – was considered a bigger deal than Wilson.
As it turned out, Verse has been as advertised, Lyles and Wright were injured (Lyles in camp, Wright in a car accident) and Pittman hasn't done all that much. Wilson, though, is emerging as an important playmaker for the unbeaten Seminoles (3-0). He had his coming-out party last Friday at Louisville.
Wilson, who is 6 feet 7 and 235 pounds, had seven receptions for 149 yards and two touchdowns, both in the fourth quarter, as FSU rallied for the win. The second was a 2-yard fade midway through the period that proved to be the game-winner.
He has the same body type as former FSU wide receiver Kelvin Benjamin, a 6-5, 235-pounder who had a team-high 15 TD receptions when the Seminoles won the national title in 2013.
Wilson really hadn't done anything to think his Friday performance was coming. In two seasons at Arizona State, Wilson had a total of 243 receiving yards and one TD. And he had just four catches in FSU's first two games, though those four receptions did go for 111 yards. Against the Cardinals, though, specifically in the second half when he was working with backup quarterback Tate Rodemaker, Wilson looked like a future All-ACC guy – heck, even a future All-America candidate.
Rodemaker replaced an injured Jordan Travis late in the second quarter and … well, it didn't look good for FSU. Rodemaker was 1-of-3 for minus-6 yards in the quarter, including a horrible interception in which he either under- or overthrew FSU receivers by about 10 yards. But he was on point in the second half, going 5-of-7, including four completions to Wilson. He was 3-of-4 in the fourth period, with all three completions to Wilson; one was a 69-yarder, and the other two were touchdowns.
Given his height, it shouldn't be a surprise that Wilson is a long strider. But he flashed his speed on the 69-yard reception. And he knows how to use his size, with the touchdown catch a prime example of a 6-7 guy high-pointing a pass.
"To me, it's 80-20," Wilson told reporters about his game-winning catch. "If I don't catch it, nobody catches it. So I caught it. That was it, pretty much. They called the play. I knew he was going to throw it to me. That was my opportunity to make a play."
Wilson also sort of brought himself back to earth. "It definitely feels good," he said. "But the thing about football is that there's always next week. You've got to stack it."
It's no secret that Florida State has struggled for the past few seasons. One example: The Seminoles haven't had a receiver gain even 400 yards in either of the past two seasons. They've had one 1,000-yard receiver since 2014. Wilson is at 260 yards through three games, a pace that puts him a bit over 1,000 for the season.
"Johnny has been incredible," coach Mike Norvell said. "Just his growth from spring practice to this fall.
"We believe that we got a special player."
An interesting transfer QB matchup in the Pac-12
What would've been a key Pac-12 North matchup Saturday is now simply a key Pac-12 game because the league did away with divisions over the summer. And two transfer quarterbacks will be key figures when Washington State plays host to Oregon.
Oregon's Bo Nix and Washington State's Cameron Ward have had solid starts to the season. Nix has accounted for 10 touchdowns for the Ducks (2-1), though five TD passes came against FCS Eastern Washington. But he also accounted for five TDs, including three rushing scores, in last week's impressive rout of BYU. Ward has thrown eight touchdown passes for the Cougars (3-0), with one coming in their upset win at Wisconsin.
Nix's three seasons at Auburn were up-and-down affairs. He threw 39 TD passes and rushed for 18 scores with the Tigers. But he also threw 16 interceptions, and 16 of his TD passes came as a freshman.
The win over BYU was noteworthy on a few levels. First was that he beat a ranked team; Nix now is 5-10 against ranked foes, and he had won just once in his past eight games against a ranked team until the BYU victory. Second was that he rushed for a career-high three TDs. Third is that he completed better than 70 percent of his passes, something he had done just once against a ranked team. Washington State isn't ranked, but the Cougars do play solid defense.
Washington State coach Jake Dickert has been impressed with Nix. "He keeps the play alive and runs very effectively," Dickert said in the Pac-12 coaches' teleconference. "His experience, you can't replicate it. They did a good job in the portal of upgrading that position."
Ward, meanwhile, passed for 4,648 yards and 46 TDs in 13 games in 2021 for Incarnate Ward. He threw 70 TD passes in 19 career games with the Cardinals, then followed former UIW coach Eric Morris to Pullman; Morris was hired as Washington State's offensive coordinator after last season.
Ward averaged 45 attempts per game last season, but in two games against FBS opponents this season, he has averaged 31.5. Then again, he threw for 174 yards and four touchdowns in the first half last week against Colorado State and didn't need to do much in the second half. Worth noting: Oregon's secondary has struggled in its two games against FBS opponents, with BYU and Georgia quarterbacks going a combined 59-of-78 (75.6 percent) for 744 yards, five touchdowns and no interceptions.
Ducks coach Dan Lanning said Monday he is impressed with Ward's ability to extend plays. "(He) does a good job of getting the ball downfield, but is also dangerous with his legs," Lanning said.
Lanning also noted that the Cougars' version of Mike Leach's Air Raid offense could cause some problems. "They use the tight end," he said. "So it's more to prepare for, and they do a lot more. But they still can create some of those issues that the Air Raid can create."
Transfers in the spotlight
The Oregon-Washington State quarterback matchup isn't the only interesting portal story with this week's schedule. Here are some others.
The quarterbacks in Virginia Tech-West Virginia: It's the Hokies' Grant Wells vs. the Mountaineers' J.T. Daniels in a Thursday night battle of portal quarterbacks. Wells is a West Virginia native and a Marshall transfer, so he figures to have extra incentive. He's still mistake-prone; he's thrown four picks after tossing 24 in two seasons with the Herd. Daniels has played well despite playing with a less-than-stellar receiving corps (which, to be fair, also is an issue for Wells).
South Carolina QB Spencer Rattler vs. Charlotte: Rattler, the Oklahoma transfer, hasn't been all that effective with the Gamecocks. We spotlighted him in this space last week in advance of the game with Georgia, and as with many quarterbacks against the Bulldogs, he played poorly. He finished 13-of-25 for 118 yards and two interceptions in a 48-7 loss. Almost 40 percent of his passing yardage came on one play (a 46-yarder in the first quarter to TE Jaheim Bell). If he can't get right against Charlotte … let's just say that would bode ill for the rest of the season. The 49ers are surrendering 320.5 passing yards a game and allowing opposing quarterbacks to complete a nation's-high 73.9 percent of their passes.
Arkansas LB Drew Sanders vs. Texas A&M: Sanders, an Alabama transfer, has been a standout with the Hogs. He was an edge rusher with the Tide, but Arkansas DC Barry Odom is lining him up mostly as an inside 'backer and moving him around to take advantage of his athleticism. Sanders has 27 tackles, five sacks, two pass breakups and two forced fumbles. Sanders figures to be busy as the Hogs go for their second win in a row over the Aggies.
Wisconsin CB Jay Shaw vs. Ohio State: Wisconsin lost all five starters from last season's secondary, so the Badgers dipped into the transfer portal for help. Shaw, who was a second-team All-Pac-12 pick last season at UCLA, was the biggest pickup. Shaw has an interception and two pass breakups, and he helped stifle Washington State's passing attack in Week Two. But the Cougars still won. This week, Shaw and his secondary mates face a much tougher test against C.J. Stroud and a bunch of high-level receivers.
Wake Forest DT Kobie Turner vs. Clemson: Wake was horrible against the run last season (195.6 yards per game, 25 TDs allowed). Bringing in a transfer portal defensive tackle was a priority. Enter Turner, a two-time first-team All-Colonial Athletic Association pick at Richmond. Wake is coming off a win in which it allowed 181 rushing yards to Liberty. Turner and his linemates better 'bow up because Clemson figures to run right up the gut until Wake stops it.
James Madison's pass-catch combo vs. Appalachian State: FBS newcomer James Madison plays its first Sun Belt Conference game against one of the league's premier programs. Dukes QB Todd Centeio originally signed with Temple, transferred to Colorado State, then transferred again to JMU. He is one of six JMU starters who is a transfer. His top target is Kris Thornton, who is in his third season with the Dukes after transferring from VMI. Thornton has 101 receptions for 1,344 yards and 18 touchdowns since the beginning of last season. Centeio has thrown for 452 yards and nine TDs in two games this season, with 18 of his 33 completions (and five TD passes) going to Thornton.