Transfer portal breakdown: Reviewing how the most active teams last offseason did on the field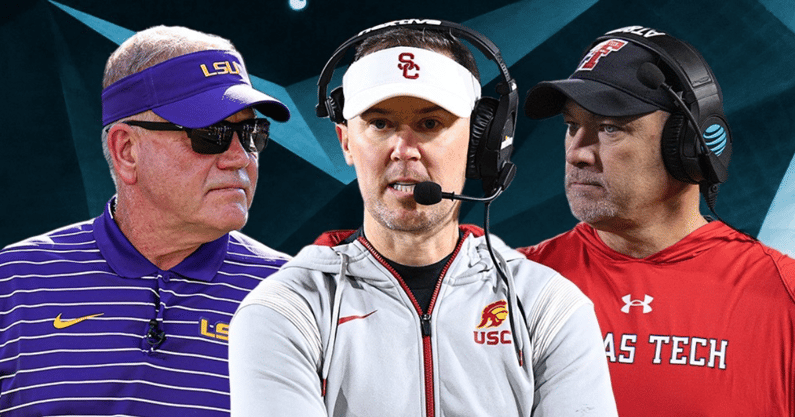 With the transfer portal currently in full swing (the window is open for a bit more than two weeks, then will open again for 15 days starting in late April), we thought we'd look back at the teams that brought in the most transfers last offseason and see how it worked out.
Six teams took at least 16 players out of the portal. What did we find? A mixed bag.
The two schools that took the most – both with new coaches – ended up playing for their league titles, thanks to quarterbacks from the portal. But those schools also had established coaches who guided teams to the College Football Playoff in their previous jobs.
Two other schools in the top six had their coaches fired during the season, including one with a new starting quarterback from the portal. Another was coming off an appearance in a New Year's Six bowl but took a step back this season. And the last was surprisingly successful under a first-year coach – but not necessarily because of the transfers.
See? A mixed bag.
Here's a closer look.
USC, with 19
2021 record: 4-8
2022 record: 11-3, Pac-12 title game loss, Rose Bowl loss
Coaching change in offseason?: Yes
Transfer quarterback?: Yes, Caleb Williams (from Oklahoma)
The buzz: Lincoln Riley quickly remade the roster – on both sides of the ball – via the transfer portal. USC won double-digit games for the first time since 2017, and had the Trojans prevailed in the Pac-12 title game, they would've been in the College Football Playoff. The offensive averages under Riley jumped noticeably: 62.7 more yards per game, 12.7 more points per game and 1.27 more yards per play. Williams was the leader of the offense and won the Heisman. USC's top three rushers were transfers. The top four receivers were transfers, with three of those brought in by Riley. Defensively, though, even with an influx of transfer talent, there was a negligible difference. The Trojans allowed 16.8 more yards per game and 0.16 more yards per play, but 2.6 fewer points per game. Of USC's seven transfer commitments in this cycle, four are defensive players. But a heck of a lot more defensive talent is needed.
2023 transfer commitments: 7
LSU, with 18
2021 record: 6-7
2022 record: 10-4, SEC title game loss, Citrus Bowl win
Coaching change?: Yes
Transfer quarterback?: Yes, Jayden Daniels (from Arizona State)
The buzz: New coach Brian Kelly went heavily into the portal, especially on defense. The key newcomer, though, was Daniels, whose mobility became a big part of the offense. He was a key reason LSU surprisingly (heck, stunningly) won the SEC West title. Transfers played a huge role in the secondary, with four seeing important playing time. And DT Mekhi Wingo, who transferred from Missouri, became vital when rising-star DT Maason Smith was injured and lost for the season in the opener.
2023 transfer commitments: 7
Ole Miss, with 17
2021 record: 10-3, Sugar Bowl loss
2022 record: 8-5, Texas Bowl loss
Coaching change?: No
Transfer quarterback?: Yes, Jaxson Dart (from USC)
The buzz: Lane Kiffin likes to refer to himself as the "portal king," but his subjects this season were mildly disappointing this season. Well, at least one, anyway. In 2021, QB Matt Corral accounted for 3,963 total yards and 31 touchdowns; this season, Dart accounted for 3,588 total yards and 21 touchdowns. Yes, the offense was tweaked because of two good backs. But Dart was less explosive than Corral, and the offense suffered as a result. Transfers played key roles at running back and wide receiver – but not as big a role as expected. And while three of the top seven tacklers were transfer newcomers, the defense was shredded in the second half of the season (i.e., when the schedule got much tougher). Given Kiffin's reliance on the portal, as it turned out his work there last offseason wasn't good enough.
2023 transfer commitments: 6
Georgia Tech, with 17
2021 record: 3-9
2022 record: 5-7
Coaching change?: No
Transfer quarterback?: No
The buzz: While then-coach Geoff Collins dipped heavily into the transfer portal last offseason, what the Yellow Jackets lost (most notably RB Jahmyr Gibbs) was much more important than what they brought in. Tech did get four starters out of last year's haul, including two offensive linemen. Overall, though, there was no big-impact transfer. (Some holdover transfers, especially star LB Ayinde Eley and DE Keion White, were important players).
2023 transfer commitments: 6
Nebraska, with 16
2021 record: 3-9
2022 record: 4-8
Coaching change?: No
Transfer quarterback?: Yes, Casey Thompson (from Texas)
The buzz: Then-coach Scott Frost made a lot of changes last offseason, and one was hitting the portal hard. Alas, it did not pay off, as Frost was fired after a 1-2 start. He and his staff hit it big with LSU transfer WR Trey Palmer, who set a single-season school record for receiving yards. Thompson was OK, WR Marcus Washington had a few moments and EDGE Ochaun Mathis was solid, though not a big-play guy. For the most part, though, it was an underwhelming group of transfers.
2023 transfer commitments: 7
Texas Tech, with 16
2021 record: 7-6, Liberty Bowl win
2022 record: 8-5, Texas Bowl win
Coaching change?: Yes
Transfer quarterback?: No
The buzz: The Red Raiders were a surprise of sorts in the Big 12. Obviously, they weren't surprising like TCU, but finishing with eight wins for the first time since 2013 (Kliff Kingsbury's first season) was notable. A bigger deal than the transfers were the "super seniors" who decided to remain in school and use their COVID year for new coach Joey McGuire. The Red Raiders got just one fulltime starter out of the transfer portal (OT Monroe Mills), but three transfers were part-time starters and four more were reserves who saw appreciable time. That's a solid haul for a first-time head coach taking over a scuffling program.
2023 transfer commitments: 4