Tuesday night transfer portal notebook: On Spencer Sanders, Texas A&M's roster churn, JT Daniels, Michigan's new o-lineman and more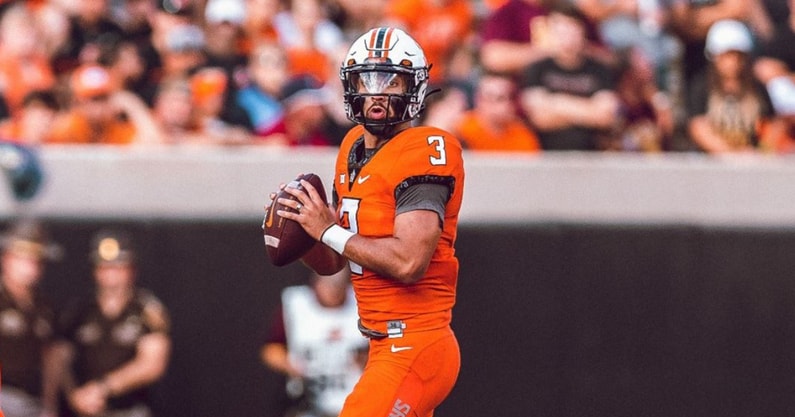 A wrap-up of notable doings from the second day of the FBS transfer portal open window. As of 10 p.m. ET Tuesday, 106 FBS scholarship players had gone into the portal on the second day.
A 4-year starting QB is in the portal
Four-year starting quarterbacks are rare in college football. But one is available in the transfer portal – and a productive one, at that.
Oklahoma State's Spencer Sanders officially entered the portal Tuesday after four seasons as the Cowboys' starter. Sanders was the Big 12 Offensive Freshman of the Year as a redshirt freshman in 2019 and a first-team All-Big 12 pick in 2021; he also was an honorable mention selection in 2020 and this season.
He finishes his Oklahoma State career No. 2 in school history in total offense at 11,509 yards and second with 9,553 passing yards. Sanders also threw 67 TD passes, which is third in Cowboys history, and accounted for 85 career touchdowns, also third.
Four years as a starter, big numbers – but a so-so 2022 season, which likely is why Sanders wants one more go-round. He battled injuries and a lack of consistency this fall; he also continued his mistake-prone ways. Sanders threw nine picks, giving him 40 in his career. He also completed just 57.6 percent of his passes, the lowest completion percentage (by almost 5 percent) of his career. In addition, his rushing total dropped from 664 yards in 2021 to 391 this season.
Sanders (6 feet 1, 210 pounds), from the Dallas Metroplex, has one season of eligibility remaining. And there's no question he has value as a one-year rental. Sanders, who turns 23 on December 15, certainly would appeal to a team looking for a veteran "bridge" while a young quarterback develops. He also would fit on a team that lacks only a veteran quarterback to challenge for a league title. Sanders is the second-winningest starting quarterback in Oklahoma State history, and his winning ways are appealing, too.
His free-wheeling ways get him in trouble at times with interceptions. But his dual-threat ability and nice arm can be put to good use by the right offensive coordinator.
Sanders wasn't the only member of Oklahoma State's starting backfield to leave Tuesday. Dominic Richardson, the Cowboys' leading rusher this season, also entered the portal Tuesday. Richardson was hampered by injuries and rushed for 543 yards and eight touchdowns this fall.
Oklahoma State's rushing attack was a disappointment this season, averaging just 131.8 yards a game. That's the school's lowest total since 126.9 in 2015 and a 53-yard drop from last season.
Richardson (6-0, 210), who is from Oklahoma City, has two seasons of eligibility remaining. He had three 100-yard outings in 30 career games with the Cowboys.
14 A&M players are in the portal
Texas A&M was perhaps the nation's most disappointing team, and the Aggies frankly needed some roster churn via the transfer portal. They're getting it.
A&M has 14 players in the portal, including five who went in Tuesday. None were highly productive players, but there definitely is some talent headed out the door. Still, when you go 5-7, maybe it's a good thing some players are leaving.
The five who entered the transfer portal Tuesday: defensive lineman Marcus Burris, cornerback Denver Harris, linebacker Ish Harris, linebacker Tarian Lee and linebacker Andre White Jr.
Of that quintet, White had the most impact, with 35 tackles in seven games.
As for most upside, that definitely would be Denver Harris; he was an On3 Consensus five-star recruit and a national top-25 prospect in the 2022 class. Harris played in five games and had 14 tackles and three pass breakups. He also had off-field issues that sidelined him for part of the season.
Ish Harris and Lee combined for 16 tackles. Burris had one tackle.
On the road again
Hey, maybe the fourth time will be the charm for quarterback JT Daniels. He announced Tuesday that he was leaving West Virginia and again entering the transfer portal.
WVU was Daniels' third school, and we don't think anyone ever has thrown a pass for four Power 5 schools. He began his career at USC, moved on to Georgia, then transferred to West Virginia this past offseason. Now he is on the move again.
Daniels has one season of eligibility remaining.
Michigan nabs a transfer lineman
One of the bigger-name linemen to enter the portal Monday was Arizona State's LaDarius Henderson. He didn't wait long to choose his new destination, announcing Tuesday that he was headed to Michigan.
The Wolverines hit it big in the portal last offseason, bringing in center Olusegun Oluwatimi from Virginia. Oluwatimi moved seamlessly into the starting lineup and the Wolverines' offensive line might be better this season than it was in 2021, when it won the Joe Moore Award as the nation's best.
Henderson (6-5, 310) was a three-season starter for the Sun Devils and has one season of eligibility remaining. He started at left tackle as a true freshman in 2019, was a reserve in 2020, then started at guard in each of the past two seasons. His experience at tackle means it wouldn't be surprising to see him at that spot for the Wolverines.
Henderson, who was an Arizona State captain this season, missed the final six games after suffering a broken bone in his hand in a win over Washington in October. He had accepted an invitation to the East-West Shrine Game but now seems set on finishing his college eligibility.
Arizona State also gained a player Tuesday, with former Kansas State linebacker Krew Jackson (6-5, 204) announcing he was transferring to ASU. Jackson is from the Phoenix area.
Jackson was a three-star safety in the 2021 recruiting class who was moved to linebacker when he got to college. He had three tackles, a sack and an interception for K-State this season.
3 more Kent State standouts moving on
Two Kent State offensive players who earned first-team All-MAC honors – running back Marquez Cooper and left tackle Marcellus Marshall – entered the portal Tuesday. In addition, quarterback Collin Schlee – a third-team All-MAC guy – also will transfer. Their decisions come a few days after Golden Flashes coach Sean Lewis was hired as offensive coordinator at Colorado.
Wide receiver Dante Cephas, another first-team all-league guy, went into the portal Monday.
Cooper (5-7, 175), who was a second-team All-MC pick in 2021, is a two-time 1,000-yard rusher. He ran for 1,205 yards and 11 TDs last season, then followed that up with 1,331 yards and 13 TDs this season. Cooper is 17th nationally in rushing yards this season and 19th in rushing touchdowns. He is from the Baltimore area and has two years' eligibility left.
After two seasons as a seldom-used reserve, Marshall (6-5, 335) started every game at left tackle for the Golden Flashes this season. Marshall, who is from Morgantown, W.Va., has two seasons of eligibility remaining.
Schlee (6-3, 218), from the Baltimore area, threw for 2,109 yards and 13 TDs. He also rushed for 492 yards and four TDs. He missed one game with an injury and was hampered in three other contests. This was Schlee's first season as the starter, and he has two seasons of eligibility left.
Transfers you may have overlooked
+ South Carolina TE Jaheim Bell: Bell played some running back late in the season after some Gamecocks tailbacks were hit by injuries. Bell (6-3, 232) had 55 receptions the past two seasons, and he can be a flex tight end and play H-back. Bell played his high school ball in Valdosta, Ga., and has two seasons of eligibility remaining.
+ North Carolina CB Tony Grimes: Grimes was a five-star prospect in the 2020 class – he reclassified from 2021 – and conventional wisdom at the time seemed to be that at the end of 2022, he would be turning pro. Instead, he's in the portal. Grimes (6-0, 195), from Virginia Beach, Va., was a three-year starter for the Heels who had one interception and 19 pass breakups. He has two seasons' eligibility remaining.
+ Louisiana Tech LB Tyler Grubbs: Grubbs (6-1, 223), from New Orleans, was a starter from the moment he stepped on campus as a true freshman in 2020, though he missed the final seven games this season with an injury. Grubbs, who earned some freshman All-America acclaim in 2020, had 244 tackles and 24 tackles for loss in 27 career games with the Bulldogs. He has two years of eligibility remaining.
+ Louisiana Tech WR Tre Harris: Harris (6-2, 204) should be a hot commodity. He has good size and athleticism – and he's also been productive. He had 106 receptions and 14 TDs in the past two seasons. Harris, from Lafayette, La, has two seasons of eligibility remaining.
+ Western Kentucky TE Joshua Simon: Simon (6-5, 240) knows how to get into the end zone. Simon had 84 receptions in four seasons with the Hilltoppers – but 16 went for TDs. This season, he had 18 catches and seven touchdowns. Simon, who is from Dalzell, S.C., near Columbia, has two seasons of eligibility remaining.
+ Coastal Carolina EDGE Josaiah Stewart: Stewart (6-2, 230) had 16 sacks and 25.5 tackles for loss in two seasons with the Chanticleers. He was a first-team All-Sun Belt pick in 2021 and a second-teamer this season. Stewart, from the Bronx, N.Y., has two seasons of eligibility remaining. Coastal coach Jamey Chadwell recently left to become coach at Liberty.
+ UNLV WR Kyle Williams: Williams (6-0, 185) was a three-year starter for the Rebels and was the Mountain West freshman of the year in 2020. Williams, from the L.A. area, had 117 catches and nine TDs in three seasons at UNLV, averaging 13.4 yards per catch. He had 25 career catches of at least 20 yards and has two years of eligibility left.
+ Others: LSU WR Jack Bech (6-2, 213) was the Tigers' leading receiver in 2021 (43 receptions) before dropping down this season (16 catches). Bech, from Lafayette, La., has two seasons of eligibility remaining. … Oklahoma State EDGE Trace Ford (6-3, 240) started in 2019 and '20 before missing 2021 with an injury and serving as a reserve this season. Ford, from the Oklahoma City area, had 8.5 sacks and 11.5 tackles for loss in his Cowboys career; he has two seasons of eligibility left. … Iowa LB Jestin Jacobs (6-4, 240) was an important defensive piece in 2021 as a part-time starter, finishing with 53 tackles. He was injured and played in just two games this season. Jacobs, who is from the Dayton, Ohio, area, has three seasons of eligibility remaining. … Central Michigan QB Daniel Richardson (5-10, 204) was a three-year starter. Richardson, a Miami native, threw 43 TD passes for the Chippewas, including a career-high four-TD performance in a loss to Oklahoma State to open this season. He has two seasons' eligibility remaining.