FCS transfer portal is open for business – and FBS teams will be interested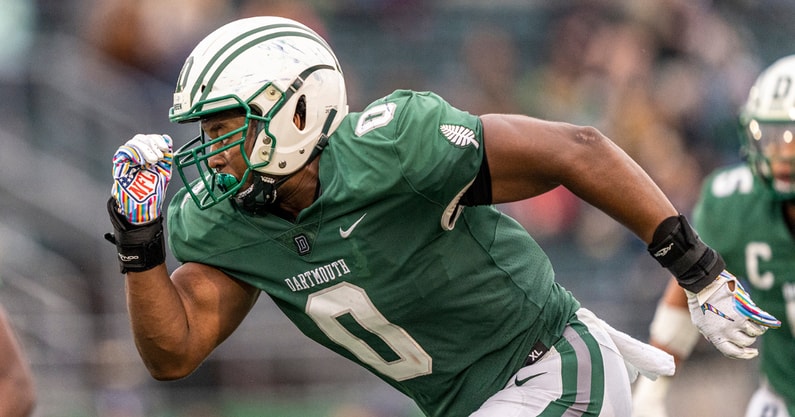 While the FBS transfer portal doesn't open until December 5, the FCS portal opened this past Monday, the day after the FCS playoff field was announced.
While the vast, vast majority of players on playoff teams who plan to transfer won't go in until after their seasons are over, there have been 100-plus FCS players who have entered the portal. Some of those figure to interest FBS teams, both Power 5 and Group of 5 programs.
Here's a look at 10 former FCS players who are making a big impact in the FBS ranks this season, as well as a look at eight FCS players who entered the portal this week and should garner FBS interest.
Former FCS players making a splash
Duke C Jack Burns
Transferred from: Cornell
The buzz: Burns (6 feet 4, 295 pounds) was a three-year starter at center for Cornell and moved seamlessly into the starting lineup for Duke. He has helped solidify an offensive line that is a big reason the Blue Devils lead the ACC with 28 rushing touchdowns.
Kansas State S Drake Cheatum
Transferred from: Prairie View
The buzz: Cheatum was a four-year starter at Prairie View and earned All-SWAC notice as a cornerback, but he entered the transfer portal late and didn't get to K-State until June. On top of that, he moved to safety. No problem. Cheatum (5-10, 191) has 47 tackles, an interception and two pass breakups. He has helped K-State be tied for sixth nationally in interceptions (15).
West Virginia S Marcis Floyd
Transferred from: Murray State
The buzz: Floyd (6-0, 188) was a three-season starter for the Racers and a two-time All-Ohio Valley selection as a cornerback; he also received some All-America mention in 2020 and '21. Floyd moved to safety with WVU and is fourth on the Mountaineers with 54 tackles. He also has three pass breakups and a forced fumble.
Louisville WR Tyler Hudson
Transferred from: Central Arkansas
The buzz: Hudson (6-2, 195) was an established standout at the FCS level. He was a three-year starter in a prolific passing attack for the Bears, with 167 receptions for 3,062 yards and 27 TDs. Hudson leads Louisville with 63 receptions and 951 receiving yards; it seems a given that he becomes just the seventh Cardinals receiver to have 1,000 yards in a season.
UCF LB Jason Johnson
Transferred from: Eastern Illinois
The buzz: Johnson leads the Knights with 103 tackles (an incredible 58 more than anyone else on the roster) and has been a big presence against the run. UCF's defense is a big reason the Knights are 22nd in the College Football Playoff rankings.
Utah TE Dalton Kincaid
Transferred from: San Diego
The buzz: Kincaid leads all tight ends nationally in receptions (61), receiving yards (748) and TD receptions (seven). He left San Diego after the 2019 season; Kincaid earned some All-American honors with the Toreros and had 19 TD receptions in two seasons there.
Wake Forest DT Kobie Turner
Transferred from: Richmond
The buzz: Turner was a three-year starter for the Spiders and a two-time first-team All-Colonial Athletic Association selection. In 37 career games, Turner had 158 tackles, 35.5 tackles for loss, 15 sacks and three forced fumbles. His play has helped Wake make big strides against the run this season; the Demon Deacons allowed 195.6 rushing yards per game last season and that figure is 139.5 this season. In addition, the yards-per-carry average has dropped from 4.86 to 3.83. Turner has 30 tackles, 7.5 tackles for loss, seven quarterback hurries and two forced fumbles.
Florida State DE Jared Verse
Transferred from: Albany
The buzz: Verse (6-4, 247) was one of the hottest EDGE transfers on the market after playing in 15 games and accumulating 74 tackles, 13.5 sacks, 21.5 tackles for loss and 13 quarterback hurries in two seasons at Albany. Despite some nagging injuries this season, Verse has 7.5 sacks and 14 tackles for loss for a unit that ranks No. 1 in the ACC in total defense.
Washington State QB Cameron Ward
Transferred from: Incarnate Word
The buzz: He threw for 4,648 yards and 46 TDs in 2021 for UIW, and threw 70 TD passes in 19 games with the Cardinals. He did all that with Eric Morris as coach. Morris moved to Washington State as offensive coordinator, and Ward followed. Ward hasn't been near as prolific, but still has thrown for 2,772 yards and 21 TDs.
South Carolina WR Antwane Wells Jr.
Transferred from: James Madison
The buzz: While James Madison moved up to the FBS ranks this season, Wells (6-1, 204) preferred to move on. He played two seasons at James Madison and was a fulltime starter for one, but he left JMU as one of the most productive receivers in school history: 116 receptions (ninth in school history) for 1,853 yards (ninth) and 21 TDs (third). His numbers have suffered this season because of South Carolina's inconsistent passing attack, but he has 54 receptions (second in the SEC) for 767 yards (third) and four touchdowns.
FCS transfers who should draw FBS interest
Texas A&M-Commerce WR Andrew Armstrong: He should be a hot commodity. Armstrong, from Dallas, has excellent size (6 feet 6, 190 pounds), and he had 62 receptions for 1,020 yards and 13 touchdowns this season. It took him a while to grow into his body, and after a 15-catch season in 2021, he blossomed this season.
Dartmouth DE Shane Cokes: Cokes (6-3, 275), from Dayton, Ohio, was a productive two-year starter for the Big Green (Dartmouth didn't play football in 2020 because of COVID). He had 85 tackles, 8.5 sacks and 14 tackles for loss in the past two seasons. He was a two-time second-team All-Ivy selection.
Norfolk State WR Da'Quan Felton: Felton (6-3, 205), from Portsmouth, Va., was a two-year starter for the Spartans. He led them in receptions in 2022 with 39, with seven going for TDs. His size is impressive.
Marist S Clayborne Fields III: Fields (5-11, 220) earned some All-America plaudits as a junior in 2021. He was a two-year starter for the Red Foxes and had 132 tackles, seven interceptions and nine pass breakups in those two seasons. He is from Franklin, N.J., about 45 miles from Rutgers' campus.
Missouri State OT Ian Fitzgerald: A real, honest-to-goodness experienced offensive lineman who has started at both left and right tackle. Fitzgerald (6-5, 299), from the Chicago suburbs, will be a sixth-year senior next fall. He started for the past three seasons with the Bears, who are coached by Bobby Petrino.
Duquesne WR Abdul Janneh: Janneh has good size (6-3, 180) and figures to get his share of FBS interest. He didn't do much in his first two years with the Dukes, then emerged this season with 43 receptions for 579 yards and nine touchdowns. One of his touchdowns came in a season-opening loss to Florida State. Janneh is from Hanover, Pa., about an hour northwest of Baltimore.
Harvard DE Truman Jones: Jones (6-4, 242), who's from Atlanta, is a bit of a 'tweener with his size. But he showed an ability to be disruptive off the edge at Harvard, with 14.5 sacks and 28.5 tackles for loss in three seasons. In addition, he had four blocked kicks. Jones, a biomedical engineering major, also was a lacrosse standout in high school at Atlanta Westminster.
VMI LB Stone Snyder: Snyder (6-3, 240), who is from Richmond, Va., has been one of the most productive FCS linebackers in the nation for the past three seasons. VMI wasn't very good, finishing 1-10, but Snyder had a team-leading 107 tackles this season; he had 120 last fall and 76 in the 2021 spring season. That's 303 in 19 games. He was a high school quarterback who moved fulltime to defense once he got to VMI.