Five transfer portal fits that make too much sense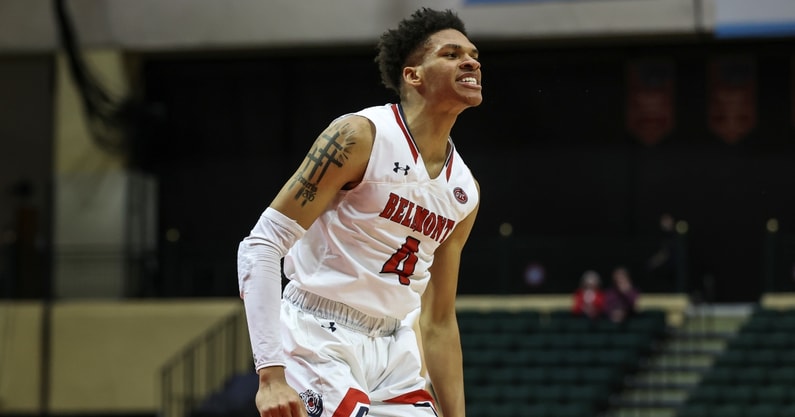 The transfer portal can be used to rebuild a team; it can also be used to patch up a roster. Whichever reason a coach uses it, you want to bring in the best talent possible. Every team has a fit that makes sense in their program. Some players are simply natural fits to go to a specific system. Here are five guys who are perfect fits at their new schools.
6-5 SG Will Richard, Bucknell to Florida
Will Richard checked all the analytics boxes coming out of his freshman year at Belmont. His counting numbers had him top-15 in the Ohio Valley Conference (OVC) in points per game (12.1), rebounds per game (6.0), steals per game (1.2), and total blocks (27).
Richard's analytic numbers told an even better story. He finished top-ten in the OVC in player efficiency rating (21.6), box plus/minus (3.9), and offensive rating (117.0). New Florida head coach Todd Golden is a big believer in analytics.
With the loss of Phlandrous Fleming, there is an immediate need for Richard. When talent meets a system fit and available minutes, the results tend to be pretty good.
6-9 PF Grant Basile, Wright State to Va Tech
Grant Basile played his best basketball against the highest-level competition last year. Basile averaged 17.0 points, 9.0 rebounds, 2.0 assists, and 1.3 blocks per game in his last season's three power-six games. He also knocked down six threes in those contests.
On a team that loses Keve Aluma and has uncertainty around the return of Justyn Mutts, getting Basile locked into Blacksburg from the transfer portal was a big deal. He is a ready-made, plug-in-play into the starting lineup.
Fit, check. Minutes, check. Experience, check. Production, check. There is a lot here that tells a story
6-6 SF Baylor Scheierman, South Dakota State to Creighton
The common theme with Creighton is the three-point shooting. They play a 'let it fly' type system that catches many headlines.
Last season Creighton ranked 112th nationally with 763 three-pointers attempted at a 30.8-percent clip, which finished 310th nationally. Despite finishing fourth in the Big East, Creighton did not have a single player on the roster reach 36.0-percent from three. The Blue Jays need shooting.
Enter Baylor Scheierman. The wing shot 46.9-percent from three with 83 makes last season. He also added 7.8 rebounds and 4.5 assists per game. Sure, defenses in the Big East will be drastically different from those in the Summit, but a player who can move the ball, shoot, and have a sense of toughness fits right into what Creighton likes in its wings.
6-2 PG Jaelin Llewellyn, Princeton to Michigan
Jaelin Llewellyn finished first-team All-Ivy League last season and finished top five in the league in points and field goal percentage.
Michigan brought in DeVante Jones from the transfer portal last season. He started the season slow and ended up very solid. Llewellyn carries the same traits that Jones did; aggression and confidence.
Jaelin Llewellyn was one of two Ivy League players with a usage percentage over 25 and an offensive rating over 109 last season. He also added 64 threes at a 38.4-percent clip. Howard seems to prefer headstrong point guards who can create; Llewellyn fits that mold.
6-1 PG Mark Sears, Ohio to Alabama
Mark Sears is a 6-foot-1 sophomore lead guard who earned first-team All-MAC last season after finishing in the top five in the conference in points per game, assists per game, steals per game, and free-throw percentage. Sure a team wants to add experienced talent through the portal, but the fit here could go further.
Sears is originally from Muscle Shoals, Alabama. While Alabama had two guys, who were considered point guards on last year's team, Jahvon Quinerly and JD Davison, who did not bring efficiency to the floor. Last season, Quinerly and Davison combined for a 1.45 to 1.0 assist to turnover ratio, while Sears' career total is 1.6 to 1.0. Also, another quick look at the advanced stats, Sears Player Efficiency Rating (PER) was 24.6. Quinnerly's PER was 13.9, and Davison's was 16.0.
Under Nate Oats, Alabama is also known for its three-point shooting. They finished eighth in the country with 29.9 threes attempted per game. Sears shot 40.8-percent on 147 attempts from beyond the arc. The Quinerly and Davison pairing combined to shoot 28.7-percent on 261 combined attempts.
While we understand there is a difference between the level of play in the Ohio Valley and the SEC, the fit is undoubtedly there to clean some things up.