Former Pittsburgh wide receiver Jordan Addison announces transfer commitment to USC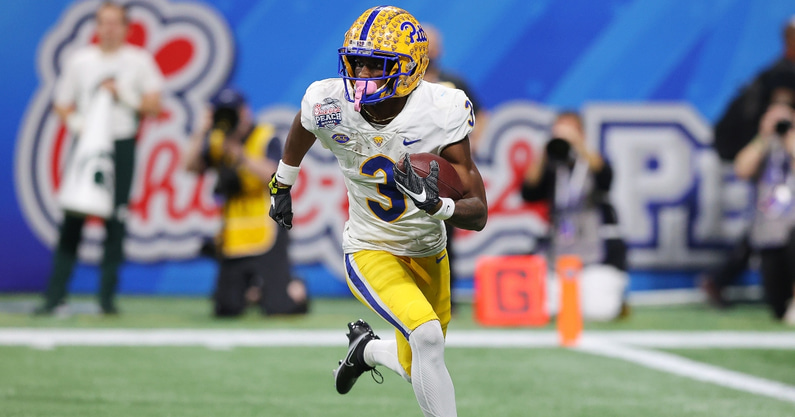 Jordan Addison's decision to leave Pittsburgh and enter the transfer portal two days before the May 1 deadline sent shockwaves across the college football world. Now, the decision is in — the reigning Biletnikoff Award winner is headed to USC, he announced Thursday on Twitter. On3's Gerry Hamilton reported the move was expected ahead of the announcement.
Last season, the 2022 Biletnikoff Award winner was the top target for Kenny Pickett, who became the Pittsburgh Steelers' first-round pick this year — but now he'll look to do the same for budding star quarterback Caleb Williams.
"The last few weeks have been very difficult," Addison wrote. "I struggled with my decision as to whether I should exercise my right to enter the portal. Student athletes have not always had that opportunity, and I made that choice. … I have now carefully considered the advice of my family and close friends and fully weighed both the risks and benefits associated with my decision. I also respect others that may make a difficult choice.
"But for me, I will continue my full development as a student athlete by enrolling at USC. Much love always, JA."
Stay up to date with the full On3 Transfer Portal Rankings.
Prior to his decision to join the Trojans, reports said Addison was considering transferring to USC for a huge NIL deal. The Frederick, Maryland native has a relationship with Williams, a Washington D.C. native, from their time in the DMV, and speculation was that could play a role in a potential decision, according to ESPN's Pete Thamel.
"Jordan Addison is from Fredrick, Maryland," Thamel said. "Caleb Williams is also from the DC area. There's ties from that DMV relationship that could help Addision end up at USC."
Evidently, it wasn't enough to dissuade the star wide receiver from taking his talents to Texas.
Moreover, Addison was first officially linked to the Texas on May 10, when he posted a story on his Instagram of himself in Texas, and Hamilton later confirmed the former Pittsburgh star was on an official visit with the program. Later that weekend, Addison took his talents on an official visit to the USC campus in sunny California, and then was expected to take a visit with Nick Saban at Alabama.
Last year with Pittsburgh, Addison had 100 receptions for 1,593 yards and 17 touchdowns to help lead the Panthers to an 11-3 overall record, including a 7-1 mark in ACC play, and a Peach Bowl appearance against Michigan State. Addison is also a potential preseason All-American candidate for the 2022 season and garnering some way-too-early 2023 NFL Draft hype.
Out of high school, Addison was a four-star recruit and the No. 9 prospect in the state of Maryland from the Class of 2020, according to the On3 Consensus, a complete and equally weighted industry-generated average that utilizes all four major recruiting media companies. He also comes in as a member of the On3 NIL 100 as the No. 98-ranked player with an NIL Valuation of $139K.
On3's Griffin McVeigh and Stephen Samra contributed to this report.