Report: Arizona, Washington, Notre Dame emerge as favorites to land Keion Brooks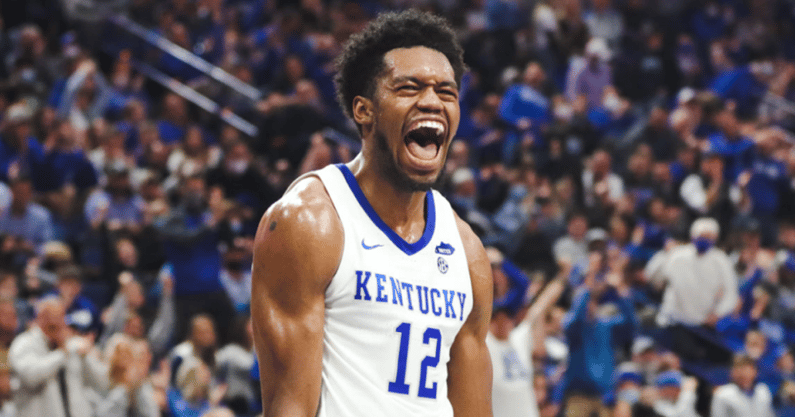 Upon the news that Kentucky's Keion Brooks has withdrawn his name from the 2022 NBA Draft, three college teams have emerged as the favorite to land the incoming senior out of the transfer portal, according to NBA insider Bryan Kalbrosky; Arizona, Washington and Notre Dame.
Brooks reportedly has lots of interest from several Power Five schools, and was previously thought to have thrown UCLA, Iowa and Kentucky into that group as well, though the addition of Notre Dame was not previously reported. Considering that Brooks grew up in Fort Wayne, Indiana, less than two hours away from the Fighting Irish's campus, the addition doesn't come as a surprise.
Wherever Brooks decides to make his portal decision, it likely won't be in Lexington despite reportedly considering a return to the program during the initial stages of his portal/draft process. Whether it's Arizona, Washington or Notre Dame, Brooks will have two seasons of eligibility left before making the jump to the pros.
Keion Brooks withdraws from NBA Draft, weighing college options
Former Kentucky forward Keion Brooks has withdrawn his name from the 2022 NBA Draft, Stadium's Jeff Goodman reports. With a strong senior season, Brooks has the potential to end up a first-round selection in 2023, depending on where he decides to enroll next year.
With two seasons of eligibility remaining, Brooks entered the transfer portal when he declared for the draft, he never signing with an agent. Four schools have since emerged as Arizona, Washington, Iowa, and UCLA, according to KSR's Tyler Thompson, though hasn't ruled out a return to Kentucky.
Over three seasons in Lexington, Brooks averaged 8.3 points and 4.4 rebounds per game. In 2021-22, he started in 33 of Kentucky's 34 games, scoring in double figures 17 times while averaging a career-best 10.8 points and 4.4 rebounds per game while shooting 49.1 percent from the field.
Brooks, who has improved steadily each year in college, has the experience and skills to earn starting minutes anywhere in the country, even Kentucky. One more season in the college ranks, on the current trajectory he's been on his entire career, Brooks could emerge as one of the best two-way small forwards in the country as a senior.