Mel Tucker addresses how Michigan State balances transfer portal, high school recruiting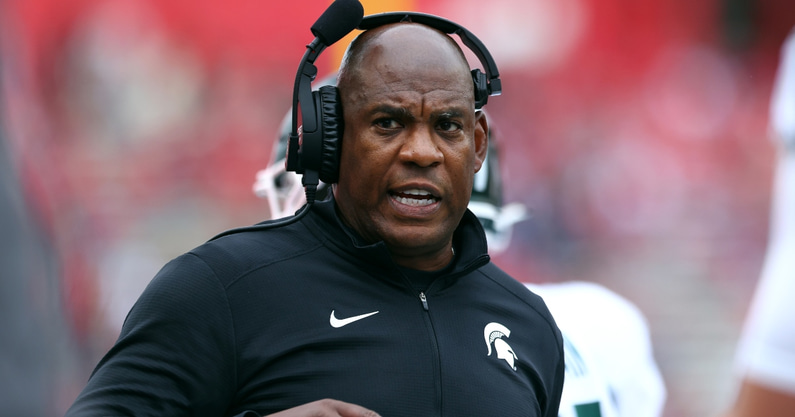 It's unclear what the perfect ratio of incoming talent from the recruiting ranks to transfer portal additions is so soon after the new rules have been implemented, and it's likely based on a talent-by-talent level and different for every program. For Michigan State head coach Mel Tucker, he believes a pro football philosophy is the best approach to the new landscape that is recruiting in college athletics.
"You know, it's not very complicated. We embrace the portal. We're going to build our team through the high school ranks. It's very similar to what we did while I was in the NFL," Tucker said. "You want to build through the draft. You complement or supplement your roster through free agency.
"So the high school ranks for us is the draft. The portal is free agency."
Tucker, a former NFL defensive coordinator, typically fairs pretty well on the recruiting trail. Michigan State is a program with a reputation for bringing in high-level talent over the years, and it's no different now.
With 23 recruits out of high school and eight more out of the portal for the 2022 Michigan State recruiting class, Tucker's Spartans boast the No. 4 recruiting class in the Big Ten and No. 24 in the nation, according to the On3 Consensus. Likewise, the Spartans 2023 class ranks No. 3 in the conference and No. 17 nationally – another successful class for Tucker with more recruits and eventual transfer additions to come.
One of the reasons why Tucker was able to quickly turn Michigan State around from a two-win team to 11 in just one season cam be credited with his use of the transfer portal.
Players like Kenneth Walker III came in and quickly filled holes for the Spartans, but has only been a short-term solution as transfers typically come in during the back end of their collegiate careers. It's why recruiting kids out of high school has remained a priority for Tucker despite the emergence of the transfer portal era.
"He saw an opportunity to come to Michigan State and get better," Tucker said about Walker. "His goal was to play in the National Football League and play against great competition, and he came in and went right to work. Obviously, he walked through the door extremely talented and he raised the level of competition, not just in the running back room but on the entire football team and he was extremely productive and then he got what he wanted. He was able to help us win a lot of football games."
"He was a tremendous leader, a great teammate. Now, he's moving onto the National Football League and he's gonna have a great career there. It's a great story and that resonates with players."