Source: Former Notre Dame tight end Cane Berrong visiting Colorado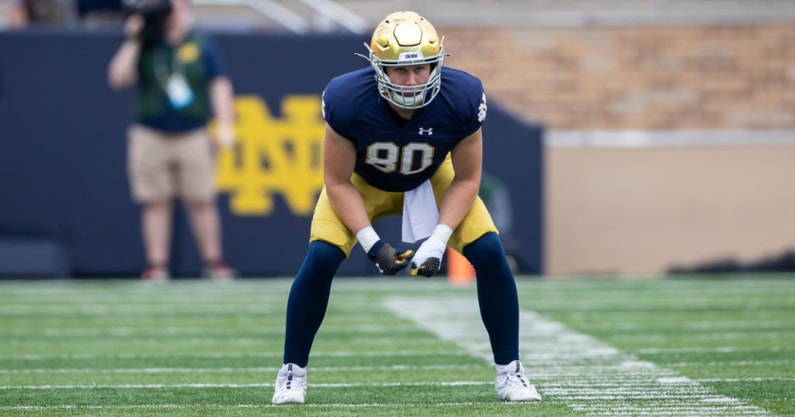 Former Notre Dame tight end Cane Berrong is visiting Colorado for the weekend, a source close to the former four-star told On3.
The trip to Boulder comes directly after a visit to Arkansas on Friday.
Cane Berrong spent two seasons with the Fighting Irish. He tore his ACL in October of 2021, missing this past spring. He opted to redshirt this season, too, meaning he has four years of eligibility remaining.
He announced his decision to enter the Transfer Portal on Dec. 12. Berrong impressed as a tight end prospect coming out of Georgia's Hart County. With a 6-foot-4, 230-pound frame, he had strong route running and consistent catching.
Colorado has already added former Arkansas State tight end Seydou Traore. The Buffaloes also lost Brady Russell, who finished with 20 catches for 153 yards, to graduation.
Arkansas is also looking to add a tight end after Trey Knox transferred to South Carolina last month.
Transfer portal background information
The NCAA transfer portal, which covers every NCAA sport at the Division I, II and III levels, is a private database with names of student-athletes who wish to transfer. It is not accessible to the public.
Once a player's name shows up in the portal, other schools can contact the player. Players can change their minds at any point and withdraw from the portal. However, once a player enters the portal, the current scholarship no longer has to be honored. In other words, if a player enters the portal but decides to stay, the school is not obligated to provide a scholarship anymore.
The database is a normal database, sortable by a variety of topics, including (of course) sport and name. A player's individual entry includes basic details such as contact info, whether the player was on scholarship and whether the player is transferring as a graduate student.
A player can ask that a "do not contact" tag be placed on the report. In those instances, the players don't want to be  contacted by schools unless they've initiated the communication.