South Carolina transfer Jazston Turnetine narrows commitment decision to two schools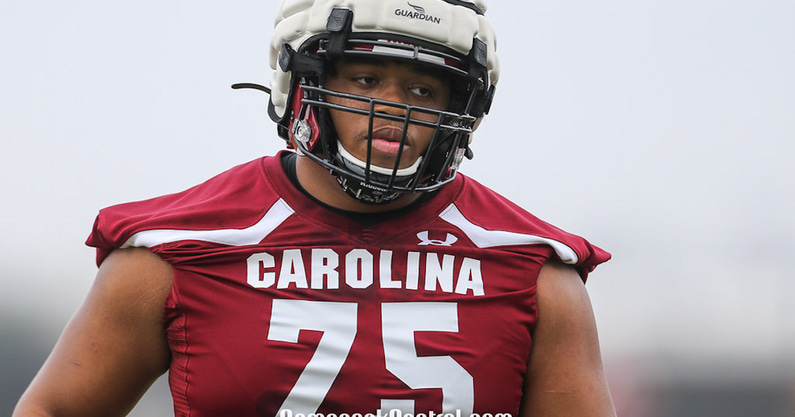 Former South Carolina offensive lineman Jazston Turnetine has narrowed his transfer list to two schools – Florida State or Michigan State, he announced via social media.
Turnetine (6-7, 340) is a former three-star junior college transfer who started seven games at left tackle for the Gamecocks last season and three in 2020. He can come into either program and become an important depth piece up front, and could find himself earning starting minutes depending on the strength of either teams' offensive line.
Prior to arriving in Columbia, Turnetine started two seasons at left tackle at Hutchinson (Kan.) Community College, where he left as the No. 3 offensive lineman in the JUCO division, according to the On3 Consensus, a complete and equally weighted industry-generated average that utilizes all four major recruiting media companies.
Spencer Rattler excited about the South Carolina quarterback room
After a pair of up and down seasons as the starter at Oklahoma, quarterback Spencer Rattler entered the transfer portal this offseason. Rattler, the top QB in On3's 2019 Consensus, committed to join Shane Beamer's South Carolina team back in December. The two were paired together back during Rattler's time in Norman.
Although Rattler is the expected starter for the Gamecocks this fall, he says South Carolina has a lot of talent at quarterback. In his opinion, it may be the best room he's ever been a part of.
"This is one of the best quarterback rooms I've ever been in," he said. "Great guys, real top-quality guys. We all support each other. All of us have unique qualities to our game. I think we can all learn a little bit from each other."
Considering Rattler's quarterback battles with Alabama transfer Jalen Hurts, USC's new man Caleb Williams, and SMU's Tanner Mordecai, that statement comes with some weight.
Even with the praise, the room is overall inexperienced. The only one with real game reps besides Rattler is junior Luke Doty. Due to multiple injuries throughout the year, though, even he only played five games last season. If nothing else, Rattler must bring his background from OU to the table to help his teammates grow.
"Having some experience and having some success in college, I feel like I can come in here and I've taught these guys a lot and just lead by example," said Rattler.