Transfer portal breakdown: The 10 most impactful EDGE transfers of 2022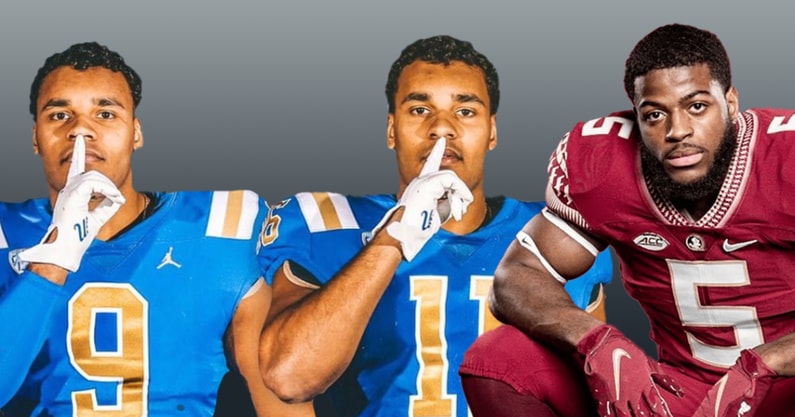 Here's a projection of the 10 most impactful edge rushers to emerge from the transfer portal this offseason. This is not a measure just of sheer talent. Instead, it's a mix of a player's importance, his potential and, most important, his expected production.
This is part 5 of our transfer portal impact series; we already have looked at quarterback transfers, running back transfers, wide receiver transfers and offensive line transfers.
10. Lonnie Phelps, Kansas
The particulars: Transfer from Miami (Ohio)
The skinny: Lonnie Phelps should help patch over a huge weak spot for Kansas last season – its lack of a pass rush. The Jayhawks had just 15 sacks last season, tied for third-fewest among Power 5 teams (only Vanderbilt and Colorado had less). Phelps (6 feet 3, 242 pounds) was third in the MAC with 9.5 sacks and was a second-team all-league selection. Phelps also was sixth in the league with 13.5 tackles for loss and had six quarterback hurries. No returning KU player had more than two sacks last season, and that is ILB Rich Miller, another MAC transfer (Miller began his career at Buffalo).
9. Khris Bogle, Michigan State
The particulars: Transfer from Florida
The skinny: Khris Bogle, a former national top-60 recruit in the 2019 signing class, started seven games in his three seasons at Florida and had 6.5 sacks and 11 tackles for loss in his Gators career. He almost certainly will start for the Spartans, and his pass-rush ability should come to the fore; he lacked consistent opportunities at Florida. Michigan State had 43 sacks last season, which ranked sixth nationally, but lost two of its top three sack men. Bogle has the athleticism to thrive in the Spartans' aggressive defensive scheme.
8. Jonah Laulu, Oklahoma
The particulars: Transfer from Hawaii
The skinny: Jonah Laulu was an honorable mention All-Mountain West Conference selection last season, when he had four sacks and eight tackles for loss, before entering the transfer portal. He was a two-year starter for the Rainbow Warriors and had 19 tackles for loss in his Hawaii career. Laulu (6-5, 260) had a good spring for a defense looking to replace its top three sack men (that trio had 20.5 of OU's 33 sacks). He will be part of a four-man rotation at end for new coach Brent Venables and DC Ted Roof. Venables is known for his diverse looks and numerous blitzes, and Laulu certainly has the potential to put together a big season while sharing time with Reggie Grimes, Ethan Downs and Marcus Stripling.
7. Kameron Butler, Virginia
The particulars: Transfer from Miami (Ohio)
The skinny: DE Kameron Butler was a three-year starter at Miami who was a first-team All-MAC selection last season, when he had 53 tackles, eight sacks, 13 tackles for loss, three forced fumbles and an interception. Butler (6-3, 250) also was a two-time second-team All-MAC pick who had 31.5 tackles for loss in his RedHawks career. His big-play ability will help a Cavs defense that last season had an ACC-low 18 sacks, the seventh-fewest for a Power 5 team. Butler is one of a handful of defensive transfers for the Cavs who needs to make an immediate impact. New DC John Rudzinski comes from Air Force, which had two of the top seven players in sacks in the Mountain West last season.
6. The Murphy twins, UCLA
The particulars: Transfers from North Texas
The skinny: Gabriel and Grayson Murphy combined for 15.5 sacks, 26.5 tackles for loss and 17 quarterback hurries last season at North Texas; if they can bring the same kind of heat this season, UCLA – which had just 26 sacks last season – will have one of the best pass rushes in the Pac-12. Grayson (6-3, 255), who played end at UNT, had 8.5 sacks to earn honorable mention All-Conference USA acclaim last season. Gabriel (6-3, 255) played a hybrid end/linebacker spot called "Devil" at UNT and had 12 tackles for loss. The twins are among seven defensive transfers expected to play key roles for the Bruins this season.
5. Noah Taylor, North Carolina
The particulars: Transfer from Virginia
The skinny: Noah Taylor transferred from a division rival, and he should help a rebuilt Tar Heels defense that struggled to get consistent pressure last season. Taylor was a three-year starter for the Cavaliers, and had 13 sacks, 30 tackles for loss, 16 quarterback hurries, three interceptions and 10 pass breakups in his time at UVa. UNC was ninth in the ACC in sacks and tackles for loss in 2021. New coordinator Gene Chizik should be able to put Taylor's big-play ability to good use.
4. Mitchell Agude, Miami
The particulars: Transfer from UCLA
The skinny: In 2020, UCLA transfer Jaelan Phillips led Miami with eight sacks and 15.5 tackles for loss. A performance like that this season from UCLA transfer Mitchell Agude would bring a big smile to coach Mario Cristobal's face. Agude earned second-team All-Pac-12 honors last season, when he had 54 tackles, two sacks, 6.5 tackles for loss and four forced fumbles. He had nine tackles for loss and three forced fumbles in seven games in 2020, his first season as a Bruin after transferring in from a junior college. Cristobal and new defensive coordinator Kevin Steele retooled Miami's defense this offseason: Seven transfers are expected to see a lot of playing time, and Agude may be the most important.
3. Drew Sanders, Arkansas
The particulars: Transfer from Alabama
The skinny: Drew Sanders was an outside linebacker at Alabama, but expect him to line up at different spots for the Hogs. He had a good spring in coordinator Barry Odom's defense, and has the ability to play both inside linebacker and edge rusher. Arkansas had 25 sacks last season, but only 13 in its eight SEC games. Revving up that aspect of the defense is a must, and that's why Sanders' arrival from the transfer portal is so important. Sanders (6-5, 232) has good size, is a solid athlete and holds up nicely against the run.
2. Jared Verse, Florida State
The particulars: Transfer from Albany
The skinny: FSU struck gold in the transfer portal with EDGE Jermaine Johnson (11.5 sacks) in 2021, but Johnson now is in the NFL. The hope is Jared Verse (6-4, 251) can replace Johnson. Verse played only one year of FCS football, but that encompassed two seasons because Albany played both in the spring and fall in 2021. Verse played in 15 games at Albany, and had 74 tackles, 14.5 sacks, 21.5 tackles for loss and 13 quarterback hurries. He earned all sorts of FCS All-America honors for his fall campaign, which included 10.5 sacks and 13 quarterback hurries. Verse, then a 220-pounder, was part of a state-champion 4×400 relay team in high school in Pennsylvania.
1. Ochaun Mathis, Nebraska
The particulars: Transfer from TCU
The skinny: Nebraska returns its top two edge rushers from last season in Garrett Nelson and Caleb Tannor – but they combined for just seven sacks as fulltime starters. Enter Ochaun Mathis, who had a big 2020 (nine sacks in 10 games) but struggled in 2021 (four sacks in 12 games). Mathis (6-5 260) started for three seasons with the Horned Frogs and had 30.5 tackles for loss, 15.5 sacks and 13 quarterback hurries. Nebraska had just 20 sacks last season, which ranked tied for 101st nationally; the Huskers were 96th in the truncated 2020 season at 1.6 sacks per game. In short, the Blackshirts need a big-time pass rusher and Mathis should be the guy.