It's the holiday season, so it's time to shop for a transfer quarterback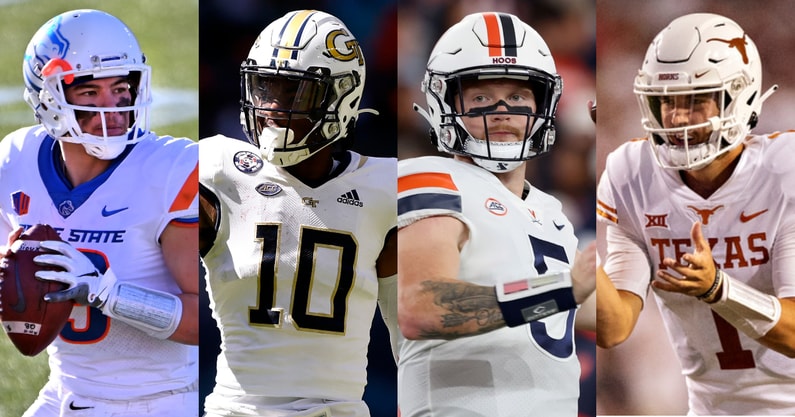 The transfer portal won't truly get rolling until Monday, but there already are 15 FBS quarterbacks who started a game this season in the portal or planning to enter.
Six of the 20 teams in a conference championship game this weekend will start a transfer at quarterback. Thus, if your favorite team has to go quarterback shopping in the portal in the next few weeks, fear not: There is hope for a conference title next season.
And, truthfully, it makes sense for every team – all 131 – to at least look over the quarterbacks. No, the likes of USC and Michigan don't need starters. But maybe there's a solid veteran willing to be a backup. And as for top-10 teams like Alabama, Georgia and Ohio State, you figure they will need to find a starter from the portal.
While there are just 15 quarterbacks who started this season in there now, that number easily could triple because of NIL potential – a quarterback can get a better NIL deal at some schools than others. (Remember: Almost 47 percent of the Game 1 starters this season were transfers.)
The 15:
Ole Miss' Luke Altmyer: He started Game 2 this season, against Central Arkansas, when Lane Kiffin said he was trying to sort out who should start. But he hasn't played since Game 3. He played in eight games in two seasons, and accuracy has been a problem (a combined 28-of-54, 51.8 percent). He has three seasons of eligibility remaining.
Virginia's Brennan Armstrong: He had a huge 2021 season, throwing for 4,449 yards and 31 TDs; he also ran for nine touchdowns. But a coaching change led to a philosophy change, and his stats fell off the table this season. He threw for less than half of what he did in '21 (2,210, with just seven TDs), and while he led the team in rush attempts, he managed just 371 yards and six TDs. In a system that favors the pass but likes its quarterback to be a running threat, Armstrong – who has one season of eligibility remaining – can put up big numbers again.
Boise State's Hank Bachmeier: He was a three-year starter for the Broncos who decided in September this season to move on. He is most definitely not a dual-threat guy. Bachmeier finished his time at Boise with 6,605 passing yards and 41 TDs but also 19 interceptions from 2019-22. He battled through injuries and played behind an underperforming offensive line. Any team looking for a pass-first quarterback figures to at least have at least a modicum of interest in Bachmeier, who has seasons of eligibility remaining.
Indiana's Connor Bazelak: He started at Missouri in 2020 and '21, then at Indiana as a fourth-year junior this season. He had some success for both teams but lacked consistency – and, to be fair, consistent help, too. In three seasons as a starter, he threw 36 touchdown passes but also 27 interceptions.
Tulsa's Braylon Braxton and Davis Brin: Tulsa fired coach Phillip Montgomery, and both quarterbacks who started a game for the Golden Hurricane are moving on. Brin started nine games this season, with Braxton – a redshirt freshman – starting the other three when Brin was injured. Brin, who also started in 2021, has had problems with interceptions, throwing 24 picks in two seasons (to 35 TD passes); he has one season of eligibility remaining. Braxton has intriguing upside and some dual-threat capabilities.
Texas' Hudson Card: Card started early in 2021 season as a redshirt freshman, then lost his job to Casey Thompson. Quinn Ewers beat him out this season, but Card did start three games when Ewers was injured. Card has the ability to be a starter – though not a star – at the Power 5 level. He has some running ability that didn't come to the fore at Texas.
Boston College's Phil Jurkovec: Jurkovec began his career at Notre Dame in 2018, transferred to BC after the 2019 season and now is transferring again for his final season of eligibility. Injuries limited him to 14 games in the past two seasons. When healthy in 2020, Jurkovec played well (255.8 passing yards per game, 17 TDs, five interceptions). He struggled the past two seasons because of the injuries – 187.5 passing yards per game, 18 TDs, 12 picks. He and backup Emmett Morehead took a ton of hits this season because of a lackluster line; BC surrendered 46 sacks, the most of any Power 5 school and third-most among all teams. If his new team gets the 2020 Jurkovec, good things can happen.
Colorado's Brendon Lewis: He started all 12 games last season as a redshirt freshman, then played in two games this season. He opened the season as the starter, didn't play at all in the second game, played as a backup in the third game and that was it. Lewis didn't put up notable numbers, but he also played in two bad offenses.
Miami of Ohio's Brett Gabbert: Gabbert, a fourth-year junior, started as a true freshman in 2019, shared time in 2020, was the fulltime starter again in 2021 and opened this season as the starter before being hurt. He played in just four games this fall and has two years of eligibility remaining. Gabbert, the younger brother of NFL QB Blaine Gabbert, had a big 2021, averaging 264.8 yards per game and throwing 26 TD passes against six interceptions. He has some mobility, too.
Texas State's Layne Hatcher: Hatcher, a fourth-year junior, made 27 starts in three seasons at Arkansas State, then transferred to Texas State in the offseason. He started all 12 games with the Bobcats this season. He did some good things in his first two seasons at Arkansas State, when Blake Anderson was coach: 46 TD passes, 12 picks. In the past two seasons, though, his production dipped: 38 TD passes, 23 picks.
Michigan's Cade McNamara: McNamara, who has two seasons of eligibility remaining, already has committed to Iowa out of the portal. He guided Michigan to the College Football Playoff as the Wolverines' starter last season, then lost his starting job this season to J.J. McCarthy. He is a game manager-type, and his decision to transfer to offense-challenged Iowa certainly is … interesting.
Ball State's John Paddock: Paddock is a fourth-year junior who started for the first time this season. He is fifth in the nation with 481 passing attempts and 11th with 287 completions (59.7 completion percentage). He threw for 2,713 with 18 TDs but also 14 picks. With that many attempts, you figure there would be more yards and more completions.
ULM's Chandler Rogers: Rogers, a sophomore, started 18 games for the Warhawks in the past two seasons. A dual-threat guy, he had pockets of success for two different offensive coordinators. He showed good accuracy this season with an improved receiving corps.
Georgia Tech's Jeff Sims: Sims was one of the nation's top 20 quarterbacks in the 2020 recruiting class in the On3 Consensus rankings, but has been inconsistent with the Yellow Jackets. He started 10 games as a true freshman on a bad team during the COVID season, and may not truly have been ready to start. Sims started six games in 2021 and the first seven this season before being sidelined by an injury. He is seventh in school history in both passing yards and total offense. Sims has good size (6-4, 219) and is a definite running threat. He suffered at Tech because of the lack of surrounding talent and a lack of cohesion in the offense.