Emil Ekiyor reveals 'participation trophy' on display after Alabama national championship loss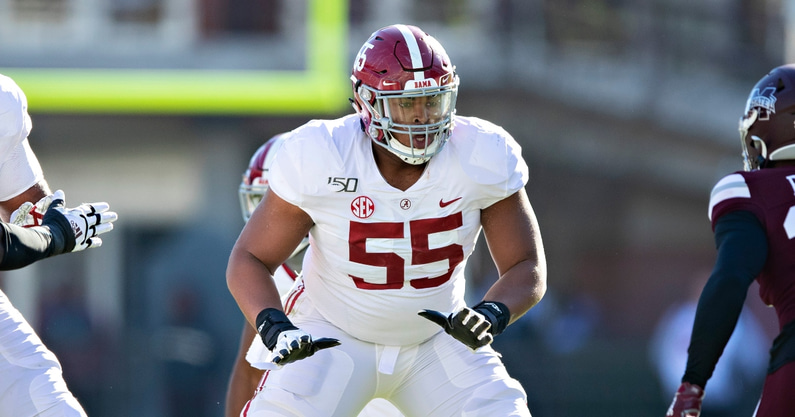 The goal for head coach Nick Saban and Alabama is the same every season — winning the national championship. Anything less is considered a disappointment and everyone involved with the program will have motivation heading into the next season.
After losing to Georgia in January, the Crimson Tide are ready for their 2022 revenge tour and have found a simple way to remind themselves of last year.
While Kirby Smart got to hoist the College Football Playoff trophy, Alabama got one of their own as well. For making an appearance in the title game, a second place prize was on the trip back to Tuscaloosa, something the team makes sure to look at every day. Offensive lineman Emil Ekiyor revealed it's on display in the team's cafeteria, describing it as a "participation trophy."
"It's a trophy," Ekiyor began. "It says '2022 Indianapolis.' It's basically like our runner-up trophy and there's a sign under it that says 'participation trophy. Are you happy with it?' Just a little motivation to see that every day and remind you this is what we're really working for, to change the outcome of the season. Focus to be the best we can be this year so we can ultimately have a different outcome at the end of the year."
Ekiyor was a starter during both the 2020 and 2021 seasons, meaning he has been on both sides of a national championship. He was lifting the CFP trophy after defeating Ohio State but found himself on the losing side more recently. Heading into what should be his final season with Alabama, Ekiyor is looking to rekindle the feeling of winning a title by looking at previous failures.
More on "participation trophy" Alabama earned during 2021 season
A lot of people around the Alabama program, including Saban, said last season was a "rebuilding year" for the Crimson Tide. Even so, they were able to grab another SEC title in Atlanta by beating Georgia but ultimately lost the rematch in Indianapolis. Definitely not something up to standards of the Crimson Tide under Saban.
Alabama has used the second place trophy as motivation before too. After losing to Clemson in 2018, former assistant coach Scott Cochran smashed the "participation trophy" into pieces, which was captured on video. While dropping the actual game might be enough to get the juices going for Alabama, the trophy has represented their frustrations over the past few years.