Report: Alabama defense could see a major return in 2022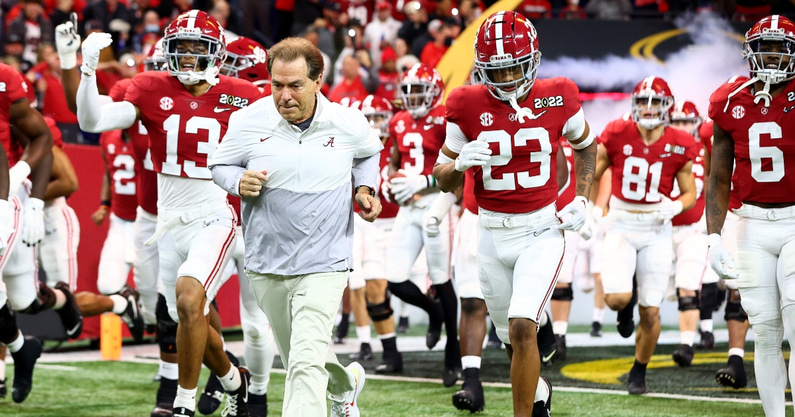 In what has become a yearly tradition for the Alabama Crimson Tide, a slew of players have decided to leave the program via the NFL draft or the transfer portal. However, there are always a few who come back to improve their draft stock under Nick Saban.
One of those could be Alabama defensive back Jordan Battle. According to ESPN's Chris Low, Battle is "expected to return" next season. He would become just the latest player to announce their return for the Crimson Tide to run it back for the 2022 season.
Battle was voted first-team All-SEC by both the AP and the coaches within the conference for his performances this season. He played in all 15 games at the strong safety position, recording 84 tackles. In pass coverage, Battle had three interceptions, one of which came against Georgia in the SEC championship, and three passes defended.
With the return on Battle, the Alabama defense will once again be one of the top units in the country. Alongside the return of fellow defensive back DeMarcco Hellams and linebacker Henry To'o To'o, Pete Golding will have a plethora of returning talent to work with.
Alabama DB DeMarcco Hellams returning as well
DeMarcco Hellams is returning to the Alabama Crimson Tide football team for his senior season, according to his official Instagram account.
"These past three years at Alabama have been special to me," the safety wrote.
"I've worked with some of the best coaches and staff that have helped mold me into a better player and a better person. I've also gotten to play with teammates that will be lifelong friends and made memories on the field that I will never forget. But when I chose the University of Alabama, I had three main goals –get my degree, be a leader for my teammates and win multiple championships. I still need time to take care of all three, and I can only do so by staying one more year. I can't leave now knowing that I didn't stay true to my goals.
I realize that staying my senior season provides me with the best opportunity to grow as a player, as a student and as a man. This season did not finish how we would have like."
The Alabama Crimson Tide safety closed it out with a statement that should get fans excited.
"We have unfinished business to take care of in 2022," DeMarcco Hellams wrote.