Alabama Football roster heights raise eyebrows after official measurements at 2023 NFL Combine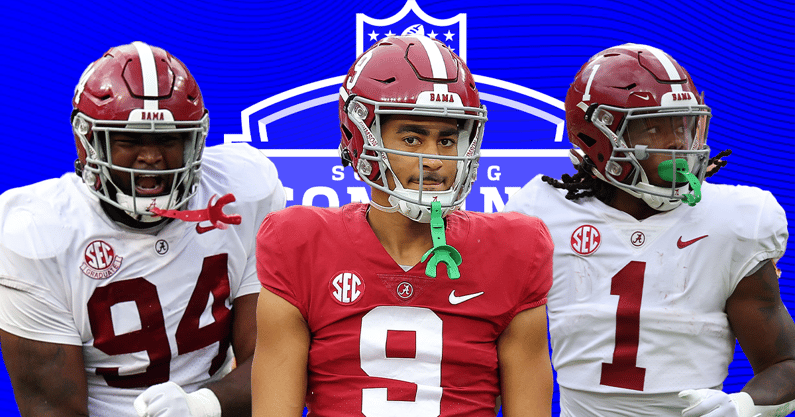 The 2023 NFL Scouting Combine is complete, with attention now turning to Pro Days ahead of the 2023 NFL Draft in April. In addition to participating in drills such as the 40-yard dash, players in attendance also underwent testing to determine their official heights and weights. When comparing the heights and weights listed on team rosters and the NFL Combine measurements, there are some notable differences raising eyebrows, including at Alabama.
Alabama had 13 players participate in the 2023 NFL Combine, including two likely top five picks in quarterback Bryce Young and EDGE Will Anderson Jr. But when looking at Alabama's data, there are interestingly six players with a height difference of at least one inch, including three players that had around two-inch discrepancies.
The three Alabama players that had nearly two inches between their roster height and combine height were Young, Jahmyr Gibbs and DJ Dale. Young's combine height was just shy of two inches shorter of his listed roster height, coming in with a difference of 1 7/8″. In addition to those three, the Crimson Tide had two players – Henry To'oTo'o and Cameron Latu – measure one inch shorter at the combine than they were listed on the official team roster. Interestingly, Tyler Steen measured one inch taller at the combine than his listed roster height.
The differences between Alabama's roster heights and measured combine heights are notable, but not the only ones that stood out in Indianapolis. TCU had two players that measured two inches shorter than their official roster heights. Linebacker Dee Winters is listed on TCU's roster at 6'1″ but measured at 5'11", while wide receiver Derius Davis is listed at 5'10" but measured at 5'8″. Georgia and LSU also each had four players with one inch of discrepancy between roster heights and combine heights.
Alabama also had some notable weight discrepancies, though that is far more common. Adding or dropping weight is common for players as they prepare for the NFL based on feedback they receive, in addition to common fluctuation over the course of a season and offseason.
Analyzing Alabama's previous NFL Combine differences
Over the previous two NFL combines, Alabama has had more differences between height measurements. During the 2022 NFL Combine, Alabama had two players that measured at least one inch shorter than their roster height. Christian Harris measured 1 1/2″ shorter than his listed height.
| | | | | | |
| --- | --- | --- | --- | --- | --- |
| 2022 NFL Combine | Position | Roster Height | Combine Height | Roster Weight | Combine Weight |
| Christian Harris | LB | 6'2″ | 6'0 1/2″ | 232 | 226 |
| LaBryan Ray | EDGE | 6'5″ | 6'4″ | 285 | 283 |
| Brian Robinson Jr. | RB | 6'1″ | 6'2″ | 225 | 225 |
Like Steen in 2023, Alabama had one player measure one inch taller at the 2022 combine. Brian Robinson Jr. came in at 6'2″, which is an inch taller than his roster height.
The 2021 NFL Combine was no different for Alabama, with three players that came in exactly one inch shorter than their listed roster heights.