Alabama running back leaves SEC Championship with injury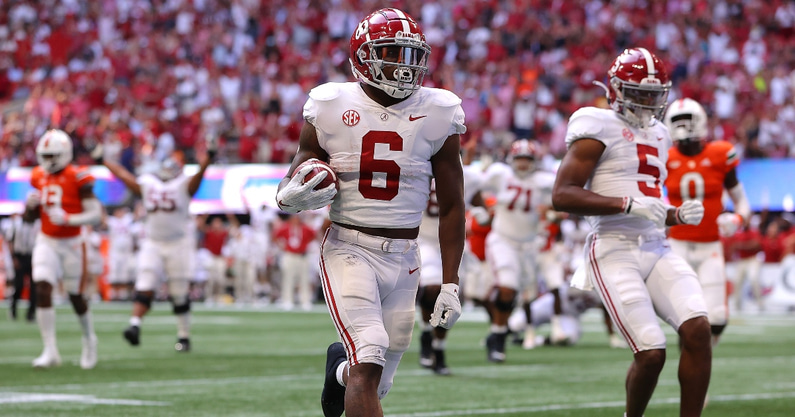 The thinnest position group on the Alabama football team may have just gotten thinner.
Crimson Tide running back Trey Sanders left Saturday's SEC Championship against Georgia late in the fourth quarter after a 14-yard run. He seemed to take a hit to the helmet, and he subsequently hit his head on the ground.
Sanders went over to the sideline and was being looked at by the Alabama training staff.
Alabama already had little depth at the running back position, as injuries have decimated the position group. Sanders and Brian Robinson Jr. are the only two available scholarship running backs on head coach Nick Saban's offense, and they have prepared multiple players at other positions to play running back should they need them.
The back had six carries for 21 yards on the day. Excluding the 14-yard carry, he had just five carries for seven yards. As expected, Alabama had issues running the ball against the nation's top run defense.
Unexpectedly, they shredded Georgia in pass game on their way to their 29th SEC championship and an expected seventh berth in the College Football Playoff. The final score of the 2021 title game was 41-24 in favor of Alabama.
The final playoff field will be finalized on Sunday at noon ET on ESPN.
Saban thanks media for 'rat poison'
Nick Saban usually isn't fond of rat poison, but following the win, he made an unusual admission.
"You guys gave us a lot of positive rat poison," the coach said. "The rat poison you usually give us is fatal. But the rat poison you put out there this week was yummy. "
Not many gave gave the Crimson Tide much of a chance against Georgia's top-ranked defense. Alabama entered as an underdog, marking the first time in 92 consecutive games they were not the favorite. 
Instead, they hung 41 points on the Bulldogs, the most of any team this season. Quarterback Bryce Young made a huge case for his Heisman Trophy chances, throwing for 421 yards and three touchdowns and adding an additional score on the ground.
On3's Chandler Vessels contributed to this report.