Alabama wins out with four-star wide receiver Cole Adams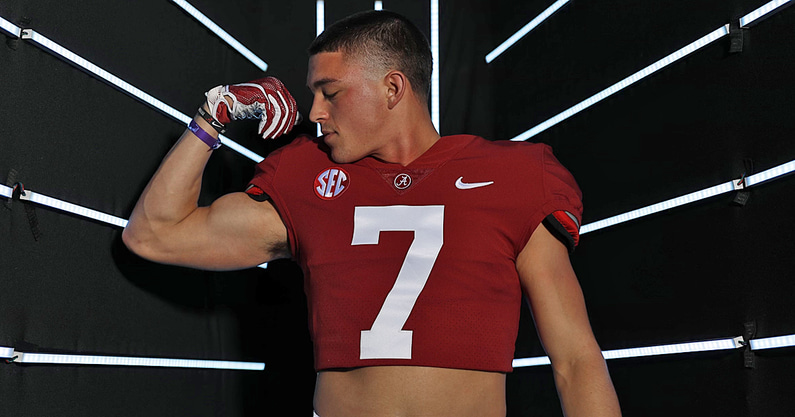 Towards the end of the spring, Cole Adams turned his focus toward Alabama, Arkansas, and Oklahoma. The four-star wide receiver out of Owasso (Okla.) entered June with all three schools on a level playing field, but that first official visit changed everything.
Alabama got the 5-foot-10, 175-pound playmaker in Tuscaloosa and the bar was set high. On Wednesday, he gave his commitment to the Crimson Tide.
"The standard at Alabama is unbelievable, so it is a hard one for anyone to beat, and nobody beat it," Adams told On3. " I had great trips to Arkansas and Oklahoma, and both are great schools, but after that visit, Alabama moved to the top and they were never beaten."
Alabama's success on the field speaks for itself, but Adams was drawn to more than just that.
"Not only is the football program great, but everything around is as well," Adams said. " … On the visit, I fell in love with Alabama… Not only the football part of it, you know they will win a national championship, but I saw what was behind that. I learned about the people, the academics, the opportunity for community service, and all that was perfect. It checked every box."
Cole Adams wants the chance to play against the best
One of the Adams' biggest priorities was playing with — and against great players. He sees no better opportunity for that than with the Crimson Tide.
"A huge reason I picked is Alabama is because I love proving myself," he added. "I am not the biggest or the strongest, but I work hard, and I love to prove myself. There is no better place to do that than Alabama. They have the best of the best, so I thought, why not go to the best, compete against the best, play against the best, and be the best? That was my thought process.
"… The SEC is the top league. Alabama is a top program. Everyone there is hungry. Four and five stars are coming in every year hungry. At Alabama, you have to compete to play, and to play there, you always have to be on your A game. That is what I want for my future. "
Alabama's professional approach was a strong selling point
One of the common refrains from recruits is how Nick Saban's program is "all about business." Much like professional organizations, Alabama has a lot in place for players like Adams to develop both on and off the field.
"A lot of college teams are running their programs as a college team. Alabama runs its program like an NFL team," he said. "That's what makes Alabama different. The transition from high school to college is big, but the transition from college to the NFL is even bigger. Alabama is going to develop their players, they know what it takes to get guys to the NFL, and they run their program above most of the others.
"… The standard is set and we are just going to keep raising the bar from there."