Brandon Miller, 2022 five-star, commits to Alabama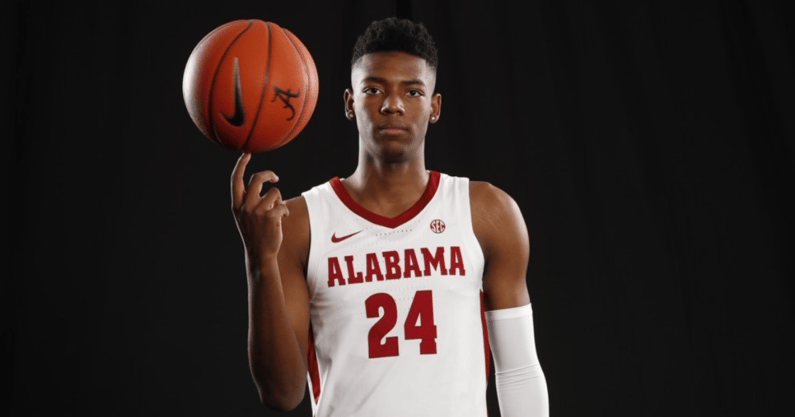 Brandon Miller, a 6-foot-7 small forward out of Antioch (Tenn.) Cane Ridge has committed to Alabama basketball for the class of 2022, he tells On3.
Miller joins five-star Jaden Bradley. Alabama is also targeting Noah Clowney, Rylan Griffen, Jarace Walker, Ty Rodgers, and Kimani Hamilton.
Miller ultimately chose the Crimson Tide over Kansas, Tennessee State, the NBL, and the NBA G-League. He also received offers from Kentucky, Tennessee, Florida, amongst others.
Relationships key for Miller in decision
Miller says the biggest reason for committing to Alabama was the coaching staff. "The bond we've built from the jump and how confident I am with them and the feeling I got from them that they can make my dreams come true. I bond with all the coaches. They're all kind of like older brothers. I called (Nate) Oats two nights ago and told him I'd be committing Monday and his face was unbelievable. I've heard that he hasn't been sleeping because he was stressing because he didn't think I was going to Bama. Coach Bryan Hodgson is the one recruiting me so he's been here since the process started. Coach (Antoine) Pettway was recruiting Nick (Smith) at the time so I knew him through Nick. So we always kept close."
Darrell Miller, Brandon's father, played tight end at Alabama in the early 90s.
"I grew up watching Alabama football so I've always been an Alabama fan," Miller said. "My dad is excited. He's been with me since the jump. My whole family is excited."
How does Miller see himself playing in Alabama's system? "Their vision is me as a stretch, kind of big guard type. I see myself guarding all five positions and getting boards and trading shots for my teammates," Miller said.