Nick Saban asked how Jameson Williams got lost in mix at Ohio State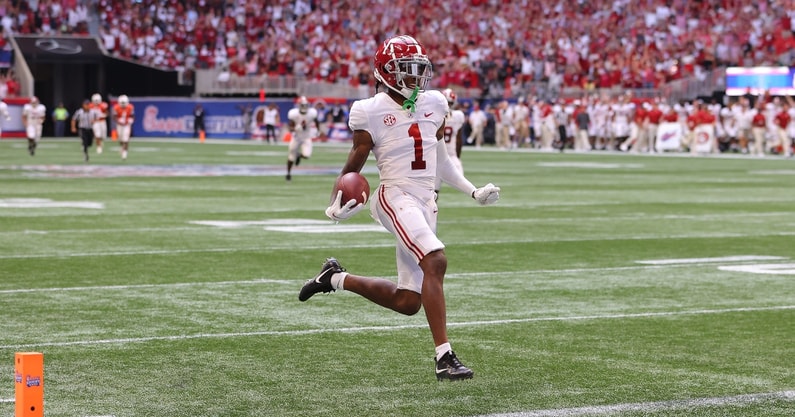 After losing stars DeVonta Smith and Jaylen Waddle to the NFL, Alabama was in big need of impact players at wide receiver. Over the offseason, Alabama brought in Jameson Williams, a former Ohio State receiver. Williams has already made a big impact on Alabama's offense. Nick Saban knew from the second he entered the transfer portal that he wanted Williams in Tuscaloosa.
Saban: Williams was Alabama's main target in the transfer portal
Williams started for Ohio State in last year's national championship game against Alabama. Seeing Williams up close and in action left an impression on Saban and Alabama's staff. When he became available, Saban wanted to move quickly to bring him to the program.
"We looked for a receiver," Saban said about going after Williams. "We looked at everybody in the portal. He started and played against us last year during the national championship game and we had a lot of respect for him from that standpoint. When he was in the portal, we looked at all the players and said, 'no doubt, this is the best guy out there let's try to get him.' And we didn't have much room because of the recruiting year we had, we could only take a guy or two. He and Henry (To'o To'o) have both been really positive additions."
Williams had a big day in Alabama's season opener
In two seasons at Ohio State prior to entering the portal, Williams had 15 receptions with 266 yards and three touchdowns. With Garrett Wilson and Chris Olave playing major roles at receiver for Ohio State, Williams wouldn't have been able to establish himself with consistent volume this season.
"I don't know what the situation was at Ohio State, I don't know if he didn't think that because of the receivers they have there, even though he was a starter a year ago, that maybe he wouldn't get as many opportunities," Saban said. "I never really ask him about it, I just said, 'Hey, if you want to come here we'd love to have you and create a lot of opportunities for you' and kind of go from there."   
In his first game with Alabama, Williams showed off his incredible speed and big play ability with a 94-yard touchdown grab against Miami. Williams finished with four receptions for 126 yards and a touchdown in his Alabama debut. Williams is poised for the major role on Alabama's offense that he was seeking when he entered the portal.