Nick Saban reveals why Will Anderson is elite linebacker, leader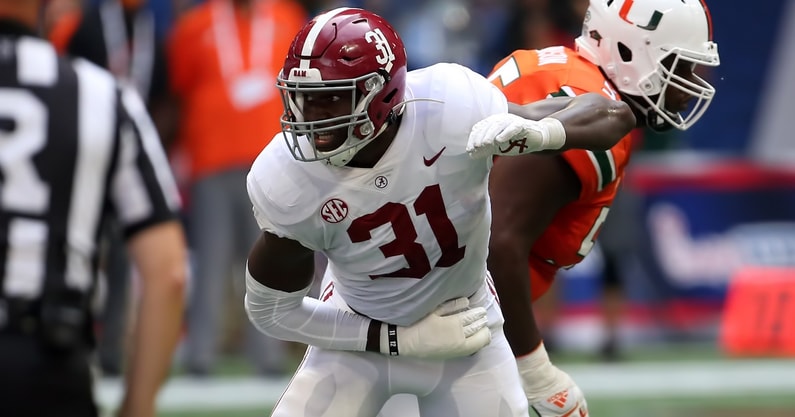 On the field, Will Anderson is one of the top linebackers in college football. But Alabama coach Nick Saban said Anderson is just as impressive off the field as a leader.
Anderson won the Bronko Nagurski Award and finished fifth in the Heisman Trophy voting this season. He leads the nation with 15.5 sacks and is a big reason why Alabama ranks No. 8 in the nation in total defense.
But to Saban, it's not all about Anderson's success on the field. He pointed to the "intangibles" as something that separates Anderson from the rest of college football.
"I think what sets anybody apart is 'What's your mindset?'" Saban said Monday. "How important [is it] to you? How are you willing to edit your behavior to accomplish the goals that you have? You're going to get out of it what you put into it. Will's A-plus in all those intangible areas plus he's got really good physical ability. The guy is an overachiever, even at that, with all the physical ability that he has because of the mindset that he has. He's a great effort player, he's very conscientious, he does his job well in the game, he doesn't make a lot of mistakes, he prepares well for every game.
"So I think it's always the intangible things that help you get to your full potential. Will's certainly got great intangibles with great ability and that certainly makes for great players."
Christian Harris illustrates Will Anderson's intensity day-in, day-out
Linebackers Christian Harris and Will Anderson are both vital parts of Alabama's strong defense. Anderson has made his mark on college football this year, really establishing himself as one of the best defensive players in the nation. Harris said that Anderson's intensity is on display every single day.
"I said something to Will yesterday actually, because you could just see him in the facility. His face is the same as he is on the field," Harris said of Anderson. "He was just saying that he's locked in. That's just his mentality all the time and a lot of people feed off of that and want to stay locked in as well. It kind of helps us with performance when it comes to practice because you know what we are working for."
In addition to his dominating play on the field, Harris said that Anderson is extremely valuable to Alabama off the field. Whether it's during a game, at practice, or away from the field, Anderson plays a massive role on this Alabama team.