Nick Saban shares heart-warming story about Muhsin Muhammad reunion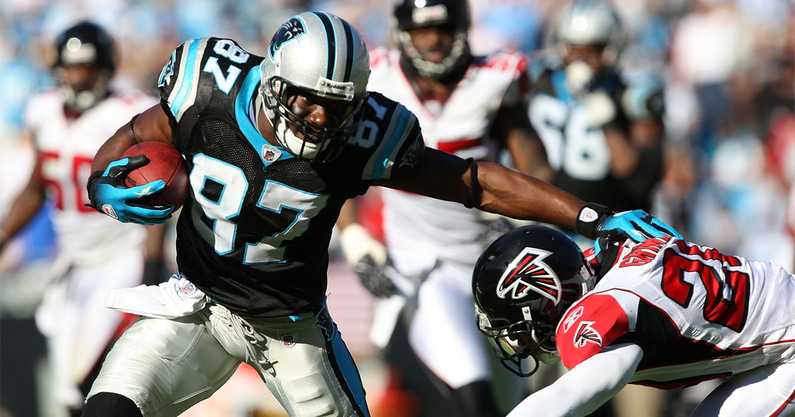 Alabama coach Nick Saban is arguably the greatest college football coach of all time, one of the real ambassadors for the game and someone never afraid to speak his mind on different changes in the sport. NIL has been a big one, and Saban gave a thoroughly in-depth take on NIL on Wednesday night, relaying a story about Muhsin Muhammad at Michigan State that underscored his overall point.
That point: College football should be about creating better opportunities for the young men who play it.
Few have underscored that in Saban's coaching career better than Muhammad.
"When I was a first-year head coach at Michigan State he had a legal charge — I won't get into that — and everybody including the president of the university thought I should kick him off the team," Saban said on the Hey Coach & The Nick Saban Show.
"And I suspended him for a game or whatever and he went on to play 15 years in the NFL, he graduated from Michigan State."
Muhammad left Michigan State and became a second-round NFL Draft pick. And simply putting 15 years in at the NFL level undersells his success quite a bit.
He was a two-time Pro Bowler, a first-team All-Pro in 2004 and finished as the league leader in receptions in 2000, as well as the receiving yards and receiving touchdowns leader in 2004. He was really, really good.
But that's not where the story gets interesting.
Nick Saban and Muhsin Muhammad reunite
The current Alabama coach has been around the game long enough to have a lot of former players. It'd be virtually impossible to keep up with all of them.
But you can tell Saban's Muhsin Muhammad reunion a few years back really moved him by the way he talks about it.
"Four or five years ago I went to Charlotte, because he played for the Carolina Panthers all those years, to receive an award or something for the Nagurski Trophy or something, I don't know," Saban explained. "Can't remember exactly what it was. Who's standing at the steps when I walk into the building? Muhsin.
"I hadn't seen him for 15 years, since Michigan State. And he looks at me and he says, 'I want to thank you for not kicking me off the team. I have seven children, they all graduated from college, one of them from Stanford, one of them's going to law school.' I was like if I'd have kicked this guy off the team, would any of that have happened? Would any of that have happened?"
The point Saban was making in relaying the story about his Muhsin Muhammad reunion is that it's about a whole lot more than just football. He tied that into his larger point about making sure NIL does what it's intended to do.
As long as changes to the game help players create value for themselves and their future they're likely a net positive.
"It's so important, I think, from a legacy standpoint that we create value when you're going to college, that you graduate," Saban said. "That's going to affect everybody and your family and your life in the future, and that's what college is all about, really."